Looks like this event has already ended.
Check out upcoming events by this organiser, or organise your very own event.
Testit 2019

Thursday, 12 September 2019 from 08:00 to 17:00 (CEST)
Event Details
In celebration of our fifth anniversary, we are making Testit 2019 a very special occasion that you simply can't miss! You can expect high quality sessions on three different tracks and the same community spirit as always, with the addition of this year's exciting theme "Hey future" and plenty of awesome surprises throughout the day.
We will be bringing in excellent local and international speakers, like James Lyndsay, Maria Kedemo, and James Christie, who will give a session on Eurostar best paper winner "Facing the dragons."
To prepare you for the future of software testing, we will cover interesting and important topics on everything from testability and how to learn efficiently, to cloud, security, AI, and more.
See our speaker line-up and their sessions below, check out last year's conference and most importantly, don't forget to sign up!

Abstracts for the speaker presentations can be found here.

For more information on each speaker, please see below.
Reach us at Testit@knowit.se.
Heard about Testit from past participants

"Loved it and got really inspired! Thank you! =)"

"Thank you for a well-organized and good conference, you've set the bar high for the next Testit!"

"Thanks again – it was a lovely event to be part of, and I wish only that I had been there for the afternoon too!"

"Very inspiring and I got a lot of ideas that I will actually implement in my organisation!"

"Thank you for a fantastically nice conference! I'll see you next year"

Testit
Testit is one of the largest one-day test conferences in the south of Sweden. It is organized by testers for testers. The aim is to provide high quality sessions at a low price and all in one day, so everyone can be able to attend. Through the conference we bring the fantastic testing community together, which allows us to share ideas and grow.
Read more about Testit's history here.
Date: September 12th
Location: Malmö Börshus, Skeppsbron 2, Malmö.
Price:
3,100 SEK (VAT excluded) or 3,875 SEK (VAT included)

Please explain any food requirements/preferences when registering for the event.

Questions? Please contact Amanda Halvordsson, +46 768 63 31 64.
See our conference video here: https://vimeo.com/328215234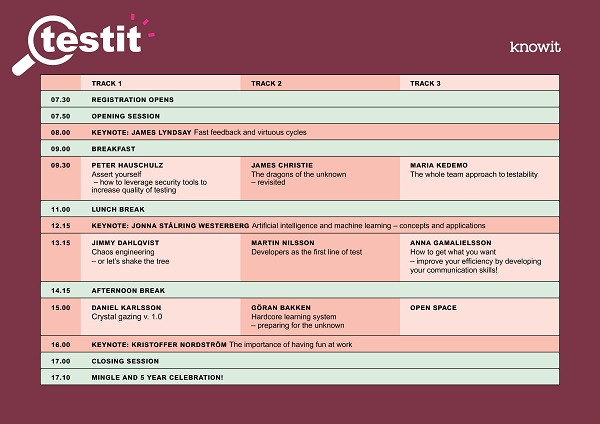 Speakers



 

James Christie



I am a self-employed testing consultant with 36 years' IT experience. Before moving into testing, I spent six years as an IT auditor. I have also worked in information security management, project management, business analysis and development. My experience helps me understand the relationships between different specialisms. I am particularly interested in links between testing, auditing, governance and compliance. I spent 14 years working for one of the UK's biggest insurance companies, then nine years with IBM, working with clients in the UK and Nordic countries. I have been self-employed for the last 12 years.

 

Göran Bakken



I've been curious my whole life, professional tester for a little more than a decade and hardcore learner for a bunch of years. As a hardcore learner I spend hundreds of hours of my leisure time each year to learn stuff. I have made learning my big passion. I am fascinated by the enormous potential of the human mind and I am currently on a path to learn as much as possible about it.

 

Peter Hauschulz



I hold a bachelor's degree in Psychology and Integrative Physiology, with a focus on influence of group perception, behavior and pathology. My work experiences include a wide range of oddities beyond computers, from shelving library books to disaster relief and autopsy suite. Despite a total lack of formal training, I persist in playing guitar, drums and any other instrument I can shoe-horn into a metal band or any other musical project. I am currently employed by HumanIt and am the primary test engineer for a small team in Axis Communications, Lund, Sweden.

 




Jimmy Dahlqvist



I'm a developer and architect with a great passion for cloud, chaos, GitOps, and other new ways of working. I love to share my knowledge with others and to be able to help them grow is really rewarding. Every moment of my spare time I spend coding, testing new things, learning, and

blogging

. I hold 10 AWS and 2 GCP certificates and am always aiming for the next one. I'm a notorious coffee drinker, so please don't talk to me before my first cup in the morning.

 

Jonna Stålring Westerberg



I am a senior AI consultant at Knowit with more than 15 years of experience with applied machine learning from the pharmaceutical and agricultural industries. I am collaborating with academic researchers in machine learning and have published several scientific papers, using and developing Open Source algorithms. In addition to my technical and scientific skills, I have leadership experience and have worked on developing the strategic direction for application of AI and data management in drug discovery.

 
 

Martin Nilsson

I have an unusually broad experience within the field of software test and quality and am helping companies in the Skåne region as a consultant at House of Test. Coming straight from Chalmers University of Technology (after a short detour via University of Gothenburg School of Business, Economics and Law) I started off my career as a tester, by mistake, at Ericsson Mobile Platforms.



Since then, I have built up Wlan-test labs, received a patent publication diploma from Ericson, performance tested, been a test coordinator of a hundred testers, built up a 1,5 year long test education, taught testers in New York, worked with test processes at startups, built CI pipelines and am currently building a requirement process for a company that has been on Forbes' World's Most Innovative Companies list four years straight.



Despite all my technical knowledge, I have found that my coffee cup is my most powerful work tool. In the end, all technology is created by humans, and is meant to be used by, or to gain, humans. Therefore, it is in my opinion often worth looking at the human side of a problem before looking at the technical side.

 

 
 

James Lyndsay

I am an independent consultant, specialising in exploration and strategies for systems testing. I help organisations to find surprises, to adapt their approaches, and to keep their testers interested – and help people to make informed and practical decisions about their testing. I am a regular keynote speaker and teacher at international events, and an active participant in a variety of testing communities, and have written award-winning papers, built the Black Box puzzles, kicked off the TestLab, and run the London Exploratory Workshop in Testing. In 2015, I received European Tester Excellence award.

 

Maria Kedemo

I have been working within software development for 20 years in many different roles and industries. Since two years I am the founder of Black Koi Consulting, which provides training, coaching and consulting in software testing and quality engineering.

 

What I appreciate the most in each and every assignment I've had is the learning opportunities. I love sharing my experiences and helping others to improve. I spend a lot of my time learning from and contributing to the testing community through speaking at conferences and blogging. 


 
 

Kristoffer Nordström


I am a test developer who has worked with telecommunications systems, distributed compilers, cloud technology, smartphone OS development, embedded systems, and much more. As a testing devotee and a member of the context-driven test community, working in my own company, I consult and teach the course Python for Testers because I believe in tool-assisted sapient testing. Over the years, I have seen the immense value of testers learning how to distill large amounts of information into the so-called "big picture," and I advocate learning the soft skills necessary to collaborate with the people making up the organization. Apart from being an avid software tester, I am also a sci-fi reader, lamp-maker, and craftsman.

 
 

Anna Gamalielsson


I have been working with test my whole professional career. My latest assignment was a dream come true! To build up a centralized test organisation to support the growing IKEA! An exciting journey with a lot of learnings, a lot of success and a lot of amazing people! Recently I have embarked on a new journey, starting up my own business. I consult in testing, leadership coaching, interim management and change management. I also teach yoga and high intensity interval training (HIIT).

 

 
 




Daniel Karlsson


I have been working in the software development industry for over 10 years, currently working at Etraveli Group where I constantly try to be involved with all things related to quality. I continuously strive to avoid getting caught in the functional stupidity trap, by always seeking out new knowledge and by always questioning everything.



When & Where

Malmö Börshus
Skeppsbron 2
211 20 Malmö
Sweden


Thursday, 12 September 2019 from 08:00 to 17:00 (CEST)
Add to my calendar
Organiser
Knowit är ett konsultbolag som skapar unika kundvärden genom att erbjuda digitala och gränsöverskridande lösningar från tre affärsområden, Experience, Insight och Solutions. 
Knowit etablerades 1990 och har idag cirka 2 200 medarbetare representerade på 14 orter i Sverige och på fem i Norge samt en vardera i Danmark, Finland, och Tyskland. Knowit är noterat på den Nordiska Börsen i Stockholm.