Tewkesbury Regional Meeting - 23rd April 2015

Thursday, 23 April 2015 from 17:00 to 21:00 (BST)
Event Details
Please find our member survey here:  https://www.surveymonkey.com/s/CMK6X8L 
Our first Tewkesbury event - and we are delighted to be able to offer you another South West Region event, hosted by Cyberis. Guests are welcome and are encouraged to sign up for membership if you like what you see! This event will earn 3 CPE credits.

Directions & Parking: Cyberis is two minutes off of the M5, Junction 9 motorway. There are 7 visitor spaces available (see map below), and plenty of free roadside parking along Severn Drive.

5.00pm

Registration (Tea & Coffee)

5.10pm

Welcome & Introduction – Alan Mercer, VP Regions, ISSA-UK
Welcome to Cyberis – Nathan King, Director, Cyberis


5.10 – 6.10pm

"SANS Top 20 Critical Security Controls (+ technical demo)"
- Nathan King, Director, Cyberis

Synopsis:The Critical Security Controls focuses first on prioritizing security functions that are effective against the latest Advanced Targeted Threats, with a strong emphasis on "What Works" - security controls where products, processes, architectures and services are in use that have demonstrated real world effectiveness.

The Controls prioritize and focus on a smaller number of actionable controls with high-payoff, aiming for a "must do first" philosophy. Since the Controls were derived from the most common attack patterns and were vetted across a very broad community of government and industry, with very strong consensus on the resulting set of controls, they serve as the basis for immediate high-value action.

 

"An introduction to Threat Intelligence"
- Nathan King, Director, Cyberis


'Threat Intelligence' is the one of the latest security industry buzz words. Learn a little more in Nathan's whistle-stop five minute tour.

Bio: Nathan is an information security professional with over 12 years' experience in multiple information assurance disciplines and roles; 8 years' experience in IT security consultancy fields with a vast knowledge across the commercial and public sectors.

He has extensive experience in information assurance management consulting, compliance, risk management, project management and security architecture consulting, with a strong background in technical assurance such as penetration testing; as a CHECK Team Leader for six years (2004 – 2010).


Nathan's breadth and depth of consulting experience in security management, operations and technical fields, allows him to engage effectively and deliver the highest quality of service to clients, in whatever capacity is required.

6.10 - 6.55pm

"Cyber Essentials & the IASME standard for small companies"
- Dr Emma Philpott, CEO IASME Consortium


Synopsis:  The new Government's Cyber Essentials Scheme focuses on the five most important technical security controls. These controls were identified by the government as those that, if they had been in place, would have stopped the majority of the successful cyber attacks over the last few years. Emma will introduce the scheme, the IASME standard and how companies may go about obtaining certification.

Bio: Emma is Founder and Manager of the Malvern Cyber Security Cluster, a group of more than 50 small companies working in cyber security. Emma is also the CEO of the IASME Consortium, a company that promotes cyber security within small companies and assesses them against a standard. A Chartered Engineer and a Professional Member of IOM3, she has an MA in Natural Sciences from the University of Cambridge and achieved a PhD in Ceramic Matrix Composites while working for DERA. After her first degree, she joined the Ministry of Defence Science and Engineering Fast Stream. She later became Assistant Director at the Defence Evaluation and Research Agency's Structural Materials Centre in Farnborough UK, and then Business Group Manager of Aerospace Facilities at QinetiQ. This was followed by more than six years of working in both Singapore and Italy to assist small companies commercialise emerging technologies. Since founding the Malvern Cluster more than 2 years ago, Emma works with a growing number of small companies at the forefront of cyber security innovation.

6.55 - 7.00pm

Break (Tea & Coffee)

7.00 – 8.15pm

"We know what your software did"
- Edmund J. Sutcliffe

Synopsis: What, When, Why, Who, Where & How are the simple questions we are being asked as achitects to resolve when deliverying an achitecture.

However, we break our chains of custody of delivery and operation so we can't deliver these answers. It is almost never possible to discover what was the last change and its impact.


This talk will discuss the problems of this "Chain of Custody" show how to know what your software did and how it got to be in that way during deployment and operation

Bio: Thoughtful Solutions, Creatively Implemented and Communicated
Edmund J. Sutcliffe has a wide range of experience in building complex tightly integrated systems, in a platform and vendor neutral manner. His main interests are in building scalable distributed applications infrastructure in a secure and supportable manner.


The combinations of the breadth of knowledge and communication skills have been used to mentor new project teams, during start-up phases and architecture review.


With a client list including such names as; Tesco Bank, Barclays Bank, Marks and Spencer, HMRC, Transport for London, Sky, Nomura, Deutsche Bank, Morgan Stanley, Bank of America, Netscape, Sun Microsystems, Microsoft, KPMG,IBM and SAP Edmund has helped shape a significant portion of the modern technological and business landscape.

In addition he is a world traveller who loves the journey as much as the arrival

8.15

Closing thoughts – Alan Mercer, ISSA-UK

8.15 – 9.00pm

Networking & Refreshments
- Drinks & light refreshments

Thanks to our venue sponsors

 

 




 

 
Cyberis is an innovative information security consultancy which was formed in 2011. Cyberis' founders have 30 years of experience between them working in the information security industry and are able to call upon a wide range of skills and abilities.
We have a wealth of experience in meeting the needs of today's information security arena. Cyberis prides itself on offering pragmatic and sensible solutions to risk management within big business, taking business needs into account when prioritising remediation advice. We like to work closely with our clients to understand their business pressures, and their information assets, so that the advice we provide is relevant and contextualised.
Quality of the client experience is very important to Cyberis, and we ensure that all projects we conduct undergo a rigorous quality assurance process, from start to finish. Our consultants hold certifications such as CREST Certified Tester (Infrastructure), CREST Certified Tester (Applications) and Tiger Qualified Security Team Member.
Cyberis is a company of the CESG IT Health Check Service.
http://www.cyberis.co.uk/aboutus

Cyberis Venue Map: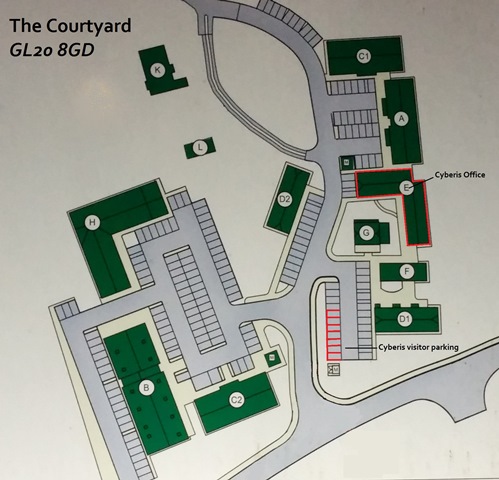 Do you have questions about Tewkesbury Regional Meeting - 23rd April 2015?
Contact ISSA-UK
When & Where

Cyberis
Unit E, The Courtyard
Tewkesbury Business Park
GL20 8GD Tewkesbury
United Kingdom


Thursday, 23 April 2015 from 17:00 to 21:00 (BST)
Add to my calendar
Organiser
ISSA-UK
ISSA-UK is one of ISSA's largest chapters, and provides networking events and educational opportunities to our member base in London. Gabe Chomic was elected President in 2015, and chairs our events.
ISSA was founded in 1987 and is the longest standing association for cyber security professionals globally, with over 12,000 members.
Tewkesbury Regional Meeting - 23rd April 2015