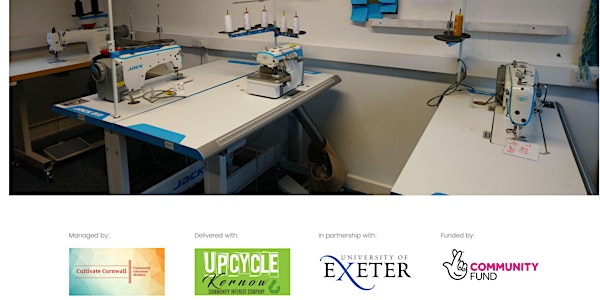 TeX Innovation - Textiles Business Coffee Break - Natural Fibre Discussions
Join us each month to discuss challenges and opportunities in the sector in Cornwall, led by TeX Innovation funded by The National Lottery.
About this event
Session Three - TeX Innovation - Textiles Business Engagement
Theme - Natural Fibres in Cornwall
Just us to discuss natural fibres from hemp to pineapple leather all in between.
This is an informal coffee break session for your day, so please join us as we lead discussions.
In a world where sustainability is fast becoming a fundamental requirement for the textile manufacturing processes, Cultivate Cornwall and Upcycle Kernow in partnership with the University of Exeter, Penryn Campus have secured funding from The National Lottery Community Fund to support textile businesses in the region.
The year-long TeX Innovation project will develop this innovative project tackling textile waste by transforming surplus material into usable products. Based in their studio in Portreath, the project with its unique two streams of engagement will;
Offer businesses support with themed events and workshops, and one 2 one support with product development, sustainability challenges, knowledge, skills and circular economy product design and business models.
Create opportunities for local residents to get involved in waste and consumption workshops and skill sharing sessions, hoping to inspire changes in local behaviour and encourage people to reduce the environmental impact of their wardrobes.
During this second breakfast you will hear from local businesses industry experts on how we can support the movement of Fashion Revolution and how we will collectively reimagine a just and equitable fashion system for people and the planet from our location in Cornwall.
This is a informal virtual event, where you can hear how your business might benefit. All our welcome, including large SMEs and sole traders, or anyone with a textile business idea.
There is no cost to attend this TeX Innovation event for businesses based in Cornwall; it is fully funded by The National Lottery Community Fund.
Please contact Hollie Kirk, h.kirk@exeter.ac.uk or 07763 83 46 98 for more information.