Chemistry and Colour: Interdisciplinary Analysis of English and Scottish Renaissance Textiles
About this event
Join us for an interdisciplinary conversation with two University of Edinburgh and National Museums Scotland researchers, chemist Edith Sandström and textile historian and curator Helen Wyld. They will discuss how chemical analysis of textile materials can enhance the historical interpretation of Scottish and English Renaissance textiles. Edith will share her development of dye analysis processes which, sympathetic to the conservation needs of museum collections, provide an insight into the make-up of dyes used. Helen will share her recent research into the Mortlake tapestries and explain the curatorial implications and applications of this new kind of information.
The event will be hosted on Collaborate, 4pm (BST) 20 May 2021.
Edith Sandström, AHRC funded PhD researcher, University of Edinburgh and National Museums Scotland.
'Understanding colour in Scottish and English Renaissance embroideries'
Colour is of interest to both the chemist and the art historian and is an area where both can benefit each other. The field of dye analysis uses chemical analytical techniques to identify and understand dyes of cultural objects, which can aid our knowledge, interpretation and care of dyed objects. The National Museum Scotland has a wonderful collection of Renaissance Scottish and English embroideries that is currently being studied by dye analysis, with the hope of complementing our archival understanding of the materials and techniques available at that time.
Helen Wyld, Senior Curator of Historic Textiles, National Museums Scotland, and PhD reseracher, University of Edinburgh
Helen will discuss some of the ways that dye analysis can help us to understand historic textiles, and some recent projects at NMS. She will also give a brief overview of her PhD research, on textiles at the court of Charles I.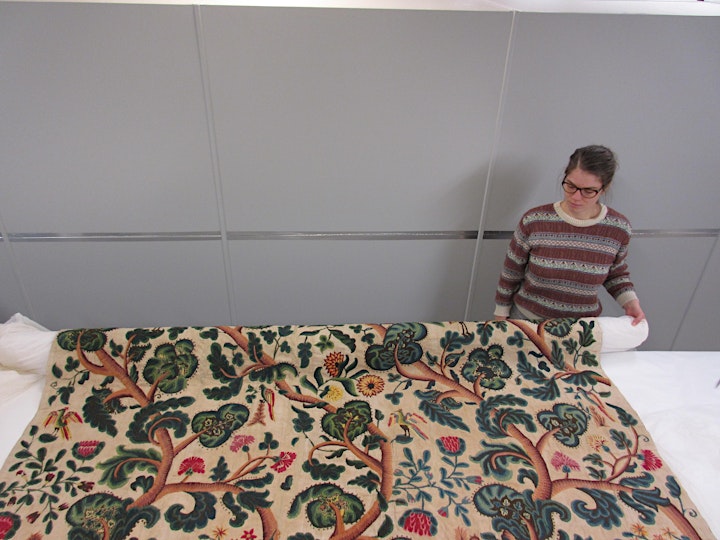 Organiser of Textiles Summer Seminar
Comprising scholars from a variety of fields and geographical specialisations, the cluster aims to foster interdisciplinary approaches to the study of materiality. In particular, we are interested in the myriad relationships between people and things, interrogating issues of making, consumption, exchange and agency.