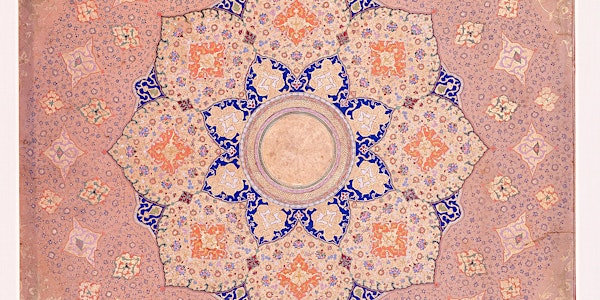 Tezhip Foundations (Part 1): Methods, Materials, Design - Saturday Class
Location
Prime Studios,
1-6 Ward Royal Parade
Alma Road, Berkshire
Windsor
SL4 3HR
United Kingdom
Refund policy
Refunds up to 7 days before event
Description
Tezhip Foundations (Part 1): Methods, Materials, Design - Saturday Class
5 Saturdays from 23rd February - 30th March 2019*, 10am - 4pm
*Please note there is NO CLASS on Saturday, 2nd of March 2019
This new Islamic art course is designed for students who would like to delve deep into the art of tezhip (Islamic manuscript illumination). Part 1 will focus on design skills, forming the first of three courses exploring the rich and exquisitely beautiful world of Islamic manuscripts.
For centuries, Muslim artists have used gold, pigments, and inks to adorn and illuminate both sacred and non-religious texts. Come join us in learning how these designs were composed and painted using ancient methods and techniques. Classes are practical, and will be taught in the same manner, using the same exercises as traditional illumination lessons in Istanbul. If you have ever thought about studying Islamic art in the traditional way, this course is for you!
We will take a detailed look at the pattern elements of illumination, familiarising with the rich and varied world of plant and floral motifs. Exploring the rules and principles for creating traditional Islamic designs, students will then have the opportunity to create their own compositions. They will receive personalised, one-to-one feedback on their work, challenging them to develop and refine their skills even further. In addition, we will take a closer look at the traditional methods and materials used in the art of illumination. Students will have the opportunity to make their own paints from raw pigment, and learn how to make the most important colour for illuminators - shell gold, ground and filtered from gold leaf. Students will paint their designs using beautiful and elegant centuries-old techniques from the world of Islamic art.
At the end of the course, each student will have their own uniqely designed and painted frontispiece or shamsa to take home.
*Students are asked to bring a book of genuine 22 carat gold leaf (loose leaf, NOT transfer) to session 1, otherwise all materials are covered in the course fee*
Tutor Ayesha Gamiet has over 12 years experience of Islamic art, having studied the craft under a Master Illuminator in Istanbul. Ayesha is an MA graduate from the Prince's School of Traditional Arts, London, and was most recently commissioned by the Royal Library to produce illuminated frontispieces gifted to HM Queen Elizabeth II, and HRH Prince Charles. To find out more about Ayesha and her work, please click here.
For information about all Ayesha's current courses, please click here.
FAQs
What should I bring to the course?
Students are asked to bring a book of 22 carat gold leaf (loose leaf, NOT transfer) to session 1, otherwise all materials are covered in the course fee.
You can purchase gold leaf from a supplier such as Wrights of Lymm: https://www.stonehouses.co.uk
Or L. Cornelissen and Son: https://www.cornelissen.com
You may wish to purchase an A3 folder for transporting work to and from classs, but this is optional. If you already have palettes, paintbrushes, gouache, and / or watercolour paints, please feel free to bring them with you. If you would like to take your paints home to practice during the week, please bring your own palette with wells. Unfortunately, books and art materials cannot be borrowed from the studio in between classes.
Where can I learn more about your work and previous courses?
You can find out about my work on my website: http://ayeshagamiet.com
Follow this link to see images of students' work from previous courses: http://ayeshagamiet.com/category/students-work/
What are my transport/parking options getting to the event?
We have a limited number of on-site parking spaces at Prime Studios. The entrance to the car park is located between The Hope pub, and the Kwik Fit on Alma Road. Prime Studios' car park is on the left, behind The Hope pub. If the studio car park is full, please try:
Alma Road / The Arches Car Park (5 minute walk away).

The King Edward Court Car Park (5 minute walk away).
Public transport options include:
Windsor and Eton Central Railway Station provides easy access to London via Slough, and is just a 5-10 minute walk from the venue.

Windsor and Eton Riverside Station is a 15 minute walk away, and links directly to London Waterloo.

The area is also well served with local bus links.
How can I locate Prime Studios?
We are located next door to The Hope pub on Alma Road.
Is my registration / ticket transferrable?
Yes, that's fine.
Can I get a refund if I change my mind about attending the course?
Refunds can be made up to 7 days before the start of your course. Unfortunately, no refund will be given within 7 days of the course start date.
Do I need any previous experience of Islamic art to take this course?
No, the course is suitable for complete beginners with no previous experience of Islamic art, as well as experienced artists who are looking to expand their skills and knowledge.
How can I progress and develop my skills further after this course?
The studio will be offering further illumination courses that give students the opportunity to expand their skills base, and learn about the subject in greater depth.
Is there an age restriction on this course?
To ensure a high quality of tuition, adult and childrens' classes are taught seperately. This course is designed for adults, therefore participants should be over 16 years of age. There is no maxiumum age limit!
Do you run courses for children?
Yes! I am a qualified art teacher with a PGCE and MEd (Art, Creativity, Education, and Culture) from Cambridge University. Previous Islamic art workshops for children have taken place in schools and museums throughout the UK, as well as abroad. New courses for children and adults at Prime Studios will be advertised on my website. If you would like to book me for a workshop, please send an email to: info @ ayeshagamiet.com
How can I keep informed about upcoming courses?
If you send me an email, I will add you to my mailing list: info @ ayeshagamiet.com
I also advertise new courses on my website.
Can I book you for a workshop?
Yes, of course. Please send me an email to discuss your requirements: info @ ayeshagamiet.com
How can I contact you?
Email me at: info @ ayeshagamiet.com