TEZUKA ARCHITECTS LECTURE
Description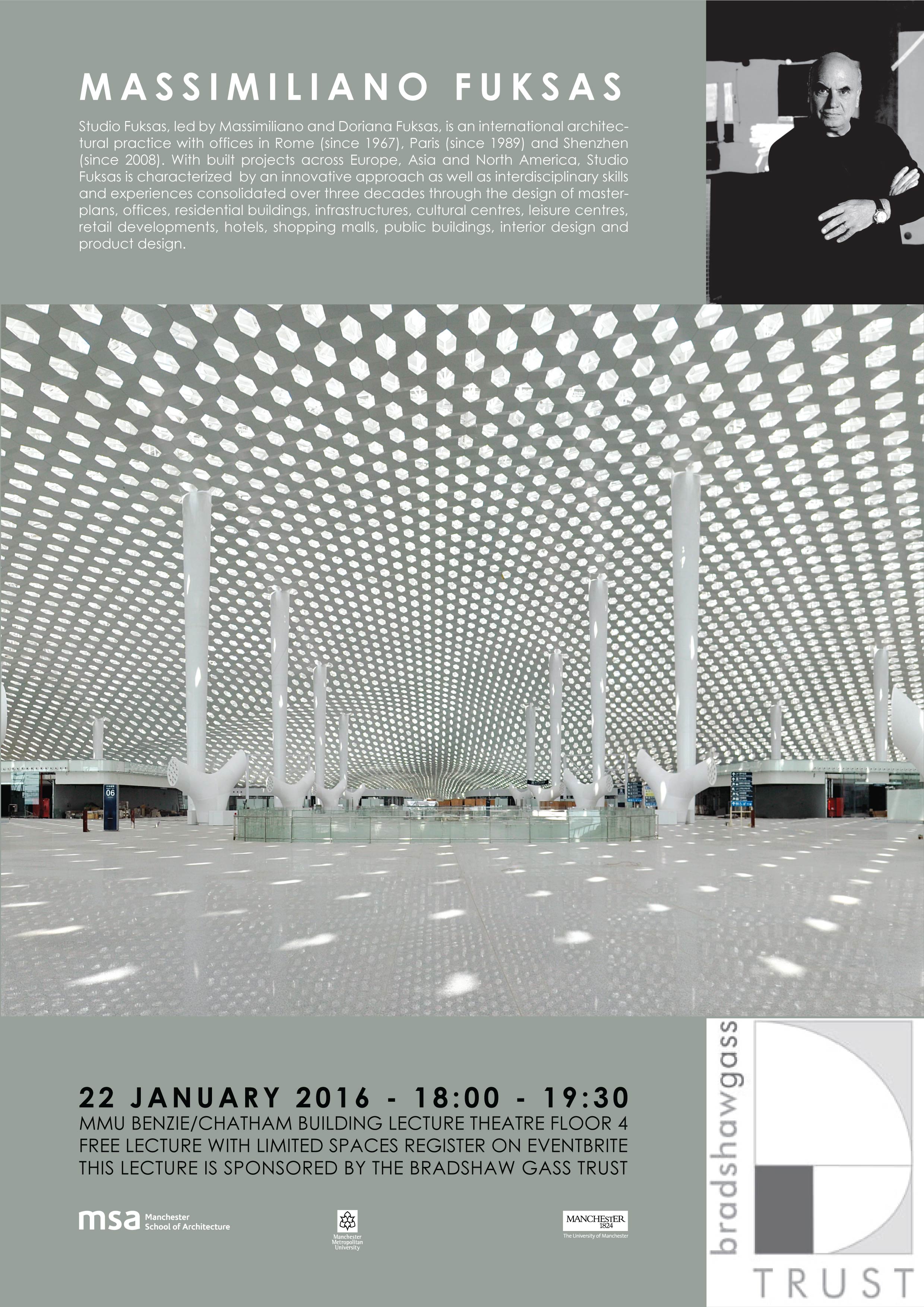 INTRODUCTION
Studio Fuksas, led by Massimiliano and Doriana Fuksas, is an international architectural practice with offices in Rome (since 1967), Paris (since 1989) and Shenzhen (since 2008). With built projects across Europe, Asia and North America, Studio Fuksas is characterized by an innovative approach as well as interdisciplinary skills and experiences consolidated over three decades through the design of masterplans, offices, residential buildings, infrastructures, cultural centres, leisure centres, retail developments, hotels, shopping malls, public buildings, interior design and product design.
WHO IS IT FOR?
This is a FREE lecture organised by the Manchester School of Architecture. It is an open lecture for both students and members of the public.
TICKETS
Ticket registration is required in advance due to limited spaces and building security. Please bring proof of your booking with you and arrive 10 minutes in advance.
TIME
22nd January 2016, 18:00 - 19:30
LOCATION
4th FLOOR LECTURE THEATRE (403)
BENZIE BUILDING/CHATHAM BUILDING
MMU
SPONSOR
This event has been made possible due to the kindness of The Bradshaw Gass Trust.
Organiser of TEZUKA ARCHITECTS LECTURE
Manchester School of Architecture (MSA) is an innovative collaboration between Manchester Metropolitan University (MMU) and The University of Manchester (UoM), uniting two schools of architecture with over 100 years of educational experience to create one of the largest architecture schools in the UK.
MSA is consistently ranked as one of the best architecture schools in the UK and offers a range of professionally recognised undergraduate and postgraduate degrees.  During its time MSA has gained a reputation for the variety, vitality and quality of the work and achievements of its students.  This is not only reflected in appraisals by the professional institutions, the Architects Registration Board (ARB) and the Royal Institute for British Architects (RIBA), but also by the number and variety of prizes gained externally.
Architectural research at the MSA is intrinsically interdisciplinary and broadly conceived, encompassing areas as diverse as urban design, urban development, ecological and landscape design and the conservation and management of historic environments.  This research is carried out mainly within the recently established Manchester Architecture Research Centre (MARC). The centre draws upon a wide range of interdisciplinary research and teaching interests within the School of Environment, Education and Development, the Faculty of Humanities of The University of Manchester and the Manchester School of Art at Manchester Metropolitan University.  The opportunities for collaborative architectural research across the two universities are unparalleled and research bids in a variety of disciplines are strengthened by the involvement of strong architectural researchers.