About this event
As you are well aware now, Techfugees launched its 3rd #TF4Women Fellowship Programme 2020 a couple of weeks ago! Registrations are still open, apply through this form and do not hesitate to share it!
As of, on the 2nd of April, between 6 and 7pm, we invite all the interested and prospective fellows, mentors, volunteers, to join an online information meeting to find out more about #TF4Women 2020 Fellowship Programme. Where you can ask any questions regarding the programme!
-
Comme vous le savez, Techfugees a inauguré son 3ème #TF4Women Fellowship Programme 2020 il y a quelques semaines! Les candidatures sont toujours ouvertes, postulez via ce formulaire et n'hésitez pas à le partager!
Ainsi, le 2 Avril 2020, entre 18:00 et 19:00, nous invitons les futures Fellows, Mentors et Volontaires intéressés à nous rejoindre lors d'une session d'information en ligne afin d'en savoir plus sur le #TF4Women 2020 Fellowship Programme. Vous pourrez alors poser toutes vos questions!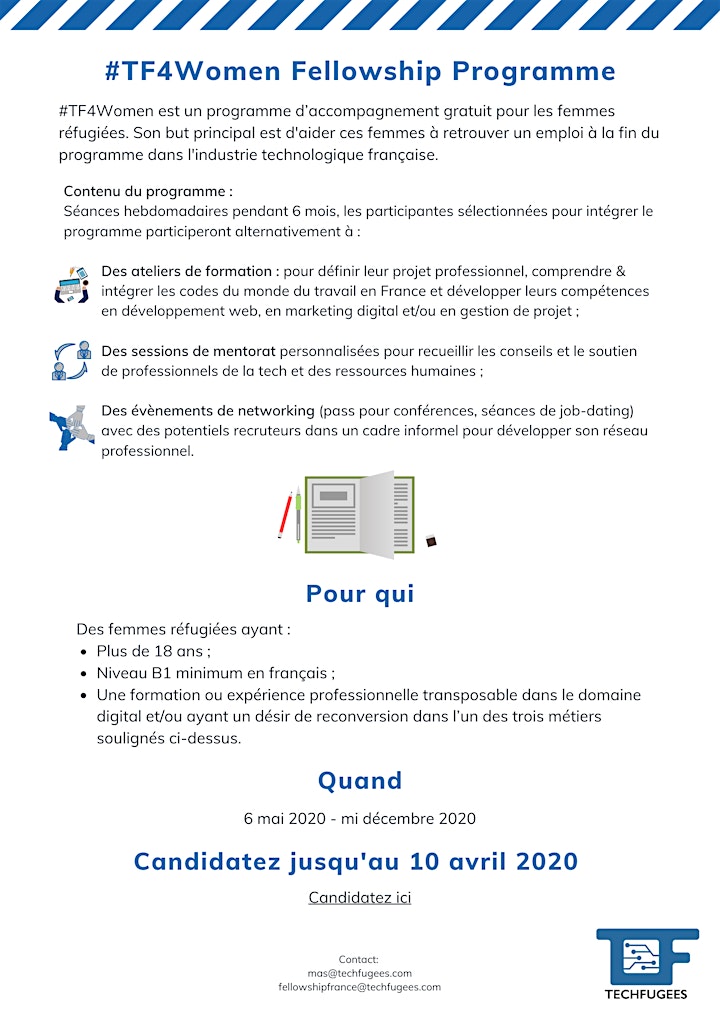 Organiser of TF4Women 2020 Online Meeting Session
Founded in 2015 by Mike Butcher (Tech Crunch), Techfugees is an impact-driven global organisation with two main objectives: 
Building a sustainable ecosystem of technology solutions for and built with displaced people

Supporting the inclusion of refugees and displaced people into the tech industry. 
Thanks to its worldwide community of volunteers, Techfugees deploys its activities, programmes and events, including local hackathons across the five continents with a recurring community gathering a highlight and an annual Global Summit & Competition of Challenges of best #tech4refugees solutions competition across the five continents.