Description
Training Ground Guru's first YOUTH DEVELOPMENT CONFERENCE will offer expert insights across a range of topics.
The one-day event at Manchester's AJ Bell Stadium is on Wednesday June 5th from 10am to 5pm. There will be a hot and cold buffet lunch, refreshments and practical elements.
Tickets sold out quickly for our first two Cohesive Coaching events and places will again be limited for this intimate event.
Our speakers offer a superb breadth of experience and expertise:
Director of Coach Education for the Belgium Football Association and assistant manager of the Belgium women's team. Kris will be revealing secrets of a youth programme that is a model of excellence around the world.

At the heart of this is a player-centred approach - "One of the main principles is that the main actor is the player; not the coach, not the team."
This transformation in the way Belgium trains its coaches and teaches its young players led to a rise from 66th in the world rankings to top spot.
Since becoming Norwich City's first Sporting Director in April 2017, Webber has made promoting homegrown players integral to the club's philosophy. The result has been promotion back to the Premier League, with Academy products such as Todd Cantwell and Max Aarons making key contributions.
"You can have the best processes, the best facilities and the best players in your Academy, but if the head coach doesn't pick them, it's an absolute waste of time," he has said.

Webber will explore how to create a Youth Development Pathway while remaining successful on the pitch.
The former Premier League player has been Academy Manager at Huddersfield Town since January 2018.
The Terriers have since taken a different path, installing a bespoke games programme in which they play teams from around Europe.
Bromby, who has been with Huddersfield since 2014, said: "I don't want to run EPPP down - it's meant more coaches, improved sport science, the technical ability of the players going up - but the reality is it just didn't work for us."
He will give us insights into the club's unique games programme, which is in its first season.
A coach and psychology consultant at Bristol City/ visiting fellow at Bristol University, Walters has studied the neurology of the teenaged brain and is offers fascinating insights into how this should influence coaching.
Walters did his PhD on the effect of neurology on adolescent decision making.
"If a player has physical or technical deficits, a club would put programmes around that," he says. "With psychology, it's often left to chance."
John has been Under-18s fitness coach at Liverpool since July 2018. Prior to this he was Head of Sports Science at Hearts and at MK Dons.
Hill says his job is to develop "robust players who are capable of long term progression". He will give an insight into training players at a top Category 1 Academy and compare preparing players at youth and first-team level.
​The former Manchester City lead development analyst, who is now senior strategist for Hudl, will discuss how video analysis can empower young players.
Blackburn Under-23 coach Damien Johnson discussed this in a piece with TGG last year. "Instead of the game being coach-led, as it was when I played, there is now a lot of player ownership."
Spirit of the Streets: Practical demo and panel discussion
Academies are increasingly looking to introduce streets games into their programmes - because they encourage creativity and get players thinking for themselves. Box Soccer is designed to recreate the spirit of the streets in the digital age. We will see a Box Soccer demo followed by a panel discussion involving company owner John Colquhoun, the former Scotland international.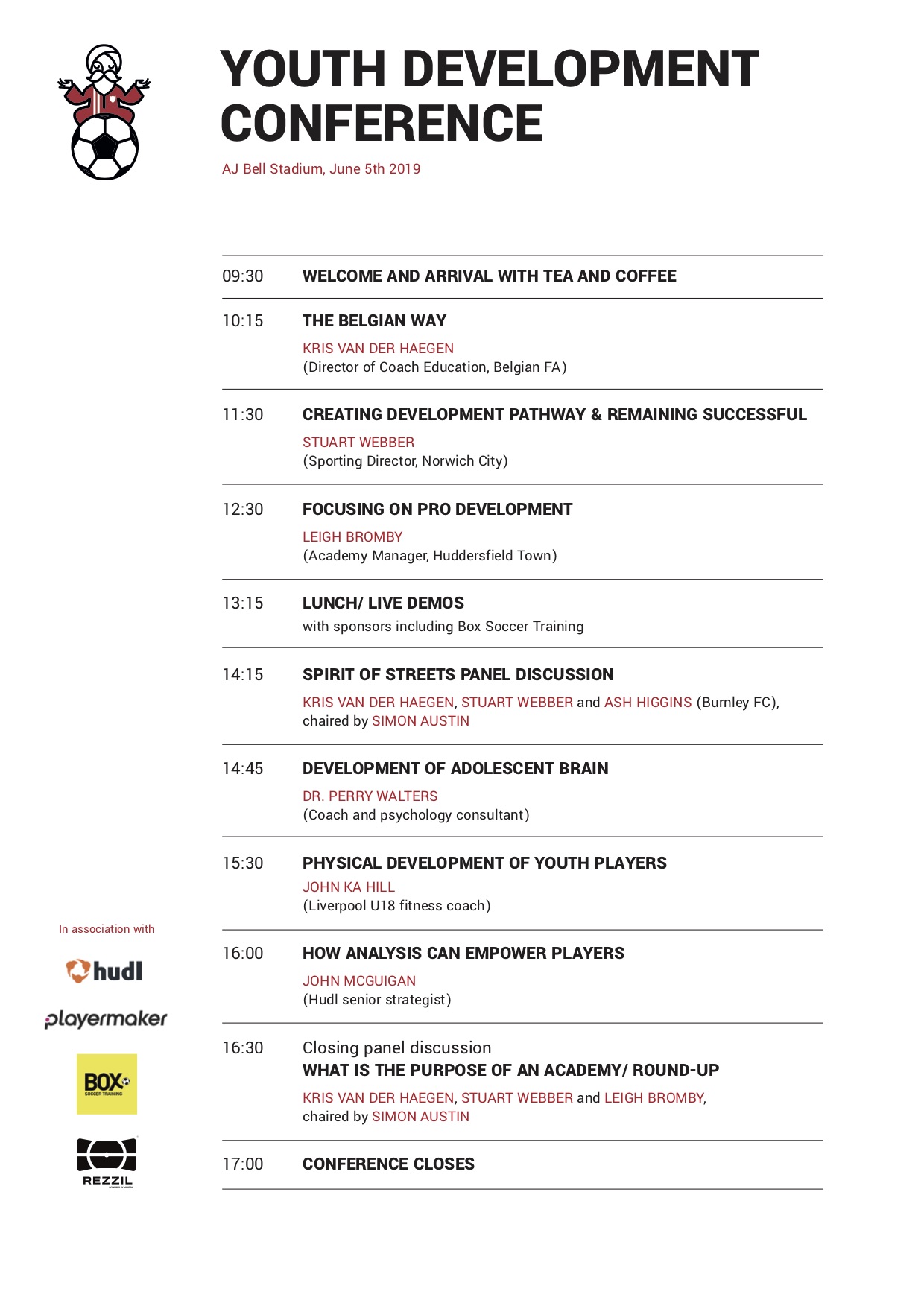 Organiser of TGG Live: Youth Development
Training Ground Guru is the go-to destination for insights into the teams behind the teams in professional football. We intend to showcase the work of football's unsung heroes - the coaches, medics, sport scientists and analysts, via our website, podcast and live events. We are fortunate to have featured leading speakers such as Eddie Jones, Karen Bardsley, Tony Strudwick and Dave Reddin.