Location
Great Haseley Village Hall
Rectory Road
Great Haseley
OX44 7JG
United Kingdom
Bringing together passionate supporters of the River Thame to collectively work towards a catchment with healthy fresh waters and wildlife
About this event
River Thame Conservation Trust & Freshwater Habitat Trust, co-hosts of the Thame Catchment Partnership, are hosting our first Water Conference on 20th September 2022 at Great Haseley Village Hall.
The conference is our headline event for Rivers Week 2022. A weeklong series of community-run events culminating on World Rivers Day (25th September) to create awareness and appreciation of our rivers and streams by bringing together communities across the catchment.
The conference will bring together the many stakeholders and passionate supporters of the River Thame who work both professionally and voluntarily to achieve our goal of a river catchment with healthy fresh waters and wildlife, valued and enjoyed by local people.
The event is free (with suggested donations at the door) and will be split into three parts:
Session 1: Restoration & Research (1:30 pm - 4:00 pm)
Session 2: Community Engagement & Impact (4:00 pm - 6:00 pm)
Networking Dinner (6:00 pm - 8:00 pm)
See the detailed event plan below. Please select which portions you will be attending when you register.
Conference Aims:
- Generate information sharing and increased awareness between the many different players working to positively impact the water environment in the Thame catchment
- Facilitate networking between professionals in the water environment sector, land managers, funders, and local community members
- Bridge gaps in communication between supporters of the River Thame that don't regularly meet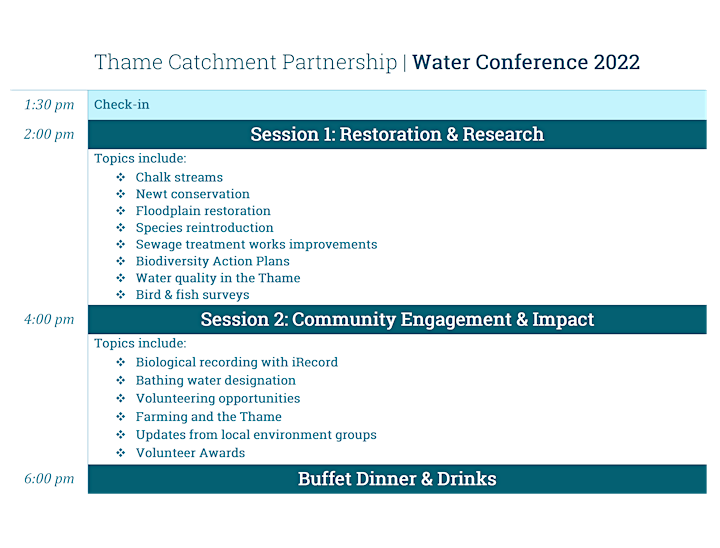 Thank you to the Rothschild Foundation, Thames Water, and Catchment Based Approach for making this event possible through their generous funding.