Description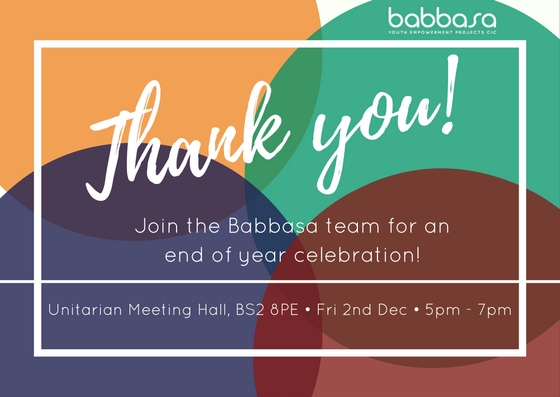 The Babbasa team would like to invite you to join us for our 'Thank You' event!
The event will be a private gathering of people that we feel have been invaluable to Babbasa and the local East Central community - whether that is through your influence, working relationship and/or guidance to date.
The event is a chance for our team to say thank you in a relaxing atmosphere, whilst also offering you the opportunity to meet other likeminded citizens, making Bristol a better place to live and work.
The celebration event is sponsored by the Celebrate England Fund (National Lottery).
What you need to know;
Venue - Unitarian Meeting Hall, Brunswick Square, Bristol BS2 8PE
Date - Friday 2nd December
Time - 5 - 9pm
Catering - Caribbean style hot meal (halal and vegetarian options available) and drinks
Dress code - Come as you are!
Price - It's free. Come eat, drink and celebrate with us!
We look forward to seeing you!