Description
On Tuesday 26th June, join Boyd Tonkin at Heffers as he discusses his indispensable new guide to the treasures of world literature over the last 300 years: The 100 Best Novels in Translation.
As former Literary Editor of the Independent newspaper and founder of the prestigious Independent Foreign Fiction Prize (which later became part of the Man Booker awards), Boyd Tonkin is uniquely placed to make this extraordinary selection of 'classics', ranging from the well known authors such as Proust, Dostoyesky, Sartre, Cervantes, Nabokov, Marquez and Kundera to lesser known, but no less deserving, authors writing in languages from every corner of the earth. The result is a rich tapestry of the best fiction from around the world that will surely accelerate the recent trend towards a more outward-looking approach to what we read.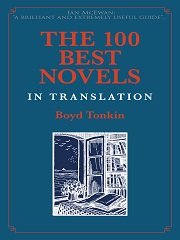 Tickets for this event are priced at £5 and can be purchased through this page, by calling 01223 463200 or in person at Heffers bookshop. Please note that tickets are transferable but not refundable.
If you are unable to attend but would like to request a signed copy, please send an email via the 'contact' button on this page.
Like this event? Click here to see our full programme.