We are delighted to announce that the 16th Japanese Speech Contest for University Students Online Finals Day will be held on 6th March 2021!
About this Event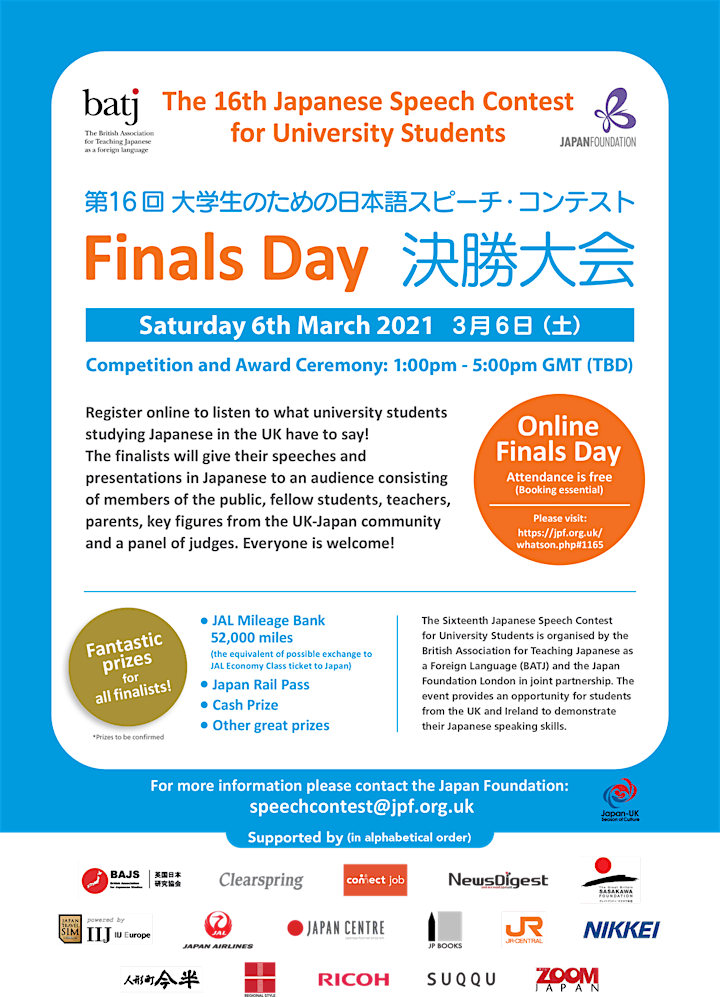 Register online to listen to what university students studying Japanese in the UK have to say! The finalists will give their speeches and presentations in Japanese to an audience consisting of members of the public, fellow students, teachers, parents, key figures from the UK-Japan community and a panel of judges. Everyone is welcome!
This event will take place on Zoom. Once you have registered, we will send you details on how to join the Zoom event.
The deadline to register is: 1st March 2021
The Sixteenth Japanese Speech Contest for University Students is organised by the British Association for Teaching Japanese as a Foreign Language (BATJ) and the Japan Foundation London in joint partnership. The event provides an opportunity for students from the UK and Ireland to demonstrate their Japanese speaking skills.
Please read The Japan Foundation, London's Privacy Policy, which you can find here: https://www.jpf.org.uk/download/Privacy%20Policy.pdf
Data submitted via this form will be used by the Japan Foundation, London and BATJ in order to create a Guest List for the event and to contact you regarding this event. If you have any questions, please contact us at events.japanese@jpf.org.uk
This event is sponsored by: