A 6-part online lecture series, our 3rd on Victorian Gardens once a week on Thursdays @ 10 am starting 15 Sept. Tickets £30 or £5 each
About this event
Our third set of lectures on the C19th garden takes us towards its heyday. As Britain's empire expanded plant hunters scoured the world to bring home plants to fill the gardens and greenhouses not just of the rich but an ever-growing middle class. Gardening became a hobby, and indeed a passion for many in the working class too. As a result, gardening books and magazines flourished, and horticulture became big business. Garden design, like architecture became more and more eclectic. Labour was cheap so extravagance and display became commonplace in the private realm while public parks, often on a grand scale, were created all over the country, but especially in urban areas. Inevitably however there was a reaction against such artifice and excess, with a call for the return to more natural styles, and by the end of the century the cottage garden was vying with the lush herbaceous border to be the defining feature of the late Victorian garden.
This ticket is for the entire course of 6 sessions. or you may purchase a ticket for individual sessions, costing £5 via the links below.
Attendees will be sent a Zoom link 2 days (and again a few hours) prior to the start of the first talk (If you do not receive this link please contact us), and a link to the recorded session will be sent shortly after each session and will be available for 1 week.
Due to a recent Apple decision to charge a 30% fee for paid online events unfortunately you may no longer be able to purchase this ticket from the Eventbrite iOS app. Please use a web browser on desktop or mobile to purchase or follow the link here.
.....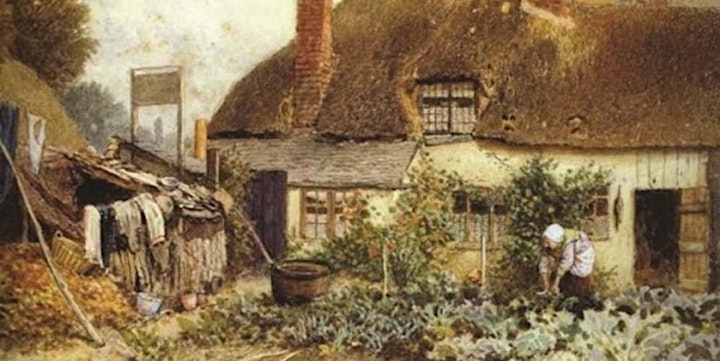 Week 1. 15 September: The Challenges of the Victorian Working-class Garden with Margaret Willes
My title is deliberately doubled edged. Gardening was indeed often a challenge to working-class men and women, who lacked spare time, money and access to sources of information, often denied them through lack of literacy. When I was asked to write a history of British working-class gardens, I also faced a challenge, though finding out about the 19th century was easier than for earlier times.
In my talk I shall consider the sources that I found both useful and illuminating, from recreations of historic gardens to literature, photographs and oral history. I shall look at a wide range of what might be considered gardens, across Britain and Ireland, town and country, including shared spaces such as allotments.
Image: A Cottage Garden, Myles Birket Foster, ©The Trustees of the British Museum.
…..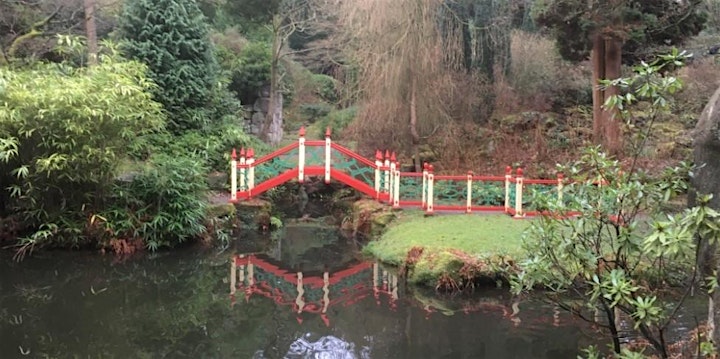 Week 2. 22 September: The Global Garden with David Marsh
The Victorian garden was a truly global space. The growth of empire went hand in hand with changes in technology and the development of commercial nurseries and plant hunting. This lecture will show how grand gardens such as Biddulph Grange and Alton Towers were designed around the arrival of a vast array of exotic plants, but also exotic architecture. Eclectism ruled… while Italianate and Gothic continued to be the predominant styles you could find Egyptian temples and Swiss chalets, as well as Himalayan valleys and American forests, while inside conservatories and glasshouses you could explore the flora of every corner of the world. And it wasn't long before that was true of the gardens of suburban villas and terraced cottages as well.
…..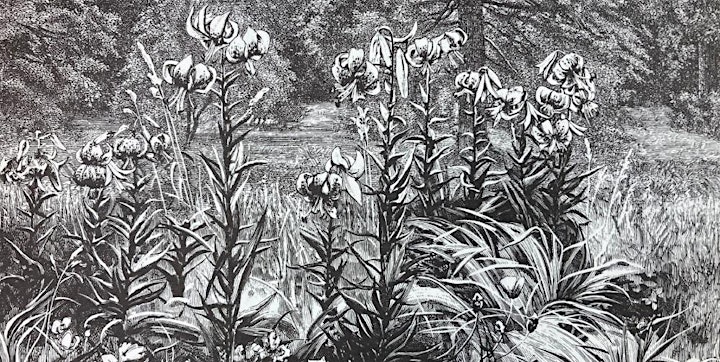 Week 3. 29 September: The Wild Garden: William Robinson and Alfred Parsons with Caroline Ikin
The gardener and journalist William Robinson gave voice to the movement towards informality in gardens in the second half of the nineteenth century, promoting the embellishment of woodland to add interest and colour, and the creation of naturalised wildflower meadows. His advice was underpinned by the principle of positioning plants in situations where they would naturally flourish. The idea of wild gardening was not concerned with a return to nature; although endorsing the use of wildflowers, Robinson also promoted the introduction of hardy exotics. Art still triumphed over nature in the wild garden, as exemplified in Robinson's manifesto The Wild Garden, first published in 1870. Subsequent editions included nearly a hundred illustrations by Alfred Parsons, an artist and garden designer, many of them depicting plants from Robinson's own garden at Gravetye in Sussex. This lecture will assess the impact of Robinson's and Parson's contribution to garden theory, through an examination of their writing, art and garden design.
Image: Tiger Lilies, illustration by Alfred Parsons from The Wild Garden, 1881.
.…..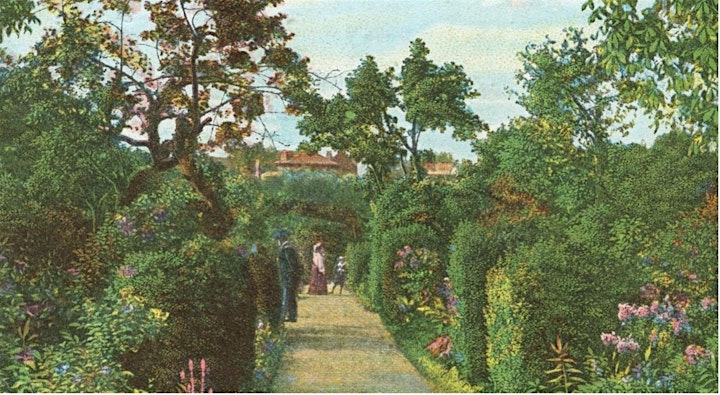 Week 4. 6 October: Boating Lakes and Backhanders: J. J. Sexby and the Politics of the Public Park with Ben Dark
Lieutenant Colonel J. J. Sexby, Chief Officer of the London County Council's Parks Department, has been credited with creating the model for twentieth century public parks. To contemporaries it seemed that at a wave of his magic wand 'bandstands blossom forth, lakes sparkle, shelters spring up, delightful refreshment rooms, not to mention drinking fountains, abound and playgrounds leap into joyful existence'. But these features were far from universally popular. Contemporary landscape architects accused Sexby of being 'the merest amateur' and advocates for naturalistic planting derided the Parks Department for their 'ugly tea gardens'. Meanwhile, behind the Council's rockeries and 'Old English' gardens lay a bitter soup of political infighting, official corruption and bureaucratic incompetence.
This talk will re-examine Sexby and the parks he created in the light of the economic, aesthetic and moral arguments that raged around him, and will argue that his true genius has long been misunderstood.
Image: The Old Garden, Brockwell Park, Opened by the London County Council in 1892. Historic England Archive, TEM01/01 PC08552.
…..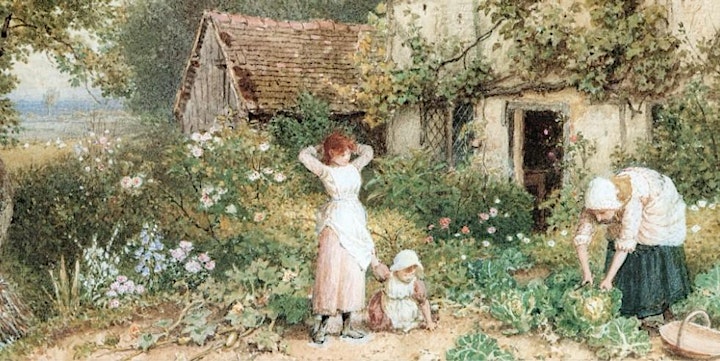 Week 5. 13 October: Painting the Victorian Garden with David Marsh
The Victorian Age saw gardens emerge as a major artistic subject in their own right, perhaps hand in hand with the spread of interest in garden-making. A small number of artists even specialised in recording by their own choice not just the gardens of the rich on commission but much more ordinary gardens. This lecture will look at a range of painters and paintings who after decades of neglect are beginning to be recognized as significant figures in both art and garden history. We shall, in the words of Roy Strong, go 'sauntering past immemorial yew hedges to linger over a herbaceous border before ascending ancient stone steps leading through a weathered iron gate to who knows where'. But we'll also look inside the conservatory and at the reality behind the chocolate box cottage garden.
…..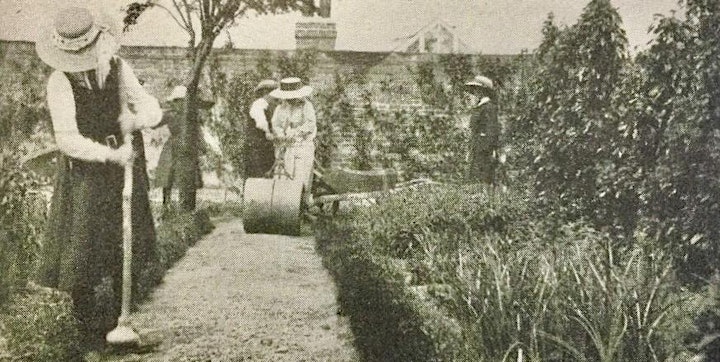 Week 6. 20 October: The Women who Broke the Glasshouse Ceiling with Catherine Horwood
The unveiling of a prestigious English Heritage Blue Plaque in the summer of 2022 to commemorate Fanny Rollo Wilkinson (1855-1951) at her central London address, finally threw a spotlight on one of Britain's earliest pioneers of women's horticultural education. Wilkinson's career, as the first female landscape garden designer for, among others, the Metropolitan Public Gardens, Boulevard and Playground Association and the Kyrle Society, and later as head of Swanley Horticultural College, is rightly recognised as helping other women smash the glasshouse ceiling that had previously prevented them from being employed in the gardening world. This talk will look not only at Wilkinson's life but also at the stories of many of the students she taught and encouraged in the early twentieth century during her time at Swanley as well as the first women to be accepted at the Royal Botanic Gardens, Kew.
Image: A group of students at Swanley Horticultural College photographed by Fanny Rollo Wilkinson.
…..
Ben Dark is an author, gardener and horticultural journalist with a particular interest in the history of plants and landscapes. His book The Grove: A Natural Odyssey in 19½ Front Gardens (Octopus, 2022) used the plants of a single street in South London to weave together stories of the city, its people and their flowers and was called 'the best gardening book of 2022' by the Daily Telegraph, as well as being praised by The Sunday Times, the New Statesman and The Mail on Sunday. Alongside writing Ben also hosts the award-winning Garden Log podcast, providing a discursive look at the culture, literature and practice of gardening. He has a degree in history from Bristol University and an MA in garden and landscape history from the University of London, writing his dissertation on J. J. Sexby and London's Municipal Public Parks, 1889-1910.
For more information visit bendark.com
…..
Dr Catherine Horwood is a social historian with a passion for plants. She is an experienced speaker and has published widely including for Gardens Illustrated, The English Garden and the Daily Telegraph. Her biography Beth Chatto. A life with plants (Pimpernel Press, 2019), was selected as the European Garden Book of the Year in 2020. Other books include Rose (Reaktion, 2018) and Potted History. How Houseplants Took Over Our Homes (Pimpernel Press, 2020). Catherine is also the author of Gardening Women. Their Stories from 1600 to the Present (Virago, 2010), described by The Sunday Times as 'beautifully constructed and cogently written…Neither gardens nor women will seem quite the same again'.
…..
Dr Caroline Ikin is a Curator at the National Trust, with a portfolio including the gardens at Standen and Nymans. She has previously worked for the Gardens Trust and is a writer specialising in nineteenth century art, architecture and gardens. Caroline is author of The Victorian Garden (Bloomsbury, 2012), The Victorian Gardener (Bloomsbury, 2014) and The Kitchen Garden (Amberley, 2017), and regularly contributes book and exhibition reviews to various publications. Her PhD thesis examined the designed landscape created by John Ruskin at Brantwood.
…..
After a career as a head teacher in Inner London, Dr David Marsh took very early retirement (the best thing he ever did) and returned to education on his own account. He was awarded a PhD in 2005 and now lectures about garden history anywhere that will listen to him. Recently appointed an honorary Senior Research Fellow by the University of Buckingham, he is a trustee of the Gardens Trust and chairs their Education Committee. He oversees their on-line programme and writes a weekly garden history blog which you can find at thegardenstrust.blog.
…..
Margaret Willes spent her career in book publishing, latterly as the Publisher at the National Trust. On retirement, she took up writing on various aspects of cultural history. Her gardening books include The Making of the English Gardener: Plants, Books and Inspiration, 1560-1660 (Yale University Press, 2011), A Shakespearean Botanical (Bodleian Publishing, 2015), and The Gardens of the British Working Class (Yale University Press, 2014). She cultivates her own garden in Hackney.
…..