Description
Thursday 19th September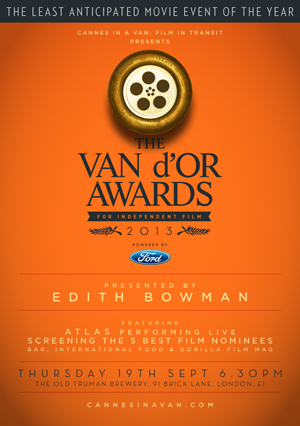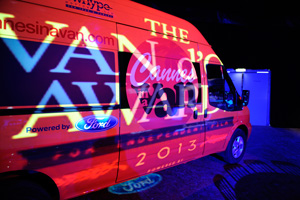 The 2013 Van d'Or Independent Film Awards (Powered by Ford)
6.30pm - 11.30pm
Cannes in a Van presents:
The Van d'Or Independent Film Awards 2013 - celebrating the work of those many talented emerging and established filmmakers, animators and motion designers.
The Awards
A truly alternative film festival, Cannes in a Van continues its partnership with Ford for The Van d'Or Awards 2013 in September. The awards night is a highlight of the indie film calendar, with a suitably glamorous industry event taking place on 19th September 2013 at London's cultural hub The Old Truman Brewery in Shoreditch.
A European crop of independent shorts, animation, music videos and features will be competing in 15+ categories, and one film will walk away with the coveted Van d'Or for Best Film.
The evening will be hosted by BBC Radio 1 & BBC 6 Music presenter Edith Bowman, who recently presented the Scottish BAFTAs.
The 5 top Van d'Or for Best Film nominees will be screened throughout the course of the evening and there'll be a special live-guest-performance, international food, free drinks and a room full of industry players. Plus, the Cannes Van will be in attendance and a new Student Film in Transit competition will be launched on the night. You can also pick up a special Van d'Or Awards edition of the very brilliant Gorilla Film Magazine on the night.
Tickets
Tickets for The Van d"or Awards are generally for invited guests, directors, press, cast & crew.
There are also a limited number reserved for general admission available.
Film in Transit
Cannes in a Van & The Van d'Ors is an alternative film festival. The winners and nominees form an Official Selection which will tour with Cannes in a Van: Film in Transit in the coming year, giving those entries some much deserved promotion and coverage via organised screenings, festivals and popup events. The Van may be coming to a town near you!
The Van d'Or Awards & Student Film In Transit Competition offer rewards which total over £10,000, including cash prizes & filmmaking equipment.
This year, 'Cannes in a Van: Film in Transit' continues to support and promote independent projects through special screenings, tours and regular monthly events both in the UK and Europe.
With the help and resources of new sponsor Ford, The Van d'Or Awards are able to reach an international audience, championing work from all corners of Europe.
These awards are a celebration of everything that independent film stands for - passion, innovation and the freedom of expression.
Submissions are closed for 2013.
Prize Categories
Prizes will be awarded in the following categories:
The 2013 Van d'Or Award for Best Film (Short)
Best Feature-length Film
Best Drama
Best Comedy
Best Animation
Best Motion Design
Best Documentary
Screen Social award for Best Music-based film
Best Screenplay
Best Director
Best Cinematography
Best Actor
Best Actress
Best Sound Design
Grass Roots Award
Youth Jury Award (in association with FILMCLUB)
Films entered will also be eligible for an Un Certain Regard award (films of note which deserve special recognition).
We look forward to seeing you there!
Cannes in a Van