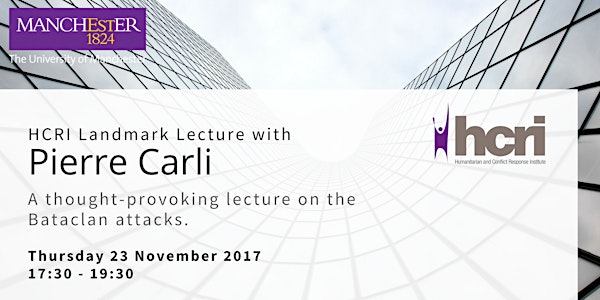 The 2015 Paris Terrorist Attacks: Medical Management and Lessons Learned
Location
Lecture Theatre A
University Place
176 Oxford Road
Manchester
M13 9QQ
United Kingdom
Description
HCRI is pleased to welcome Pierre Carli as the guest speaker at our 2017 Landmark Lecture.
In 2015, the city of Paris was the target of a number of terrorist attacks, including a series of co-ordinated attacks on November 13th which targeted concertgoers at the Bataclan Theatre, people dining in cafes and restaurants, and football fans at the Stade de France. The attacks were the most deadly in France since World War II, with over 130 fatalities.
Pierre Carli is the Chairman of SAMU, the Emergency Medical Service in Paris. His lecture will provide an insight into the response of the emergency services both during and after the attacks, the lessons learnt, and how the response could have been improved.
PIERRE CARLI
Pierre Carli is Chairman of the Emergency Medical Service in Paris, and is Professor in the Anesthesiology and Critical Care Department at Hospital Necker.
He is a national and international expert in the areas of the pre-hospital care, cardiac arrest, emergency and disaster medicine, and has been personally involved in the management of the terrorist attacks in Paris in 1995 -1996, the major heat wave in Paris in summer 2003, the H1N1 outbreak in 2009, the Ebola pandemic in 2014 and more recently in the terrorist attacks in Paris in January and November 2015.
Pierre is a member of several editorial boards and the author of many articles related to emergency and disaster medicine. In 2015 he was awarded the position of Commander in the Order of the Legion of Honour, by the French President.
EVENT FORMAT
17:30-18:15 Pierre Carli to give Lecture

18:15-19:00 Questions from the Audience

19:00-19:30 Drinks Reception

This event will be live-streamed on our Facebook page: www.facebook.com/hcrinstitute