Description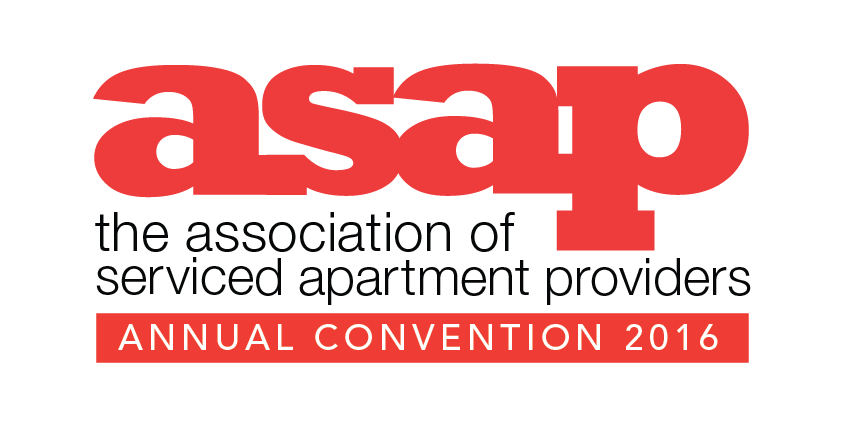 The 2016 ASAP Annual Convention is taking place on Thursday 1st December at etc. venues 155 Bishopsgate, London.
Now in its 7th year, our convention is a high-quality, one-stop-shop opportunity for individuals to meet face-to-face with key operators, suppliers, agents and decision makers and is the largest gathering of serviced apartment professionals in the UK.
During the event you will hear the latest industry insights, share best practice and take part in a seminar programme packed full of educational discussions.
Our convention is the headline event for the serviced apartment sector, enabling you to develop, build and maintain business relationships, meet potential suppliers and network with industry peers.
Who should attend?
Serviced apartment operators

Serviced apartment agents

Developers & Investors in the serviced apartment sector

Suppliers targetting the serviced apartment sector
You will have the choice to attend three of our breakout sessions listed below:
Breakout session 1:
Today's digitally inspired traveller: How is digital continuing to reshape the way people research and book travel and what must brands do to engage customers effectively? ... OR

The Future Guest: The session will focus on travel & hospitality and contextualised against unfolding social, cultural, technological & environmental shifts – this Industry trend unpacks and distils the evolving needs and priorities of tomorrow's guest... OR

Wellness in the workplace: Take the lead on employee wellbeing. How to embed a holistic health and well-being approach that fits your organisation's strategy, and how can HR take the lead in improving employee well-being.
Breakout session 2:
Be sustainable. Be Accessible. Be profitable: A focus on sustainability and accessibility will give your company the competitive edge. Think differently about your business - be more sustainable, more accessible, more successful and more profitable... OR

Will the departure from the EU have an impact on the serviced apartment sector... OR

Business Impact: Preparing your business for the unknown: Our expert panel will discuss their top tips on how to future proof your business and be ready for any eventualities
Breakout session 3:
Without operations we are nothing: Operations activity is the core of all business. How can we inspire employees and retain in operations management and ensure other areas of our business are working effectively with our ops team?... OR

The growing role of brand: How to make your company a game changer: Views from our panel on the importance of branding in the serviced apartment sector and how to engage with your customers through your brand... OR

Zone in on your customers: The travel industry needs to use data more intelligently to profile users' precise requirements, improve customer service, personalise the guest experience and enhanced profitability.

For more information about our speakers please visit our website.


ASAP Gala Dinner & Industry Awards
The ASAP Gala Dinner and Industry Awards will be taking place the night before on Wednesday 30th November at the Museum of London. With its new look for 2016, this black tie event brings together ASAP members, the wider industry, agents and suppliers in celebration and recognition of the sector's achievements over the past 12 months. Join us for a champagne drinks reception, followed by 3-course meal and presentation of the prestigious ASAP Industry Awards. The Gala Dinner will be the perfect prelude to the 2016 Annual Convention with the chance to meet new ASAP members, icebreak and build new and existing business relationships in a relaxed environment.

There are a LIMITED number of dinner tickets availabe, please purchase a dinner ticket here PLEASE CLICK HERE.
With thanks to our:
Bronze Sponsors: IDeaS, Maxxton, RMS, Business Travel Magazine
Terms of payment:
1) If option to "pay by invoice" is selected them immediate payment in full of the invoice issued via Eventbrite is required via bank transfer. Invoice number should be detailed on the bank payment as a reference number.

2) Cancellation policy: in the event of a delegate requesting to cancel their booking within 8 weeks of the 2016 ASAP Annual Convention then 50% of the cost is refundable. Within 4 weeks no refunds are possible.

3) ASAP reserve the right to cancel those bookings whereby tickets benefitting from early bird discount have not been settled in full at the expiry of the early bird discounted period 6pm Friday 14th October 2016.

4) ASAP reserve the right to charge statutory late payment interest on invoices at the rate of 8% plus the Bank of England base rate.

FAQs
When will I receive final instructions for the day?
An email with all the final instructions will be sent on Friday 25th November 2016.
How do I get to the venue?
etc.venues 155 Bishopsgate is conveniently located in The City. Situated minutes from Liverpool Street station, the venue is easy to reach from a number of train, underground and bus routes. Click here to download directions.
What time should I arrive?
Delegates should arrive for registration and breakfast at 09:00. The Convention will begin promptly at 09:50.
What is the agenda for the day?
Further details on the running order for the day can be found here.
Who is attending the 2016 ASAP Annual Convention?
Please click here for a list of companies that are attending the 2016 ASAP Annual Convention.
My colleague would like to book a ticket for the 2016 ASAP Annual Convention – is there still time?
Yes, ticket sales close on Friday 25 November, to secure your place at the Convention, please book now.
Can I purchase a ticket on the day of the event?
Unfortunately not, ticket sales close on Friday 25 November 2016.
How can I make changes to my ticket?
Changes to your ticket can be made by simply logging into your Eventbrite account. You can update the information on your order (like name, email address, or answers to the organiser's questions) by clicking your order on the Tickets page.
Will there be any exhibitors at the event?
Yes, we have a range of suppliers who will be showcasing their products and services at the Annual Convention.
Do I need to book into seminar session in advance of the Convention?
Yes, seminars are allocated on a first come first served basis. Please select your seminar sessions when booking the convention ticket or by logging into your Eventbrite account prior to the Convention.
I have booked into seminar sessions, but I have forgotten which ones – can you help?
Don't worry you can check which seminars you have selected by logging into your Eventbrite account. Alternatively our events team will have a list of delegates attending the seminars with them on the day. Please report to reception and our staff will be happy to assist.
Will there be WIFI at the venue?
Yes there will be free WIFI available at the venue. You will be given the WIFI code when you arrive at registration.
What should I wear to the Convention?
The dress code for the event is business attire.
Will there be a choice of food during the Convention?
There will be a buffet lunch, allowing you to choose from a range of dishes. Please ensure you make us aware of any special dietary requirements in advance so we can inform the venue.
Will there be anywhere to leave my luggage/coat?
Yes, we have a cloakroom available where you will be able to leave any coats or small pieces of luggage for the duration of the Convention.
Will there be filming and photography during the event?
Yes, there will be filming and photography taking place during the Convention. By attending the event you consent to being filmed and photographed for promotional materials.
Why do I need to provide my email address?
We ask you to provide your email address so that we can send you an electronic version of your tickets. We also use this channel as a way for us to provide you with any updates about convention related content.
Will there be security at the event?
etc.venues have confirmed that there is security at the venue.
How can I get involved via social media?
We will be tweeting live from the 2016 ASAP Annual Convention. To join the conversation, follow @asapthe on Twitter and tweet using #asapconvention
What is your cancellation policy?
Please revert to our Terms of payment above.
How do I find out about sponsoring other ASAP events?
For full details about our sponsorship opportunities, please view the ASAP 2016 Sponsorship Packages document HERE