Description

We are delighted to announce the Cambridge Society of London's Special Day at Lord's for the 2017 Varsity Matches on Friday 23 June.
The Society's Lord's Suite Party is one of the highlights of our calendar, and again we will be spending a whole summer's day in our own private box in the Tavern Stand of the global home of cricket, overlooking the Main Ground and giving first class views of the action. We have both indoor and balcony seating plus a dedicated member of Lord's staff serving us tea, coffee, biscuits, soft drinks, wine and beer - all included in your ticket price.
The men's match will be in front of us on the Main Ground and the ladies will be playing on the Nursery Ground. As always we approach this event with huge enthusiasm and confidently expect to triumph on the day. We have said that before of course … but this time it really will happen!
Using our suite as your base, wander around Lord's at will, watch both matches, visit the shops and buy lunch if you wish, or bring your own picnic and join us in the Coronation Garden under the trees at half time.
Dress code is simply "smart casual" – no jeans, trainers, t-shirts or flip-flops please. Lord's does not insist on jacket and tie but men may come in their emblazered glory if they wish.
The matches start at 11:00am. Entrance is from 10.00am by the Grace Gate, St John's Wood Road, on the South West Corner of the Ground, postcode: NW8 8QN. Nearest tubes are St John's Wood, Warwick Avenue, Marylebone and Baker St. Buses: 13, 82, 113, 139, 187, 189, and 274. From 10.00am to 11.00am a member of our Committee will be at the Gate to welcome you and to hand out tickets as you arrive. If you're a little late the tickets will be at the Grace Gate office.

Members: £54
Guests: £58
Numbers are limited to 36 and tickets go quickly, so do book early. This event is open to Cambridge Society of London members and up to one guest per member. Potential Society members may learn more and join at www.camsoclon.org.
David Peace
Chairman, Cambridge Society of London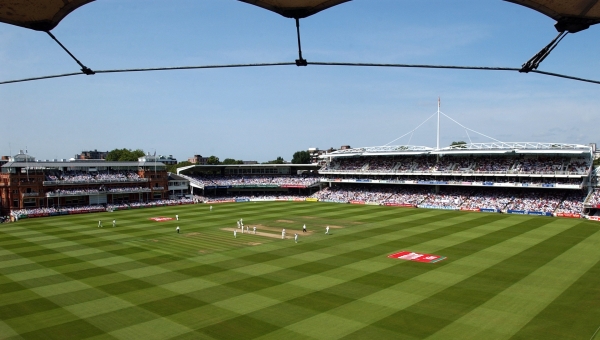 Cambridge Society of London Transfer and Refund Policy
i) At least 14 calendar days before the event: We will provide full refunds. Alternatively, if you have found a suitable replacement, we can change the name on the ticket on the understanding that you will reclaim the ticket price from them separately.
ii) Between 4 and 14 calendar days before the event: Our arrangements with our hosts are always finalised 4 calendar days before each event. With more than 4 calendar days' notice we can still change the name to someone named by you on the understanding that you will reclaim the ticket price from them separately. Alternatively, we MIGHT be able to sell it to someone else; there is no guarantee of that but we will do our best and then refund you if successful.
iii) Less than 4 calendar days: We regret that we cannot offer refunds if given less than 4 calendar days' notice.