The 2019 Education Inspection Framework - what it means for your school
Description
Introduction
A draft of Ofsted's 2019 Education Inspection Framework was published on the 16th of January 2019. There is a consultation which concludes at 11:45am on the 5th of April 2019. I hope you have read and will be responding to this consultation. Each time a new inspection framework is introduced the proportion of non-association independent schools that perform poorly during inspection increases significantly - see below: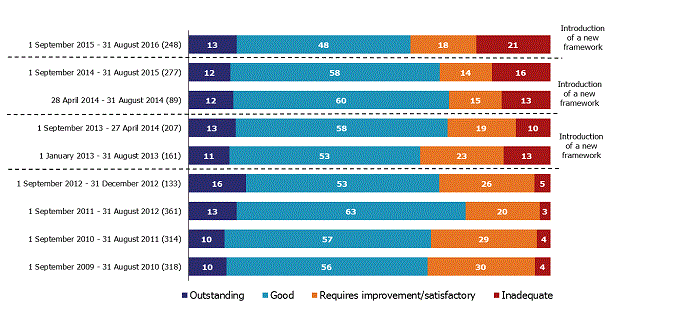 This can't be because the quality of education they deliver suddenly declines. It also can't be because school leaders do not take the time to find out how they will be evaluated, I am sure they do - Ofsted holds many events to explain this. We think schools perform poorly because leaders do not take the time to work how they can modify their procedures in order to clearly demonstrate their school's effectiveness under the new framework. When a new subject specification is introduced, is knowing the new assessment objectives enough for teachers or students? No. Teachers take the time to rethink their overall approach to planning and delivery of the subject, fine tuning it so that students will not only continue to learn but also be able to demonstrate what they have learned under the new specification, that's what we will be doing during this workshop so book your place!
Invitation
You are invited to a training workshop during which we will:
outline how the incoming framework differs from the current one
identify specific areas of your practice that will need to be modified in order to showcase more clearly the good job you are already doing
give you some free tools to help make those modifications easier
This workshop is ideal for Headteachers, School Principals, Governors, Trustees, Senior Managers of Non-association Independent Schools.
Programme
9:30 am or 1:30 pm Tea and Coffee
10:00 am or 2:00pm First session
11:00 am or 3:00pm Refreshments
11:30 am or 3:30pm Second session
12:30 pm or 4:30pm Questions, networking
Parking & how to get there
There is free parking onsite. The venue is just off junction 2 on the M5 motorway and a 7- minute walk from Sandwell & Dudley train station.
How to contact the organiser
email: enquiries@marellconsulting.co.uk
telephone: 0121 452 5116
Transferring your booking
Delegates can transfer their bookings by contacting the organiser via email by midnight on the 19th of March 2019.
Cancellation and refunds
We need to confirm our food order by Tuesday the 19th of March - for this reason I ask that you let us know as soon as possible if you are unable to attend.