THE 2021 BATTLE OF THE UNIS! THE BIG FRESHERS UNIVERSITY CLASH
About this event
⚠️This MASSIVE event is part of the Official London Freshers Wristband! Buying a wristband will save you money!
You can get a wristband here:
🎟 - https://bit.ly/LDN2021FreshersWristband
OR get an individual ticket for this event here:
🎟 - http://bit.ly/BOTU21
▬▬▬▬▬▬▬▬▬▬▬▬▬▬▬▬▬▬▬▬▬▬▬▬▬▬▬▬▬▬▬▬▬▬
THE 2021 BATTLE OF THE UNIS!
⚔️ THE OFFICIAL UNIVERSITY CLASH ⚔️
Freshers, it's no secret that a host of London Universities all hold intense rivalries and grudges with each other.... We thought we'd give you the chance to address these rivalries in a fun, but intense BATTLE OF THE UNIS match up/party !!
YOU HAVE A DUTY!
To REPRESENT your uni! Show your support & make sure you make noise for those who are BRAVE enough to participate in all of our competitions!
HUGE PRIZES FOR THE WINNERS!
Secure your place & get your tickets now from:
www.lowercase-tickets.com
✚ Gladiator Duel Pit ✚ and/or ✚ Sumo Wrestling ✚
✚ Gunge Tank ✚
✚ War Paint Stations ✚
✚ Dance Off ✚
REP YOUR UNI // DRESS IN YOUR ASSIGNED COLOUR!
IMPERIAL - LIGHT BLUE
KCL = WHITE
UCL = DARK BLUE
LSE - RED
QM - LIGHT PURPLE
UAL - BLACK
CITY - GREY
WESTMINSTER - ORANGE
LSBU - YELLOW
GREENWICH - GREEN
MIDDLESEX - LIME GREEN
GOLDSMITHS - BROWN
UEL - MAROON
BRUNEL - PINK
RVC - DARK PURPLE
THIS WILL 100% BE ONE OF THE HIGHLIGHTS OF YOUR FRESHERS PERIOD!
DO NOT MISS OUT!
💰 JOIN OUR TEAM TODAY 💰
Work For Lowercase Events // We are London's biggest student events company running London's biggest weekly and one off club brands!
We are recruiting FRESHERS at all London Universities to sell tickets for our events!
★ Free Entry to ALL our events and free drinks at some!
★ V.I.P Treatment at all our events!
★ Earn commission for every ticket sold!
★ Easily make new friends in your halls!
★ Be part of a fun team of promoters
★ Bonuses//- Extra Money, Free nights out AND MUCH MORE!
Apply now by filling out the form below:
www.yourfreshersguide.com/work-for-us
▬▬▬▬▬▬▬▬▬▬▬▬▬▬▬▬▬▬▬▬▬▬▬▬▬▬▬▬▬▬▬▬▬▬
VENUE ADDRESS BELOW 📍
O2 ISLINGTON
16 Parkfield St
Angel
London
N1 0PS
Closest Tubes : Angel Station
⚠️ IMPORTANT INFORMATION ⚠️
WARNING – This event is for 18+ only. (ID REQ)
DOORS OPEN @ 10PM! We strongly recommend you arrive at 10PM to avoid long queues. All of our freshers events will be sold out in advance and are expected to be extremely busy!
Tickets valid till 1:30AM.
👮🏻 Please Do not bring drugs or alcohol to the venue, the police will be contacted and you will be banned from the venue for life ❌
It is important that you click "INTERESTED" in all of our events on Facebook to keep up to date with important announcements etc ✅
DRESS CODE : No tracksuit tops or bottoms, no teamed sports clothing.
R.O.A.R
▬▬▬▬▬▬▬▬▬▬▬▬▬▬▬▬▬▬▬▬▬▬▬▬▬▬▬▬▬▬▬▬▬▬
☎️ CONTACT US 24/7 ☎️
If you have any questions, do not hesitate to contact us on the following👇
EMAIL : INFO@LOWERCASEGROUP.CO.UK
MOBILE HOTLINE : 07894 553 938
WHATSAPP : 07894 553 938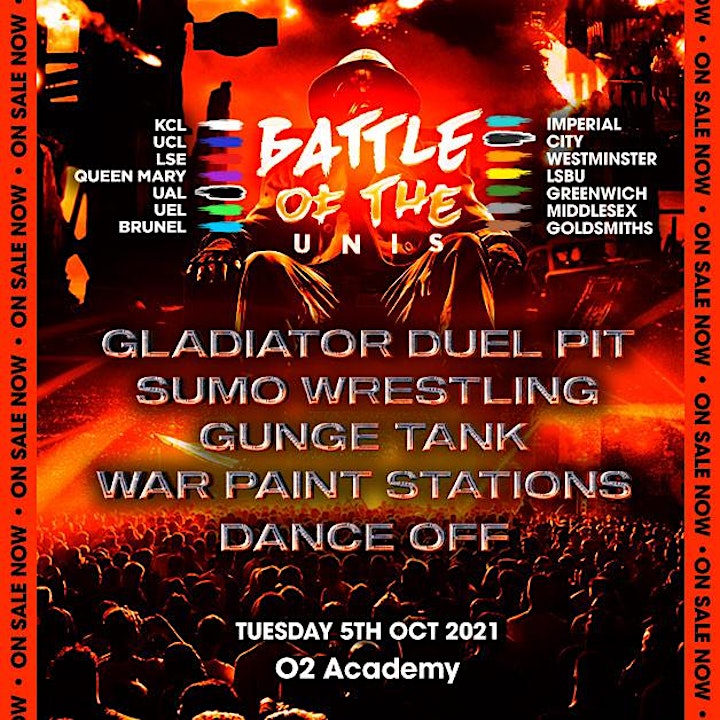 Organiser of THE 2021 BATTLE OF THE UNIS! THE BIG FRESHERS UNIVERSITY CLASH