The annual London Freshers Circus! Sold out every year
About this event
2000 Students are going to…
🤡💃🏼THE LONDON FRESHERS CIRCUS!💃🏼🤡
FRESHERS – We know you love to party. This is fact. Tiger Tiger London
is certainly capable of hosting a decent party, so it seems a fine idea
to hold a huge student party here, doesn't it?
This years freshers circus will DEFINITELY not be short of surprises!
EXPECT THE FOLLOWING:
🍬 Free Candy Floss 🍬
🍿 Popcorn 🍿
🤡 Circus Clowns🤡
🔥 Fire Performers🔥
💃🏼 Stilt Walkers💃🏼
🎩 Magicians🎩
🤸🏽‍♀️ Back Flipping Acrobats 🤸🏽‍♀️
ALL AT CENTRAL LONDON'S BEST PARTY SPACE! – THIS PARTY WILL HAVE 5
DIFFERENT UNIQUELY SPACES PARTY SPACES & 3 ROOMS OF DIFFERENT MUSIC!
▬▬▬▬▬▬▬▬▬▬▬▬▬▬▬▬▬▬▬▬▬▬▬▬▬▬▬▬▬▬▬▬▬▬
🔊MUSIC POLICY 🔊
3 Arenas Music with London's BEST club DJ's
🐯 TIGER BAR : House & Deep House, EDM, Garage, Trap, Commercial Mashups
⚪️◻️ WHITE ROOM : Hip Hop / RnB / Grime / Trap
👯 GROOVY WONDERLAND : 00's early 10's & Club Classics
As this is one of the most attraction heavy freshers events we expect
this to sell out well in advance!
FOR OUR FULL EVENT SCHEDULE
www.lowercase-tickets.com
💰 JOIN OUR TEAM TODAY 💰
Work For Lowercase Events // We are London's biggest student events
company running London's biggest weekly and one off club brands!
We are recruiting FRESHERS at all London Universities to sell tickets for
our events!
★ Free Entry to ALL our events and free drinks at some!
★ V.I.P Treatment at all our events!
★ Earn commission for every ticket sold!
★ Easily make new friends in your halls!
★ Be part of a fun team of promoters
★ Bonuses//- Extra Money, Free nights out AND MUCH MORE!
Apply now by filling out the form below:
www.yourfreshersguide.com/work-for-us
▬▬▬▬▬▬▬▬▬▬▬▬▬▬▬▬▬▬▬▬▬▬▬▬▬▬▬▬▬▬▬▬▬▬
VENUE ADDRESS BELOW 📍
TIGER TIGER LONDON
29 HAYMARKET
LONDON
SW1Y4SP
Closest Tubes : Leicester Square & Piccadilly Circus
⚠️ IMPORTANT INFORMATION ⚠️
WARNING – This event is for 18+ only. (ID REQ)
DOORS OPEN @ 10PM! We strongly recommend you arrive at 10PM to avoid long queues. All of our freshers events will be sold out in advance and are expected to be extremely busy!
Tickets valid till 1:30AM.
👮🏻 Please Do not bring drugs or alcohol to the venue, the police will be contacted and you will be banned from the venue for life ❌
It is important that you click "INTERESTED" in all of our events on Facebook to keep up to date with important announcements etc ✅
DRESS CODE : No tracksuit tops or bottoms, no teamed sports clothing.
R.O.A.R
▬▬▬▬▬▬▬▬▬▬▬▬▬▬▬▬▬▬▬
☎️ CONTACT US 24/7 ☎️
If you have any questions, do not hesitate to contact us on the following👇
EMAIL : INFO@LOWERCASEGROUP.CO.UK
MOBILE HOTLINE : 07894 553 938
WHATSAPP : 07894 553 938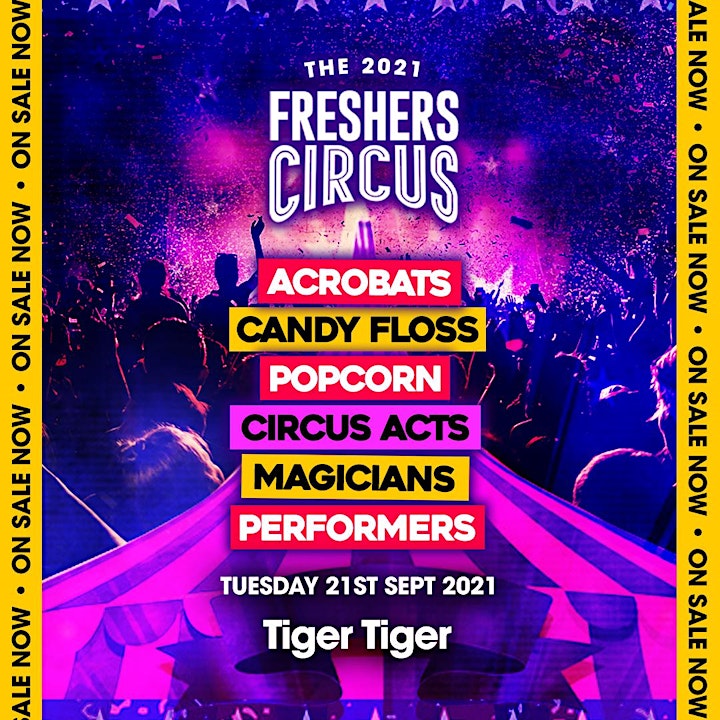 Organiser of THE 2021 LONDON FRESHERS CIRCUS AT TIGER TIGER LONDON