Description
The 2inspire Network is proud to announce its inaugral "Ladies Day" event which is taking place on the 19th august 2012 at the Crowne Plaza, Docklands.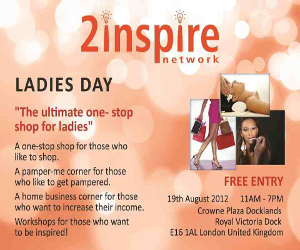 The event is a free exhibition which will showcase business and services that meet the needs of women. On the day there will also be lifestyle inspiration workshops that will demonstrate how to look and feel good and business and personal development workshops that aim to empower and support women in creating a crystal clear vision on both a personal and business level.
There will be up to 30 exhibitors whose products range from fashion to beauty to artwork making the event an ultimate one-stop shop for ladies.
Register for your free attendance and free goody bag.