The 2nd Critical Mental Health Nurses Network Event: Working together to re...
Description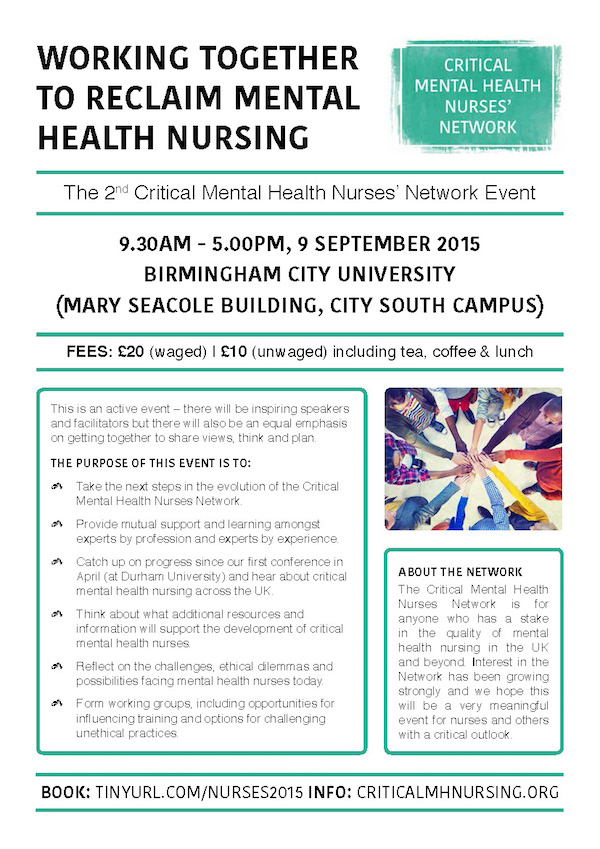 You are warmly welcomed to the CMHNN second national conference, Birmingham City University (City South Campus), 9th September 2015. The Critical Mental Health Nurses Network is for anyone who has a stake in the quality of mental health nursing in the UK and beyond.
Tickets are £20 (waged) and £10 (unwaged). This price includes tea and coffee and lunch.
This is an active event - there will be inspiring speakers and facilitators but there is an equal emphasis on getting together to share views, think and plan. The purpose of this event is to:
Take the next steps in the evolution of the Critical Mental Health Nurses Network.

Provide mutual support and learning amongst experts by profession and experts by experience.

Catch up on progress since our first conference in April (at Durham University) and hear about critical mental health nursing across the UK.

Think about what additional resources and information will support the development of critical mental health nurses.

Reflect on the challenges, ethical dilemmas and possibilities facing mental health nurses today.

Form working groups, including opportunities for influencing training and options for challenging unethical

practices.
Download & Share: Event flyer
See http://criticalmhnursing.org/events/ for more details