The 3rd Ugandan UK Trade and Investment Forum in London: 'Ugandan UK Conven...
Location
Troxy Arena
490 Commercial Rd
London
E1 0HX
United Kingdom
Sales Have Ended
Ticket sales have ended
Print and bring your ticket with you at the door please
Description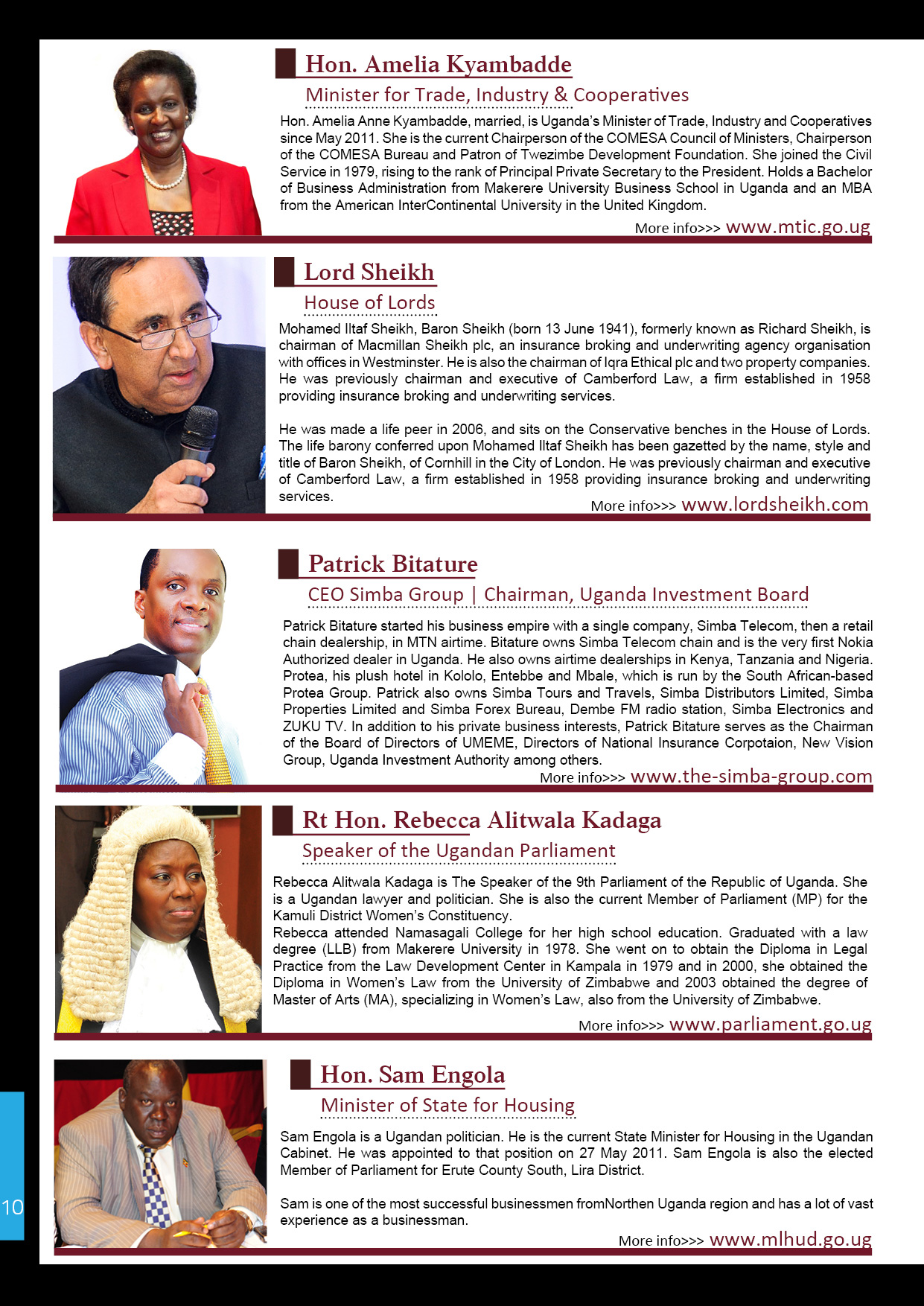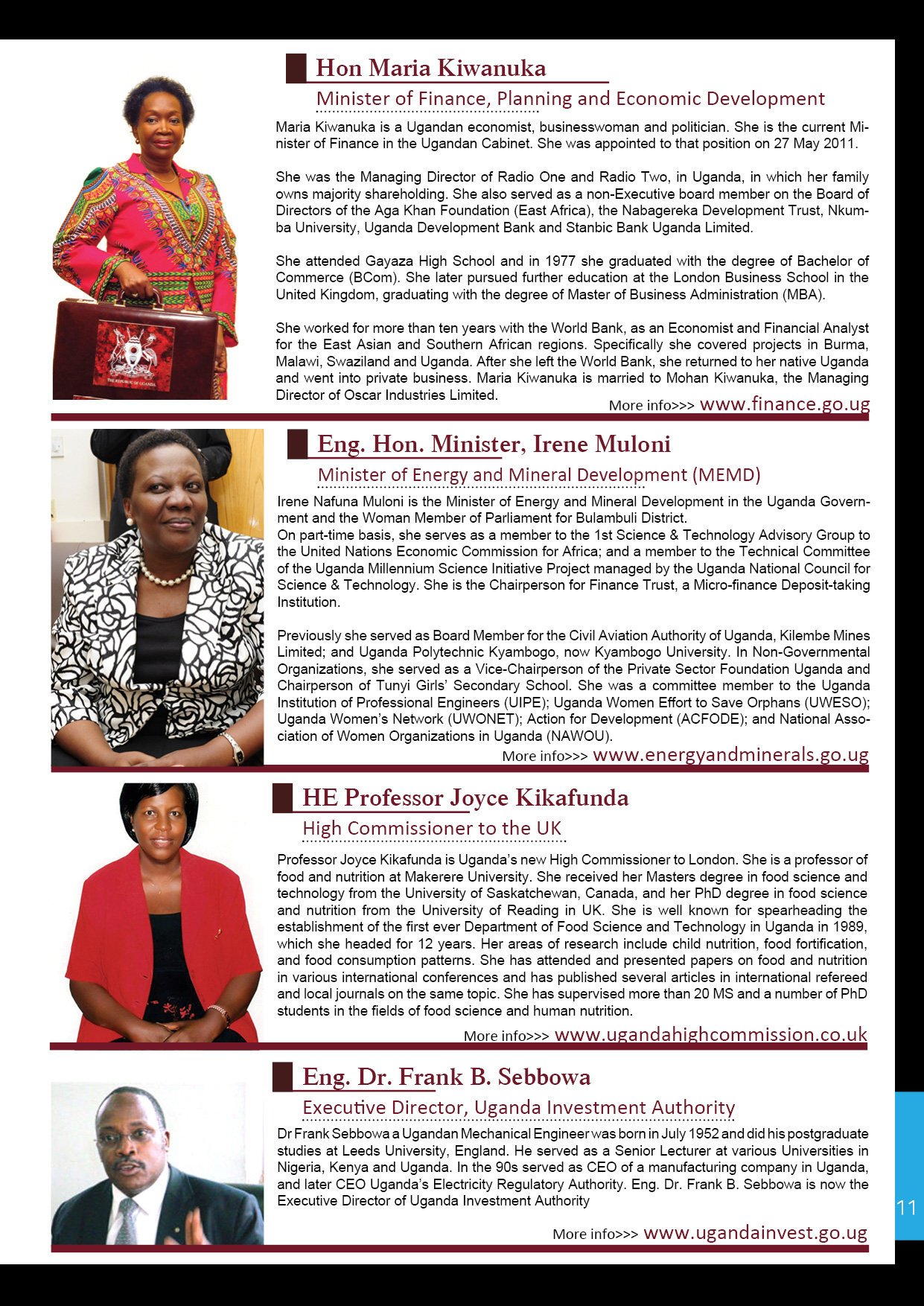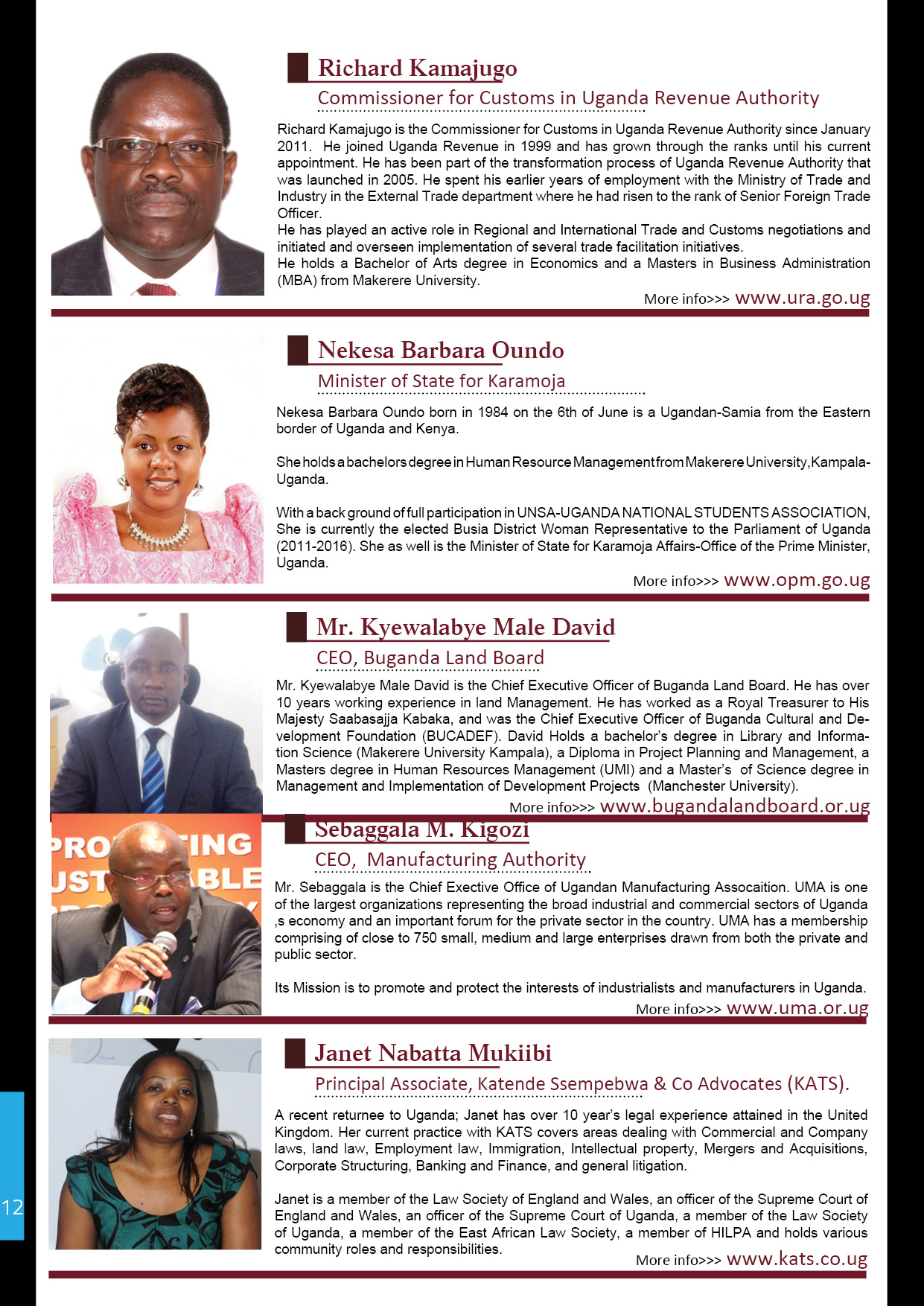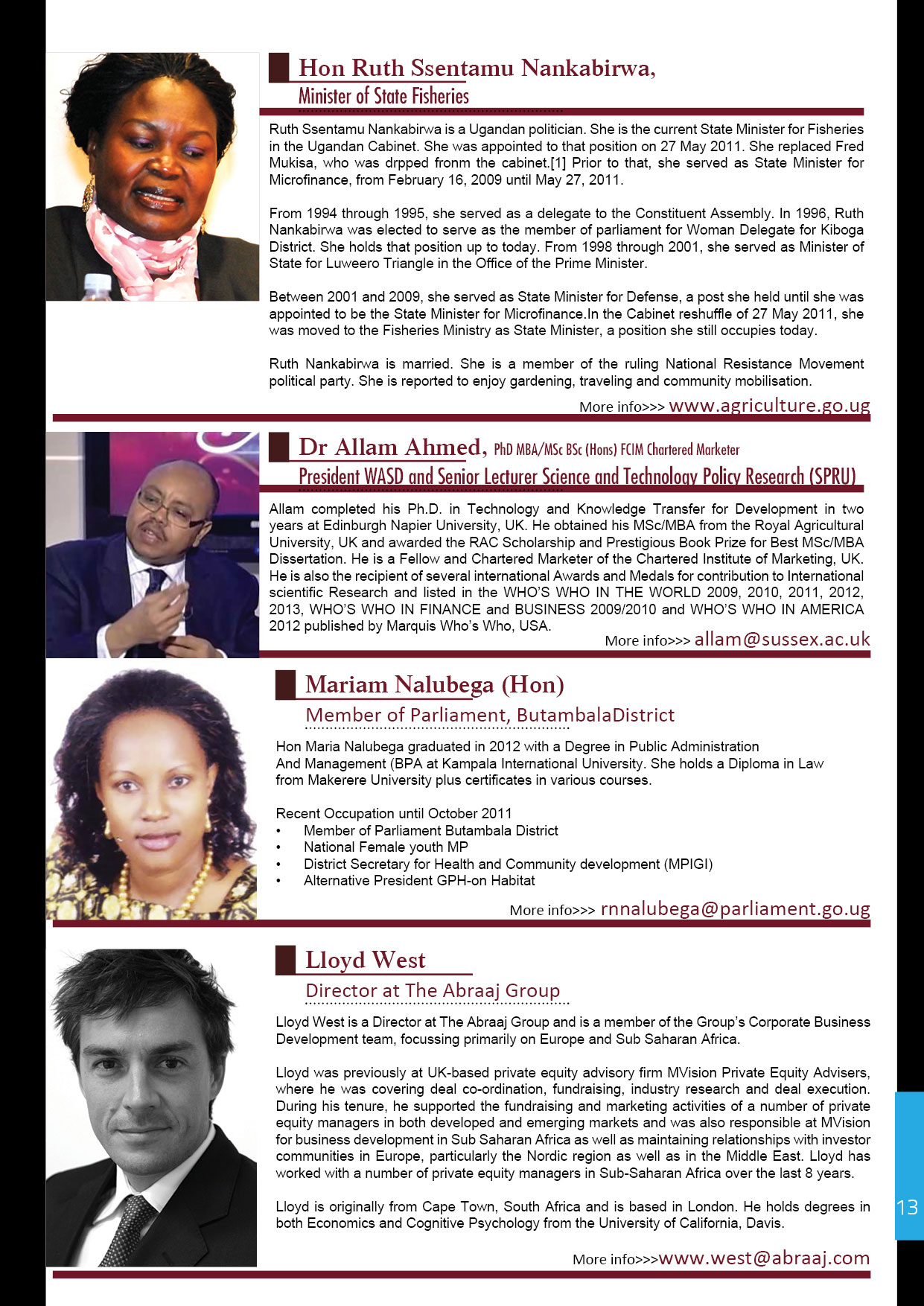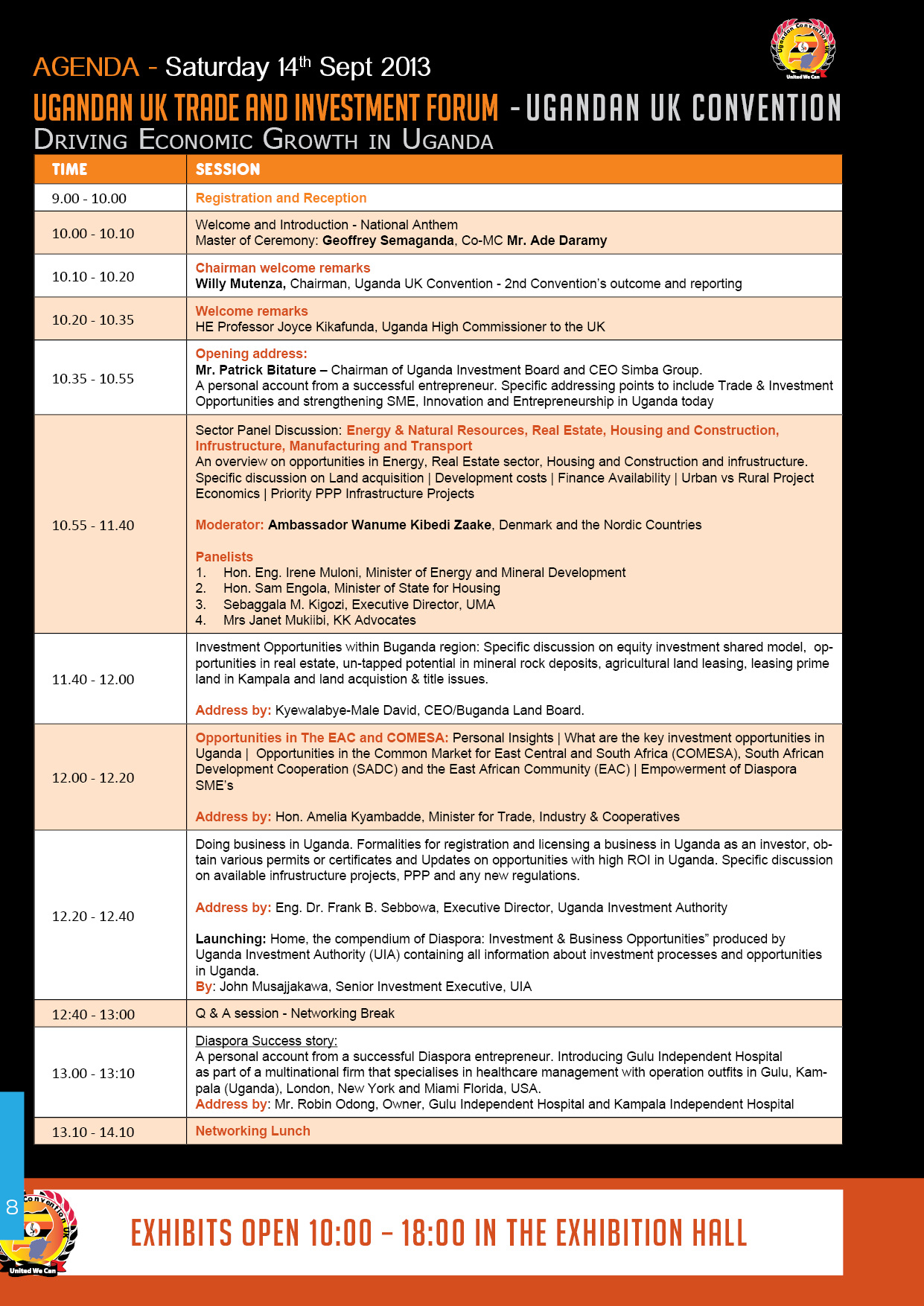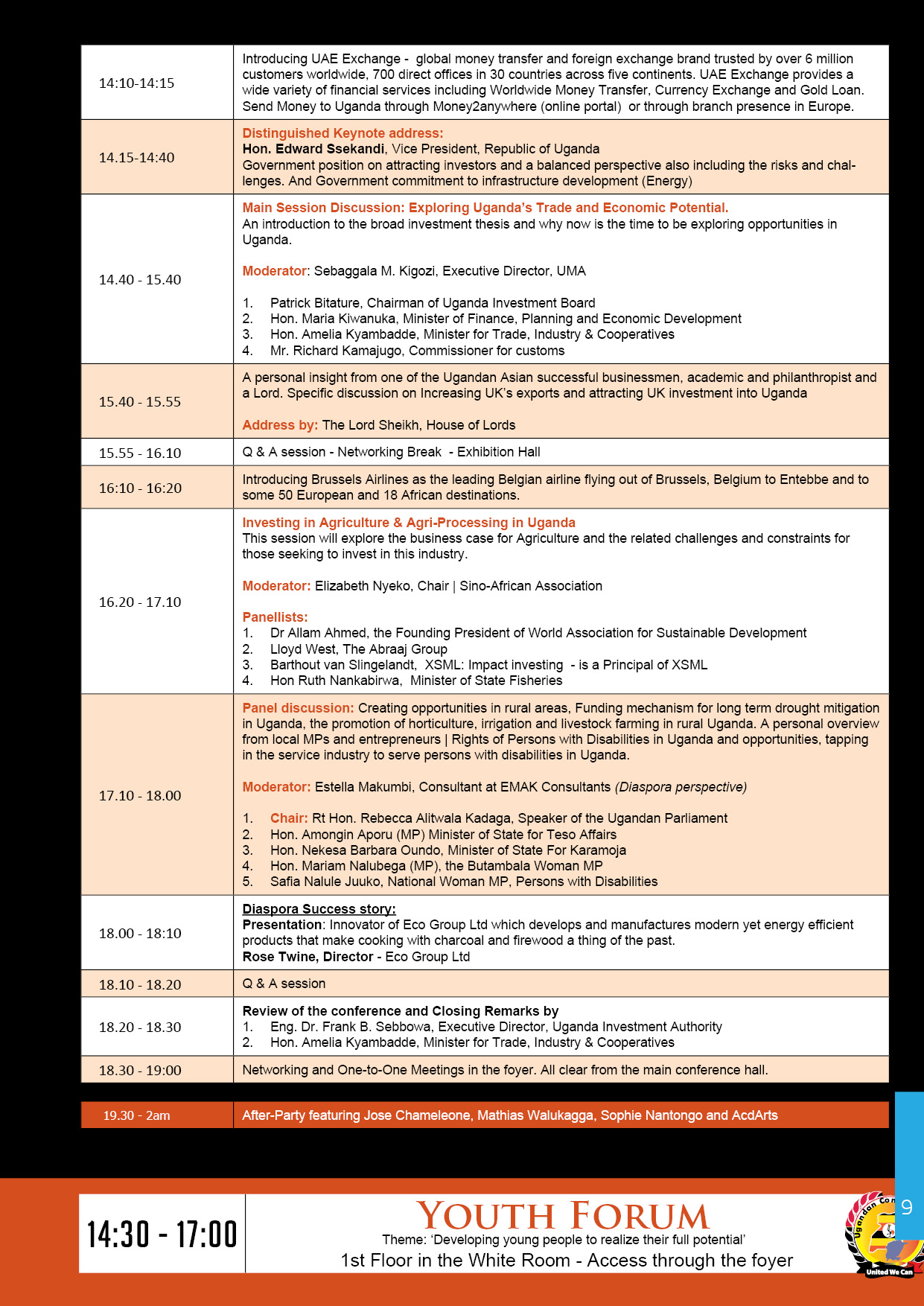 In conjunction with the Government of the Republic of Uganda, the Uganda Investment Authority take great pleasure in inviting you to the 'Uganda-UK Convention' the 3rd Uganda-UK Trade and Investment Forum, to be held at the Troxy Arena, in London, on 14th September 2013. Aptly set within Canary Wharf - London's financial district, the Uganda-focused event features the highest calibre of speakers selected from across government, business and investment landscape. Now in its third year, the annual forum attracts over 1000 delegates, in what has become the largest Uganda-focused gathering across the UK & Europe.
Highlights of the Convention will include a keynote speech delivered by Hon. Edward Kiwanuka Ssekandi the Vice President of Uganda. Other key representatives of the Ugandan Government speaking at the event will include: Hon. Amelia Kyambadde the Minister for Trade, Industry & Cooperatives; Rt. Hon. Rebecca Alitwala Kadaga the Speaker of the Ugandan Parliament; and HE Professor Joyce Kikafunda the High Commissioner to London.

Confirmed high profile and prominent speakers, who are active in the public or private sector, either in the UK and/or Uganda include:
Hon. Edward Kiwanuka Ssekandi, Vice President, Republic of Uganda
Hon. Amelia Kyambadde, Minister for Trade, Industry & Cooperatives
Rt Hon. Rebecca Alitwala Kadaga, Speaker of the Ugandan Parliament
Lord Sheikh, House of Lords
Lord Popat, House of Lords
HE Professor Joyce Kikafunda, High Commissioner to the UK
Mohan Kaul, Chairman Commonwealth Business Council
Patrick Bitature – Chairman of Uganda Investment Board
Mr. Elly Karuhanga, President of Tullow Uganda and Director of Tullow Uganda
Ashish Thakkar, CEO and Founder Mara Group
Eng. Dr. Frank B. Sebbowa, Executive Director, Uganda Investment Authority
Mr. Richard Kamajugo, commissioner for customs
Amb Agnes Kadama Kalibbala, CEO NHCC
Sebaggala M. Kigozi, Executive Director, Uganda Manufacturing Authority
The event, agenda and program for the day are expressly designed to support the country's efforts to attract foreign direct investment, mark the multitude of merits Uganda presents as a preferred investment destination and paint a candid and contemporary picture of the nation's regulatory, business and investment climate.
The purpose of the Forum is to inform the investors and business community in this region of the vast potential for investment that Uganda is offering to both the domestic and international community. Specifically, the forum will:
Update investors on pr

iority sectors for investment such as agri-processing infrastructure development, energy, tourism and agro-industries

Provide an opportunity for those who have invested in Uganda to explain the realities of doing business in Uganda

Dispel some of the concerns that in

vestors may have about investing in new frontiers such as Uganda
We expect over 1000 people to register for the event. The event will be on an invitation-only but free-to-attend basis. Delegates will be drawn from the following groups:
The institutional investment community;

The international banking community;

Diaspora community

Organisations involved in infrastructure development, including housing and commercial building, construction, urban regeneration, roads and bridges, information and com

munication technology, water supplies, power generation, transmission and distribution;

Manufacturing and agribusiness industries, and companies involved in adding value to primary processes;

Organisations looking to invest into developing hotels an

d service industries;

Representatives from key bilateral and multilateral donor agencies.
Following the event, MM2 Capital and The Promota will continue to facilitate constructive dialogue between the investment community and the Ugandan Government to ensure that the investment potential is maximised.
Willy Mutenza
Chairman-UGANDAN UK CONVENTION
3rd Ugandan UK Trade and Investment Forum in London:
'Ugandan UK Convention' - Driving Economic Growth in Uganda
M: +447790 647 089 | Website: www.ugandanconventionuk.org


DATE: Saturday, 14 September 2013 | TIME: 10.30 - 18.30
VENUE: Troxy, 490 Commercial Rd, E1 0HX London United Kingdom
Register now: http://3rdugandaukconvention.eventbrite.co.uk
To exhibit call 0044 7790 647 089
---
Uganda Office:
Bernard Robinson Magulu; FCCA, CPA
Email: bernard.magulu@mm2capital.com
Mob:+256 (754) 410 559, +256 776 410 559
Sponsoring this convention offers wide-ranging benefits, giving your institution a unique platform at the convention, as well as through our website and networks, enhancing your corporate profile to influential participants. Our dedicated team will work closely with the sponsors to tailor their involvement in the forum and maximise media exposure.
The Convention's Objectives:
Promote the exchange of information, research and expertise and encourage new business interaction and relationships
To mobilize the Ugandan Diasporas to transfer knowledge, skills and technologies to Uganda to promote socio-economic and infrastructural development
Identify potential opportunties in Uganda and mobilise Ugandans in the Diaspora to invest back home and increase the role of Ugandan Diaspora in Uganda's development
Seek investment opportunities in public and private organizations within Uganda, the United Kingdom and Europe and inform Ugandans in the Diaspora
Utilize the intellectual and financial capital of the Diaspora for the purpose of improving the livelihood of all Ugandans
Raise awareness of financial services available for small to medium sized businesses in Uganda and the United Kingdom
Lobby and influence the Ugandan government to tap into the "vast expertise" of Ugandan professionals in Europe, to hasten Uganda's socio-economic development
Encourage Ugandans in the Diaspora to promote a positive image of their nation
Mentor Ugandan youths in the Diaspora to instil in them a sense of nationalism and become responsible citizens
Create awareness of scholarship programs designed for the development of Uganda
Inspire and encourage a unity among Ugandans in Europe

Convention's Principal Goals:
Increase remittances inflows through targeted investment products for Diasporans
Reverse the concept of brain drain to brain gain by tapping into the huge pool of Ugandan professionals
Encourage investments in the key sectors, i.e. education, health, housing, sports, tourism and many more
Work in partnership with the Uganda government to set up major development strategies
Mobilize the Ugandan business communities in the Diaspora for investment and trade in Uganda
Exhibit and celebrate the rich diversity of their cultural heritage and encourage Ugandans to be more active as ambassadors for Uganda's culture – food, clothes, social life etc
Uganda has a wealth of talent in an ever-improving education market, vast natural resources, massive energy producing capabilities, expanding tourism and hospitality services and opportunities to improve infrastructures and construction projects. Africans need to recognise their wealth of potential and work towards attaining self-sufficiency and regaining control of their destiny!