Escape the 9-5, Live Anywhere and Join the New Rich
About this Event
In this event, you'll learn :
Working Less Is Not Laziness
Focus on Strengths, Instead of Trying to Fix Weaknesses
People Don't Want to Become Rich
Apply the 80/20 Rule to Your Life
Rid Yourself of Material Possessions
Minimize Input to Maximize Output
Taking Risks Always Beats Complacency
Don't Underestimate the Value of Time
When It Comes to Choices, Sometimes Less Is More
About the Author
TIMOTHY FERRISS is a serial entrepreneur, #1 New York Times bestselling author, and angel investor/advisor (Facebook, Twitter, Evernote, Uber, and 20+ more). Best known for his rapid-learning techniques, Tim's books -- The 4-Hour Workweek, The 4-Hour Body, and The 4-Hour Chef -- have been published in 30+ languages. The 4-Hour Workweek has spent seven years on The New York Times bestseller list. Tim has been featured by more than 100 media outlets including The New York Times, The Economist, TIME, Forbes, Fortune, Outside, NBC, CBS, ABC, Fox and CNN. He has guest lectured in entrepreneurship at Princeton University since 2003.
Tim was selected by Mashable as one of only five "Must-Follow" accounts for entrepreneurs.
About the Book
This step-by step guide to luxury lifestyle design teaches: how Tim went from $40,000 dollars per year and 80 hours per week to $40,000 per MONTH and 4 hours per week; how to outsource your life to overseas virtual assistants for $5 per hour and do whatever you want; how blue-chip escape artists travel the world without quitting their jobs; how to eliminate 50 per cent of your work in 48 hours using the principles of a forgotten Italian economist; and, how to trade a long-haul career for short work bursts and frequent 'mini-retirements'. This new updated and expanded edition includes: more than 50 practical tips and case studies from readers (including families) who have doubled their income, overcome common sticking points, and reinvented themselves using the original book as a starting point; real-world templates you can copy for eliminating email, negotiating with bosses and clients, or getting a private chef for less than GBP5 a meal; how lifestyle design principles can be suited to unpredictable economic times; and, the latest tools and tricks, as well as high-tech shortcuts, for living like a diplomat or millionaire without being either.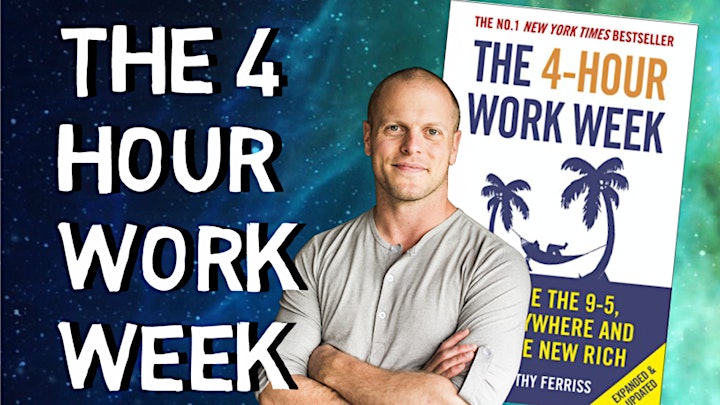 4 Ways to Actually Implement a Four Hour Work Week Into Your Life :
Step 1: Pick Your Business
Before you even attempt to cut down your workload as significantly as a true 4-Hour workweek would require, you have to pick a single thing to focus on. It could be writing, coaching, photography, film-making, or basically any other type of business, online or in-person, that you can think of — it just has to be something that can generate income and can be scaled in some way.
Pick your business, then you're ready to get to work.
Step 2: Lay the Framework
After you've decided what business you are going to work on and generate your newfound income in, you're going to have a little more work to do than what can be done in just four hours out of the week.
Building a business can take a little while. Before you actually start making money, you're going to need to build the framework, the foundation that you're going to need in order to actually begin making money.
This might involve making money to use as startup costs, buy equipment, buy a building, etc. You can't jump straight into just four hours a week if you're interested in making money quickly. Before you start cutting your workweek, you'll probably need a website, clients, a designated email address for your new business, contacts, business cards, and, most importantly, a product of some kind, whether that be a physical or intellectual/educational item.
Lay the framework well and you'll build your business with ease as you move forward.
Step 3: Practice Essentialism and Deep Work
There's just one problem with doing a significant amount of meaningful work in four hours — you only have four hours. With such a significant time constraint for your business and income-making venture, you have to be really careful about what you spend your time on.
In those four hours every week, you need to be making things, creating and producing products. You need to create in order to be able to make money. You need to create in order to grow a business and see significant returns based off of those four hours.
Step 4: Quit Working After Four Hours
We're down to the hardest part of implementing The 4-Hour Workweek.
Stop working after that 4-hour timer goes off. Whether you do your four hours in a row or break it up over the course of the week, once your time is up, stop working until the next week. You can plan your work over the course of the week, you can think about it, but don't work until the next week starts.
Plan your time, designate when you will serve your four hours to your side business (or your full-time business), and then quit once you've finished your work.