Description
THE 4TH ANNUAL "ALL WOMEN'S NETWORK CONFERENCE 2019"
DATE: 28TH OF SEPTEMBER 2019
TIME: 12-5PM
VENUE: CEME CONFERENCE CENTRE ,MARSH WAY RAINHAM RM13 8EU
BREAKING DOWN BARRIERS & LIMITATIONS : BEATING THE ODDS FOR WOMEN IN BUSINESS & IN LIFE
Are you a female that runs your own company, or wants to, or looking for employment? Looking for advice on how to navigate the UK start-up sector as a woman in business? If the answer is yes, then join us at this years All Women's Network Annual Conference, an opportunity for you to hear about barriers, challenges and successes our female panellists experienced to get to where they are today.
We hear amazing stories of growth and success every single day. But we also hear about some of the challenges and obstacles facing women entrepreneurs, and a critical part of our mission is to provide the opportunities and resources to help women overcome those barriers through our Annual Women's Conference in order to develop, grow and succeed.
This year's conference Titled "Breaking down Barriers & Limitations" : Beating the odds for Women in Business & in Life is designed to empower women to feel INSPIRED, TRANSFORMED & EVOLVE, to connect women who want to get back in employment, women who want to start a business and those who are already business owners, with those at the very top of their industry. The day will provide opportunities to listen to exceptional speakers, the conferences will offer hands-on advice and coaching on how to further develop your career or business in times of change. Hear from inspirational women in business share their journey of overcoming barriers to achieving breakthrough . We will have an awesome panel to discuss topics surrounding "How to Break Barriers", including challenges and successes experienced by women in entrepreneurship in the UK. Interactive Breakout sessions that can help overcome multiple barriers and accelerate support for women start-ups and entrepreneurs. Network with likeminded business owners, and take part in workshops around key areas where women encounter barriers.
THIS CONFERENCE WOULD BE FOCUSING ON THESE 7 KEY ASPECTS–
1. To highlight the biggest challenges & Barriers Facing Female Entrepreneurs in UK Today
2. To highlight Barriers to Gender Equality in workplace for women
3. The Rose Review of Female Entrepreneurship (Government Review & Initiative)
4. Breaking barriers to help more female entrepreneurs access much needed investment & Funding support for start ups
5. Female Business Role Models & Mentors
6. Business opportunities for Mums
7. Solutions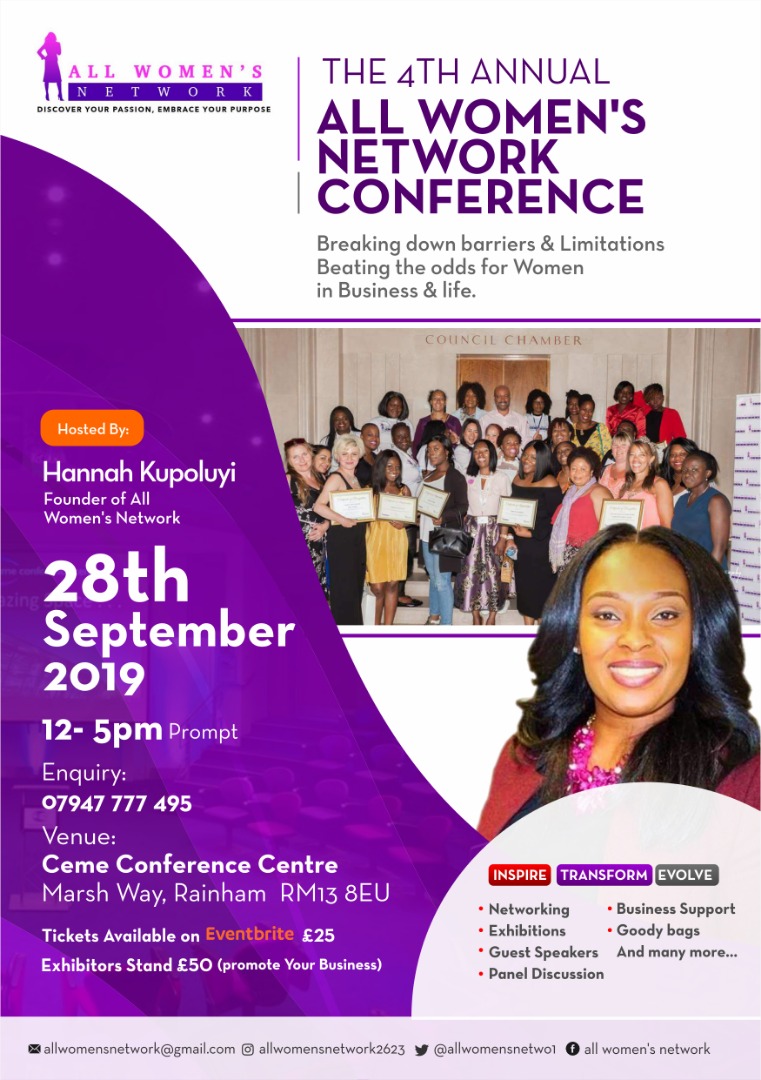 WHY YOU SHOULD ATTEND AWN CONFERENCE 2019
Find inspiration and information from coaches who work extensively with small business owners, know their challenges and will talk about the way forward
Hear from business owners who have faced tough challenges and broken the barriers to growth
Build your network – find partners, co-workers, customers, ; build alliances to propel your growth
Go back armed with resources to keep you thinking and working on your growth plan.

Plus, one of the best reasons to attend our conference is simply to be a part of the supportive community called "All Women's Network", and enjoy yourself in this nurturing environment!
WHAT TO EXPECT AT AWN CONFERENCE 2019
Expectional speakers
Speed networking
Practical workshops
Breakout Sessions
Expert Panel Disscusion
Exhibitons
Refreshments & Goody Bag
Q & A Session
MEET OUR HOST & FOUNDER
Hannah Kupoluyi
Multi-award Winner
Motivational Speaker / Trainer
Founder of All Women's Network
Female Entrepreneur & Empowerment Mentor
Hannah Kupoluyi is a Multi-Award Winner. She's the Founder of "All Women's Network " . Her mission is to enable women who want to change their life: break through their limiting beliefs and achieve their dreams, through various workshops , networking events and mentoring sessions, she helps women get confidences to achieve great success in balancing family life and business. Hannah has helped hundreds of women tackle their goals and dream big daily. She is a self-made entrepreneur who loves to motivate and encourage other women to succeed and crush goals. She is a born leader and speaker with an energetic and fun personality!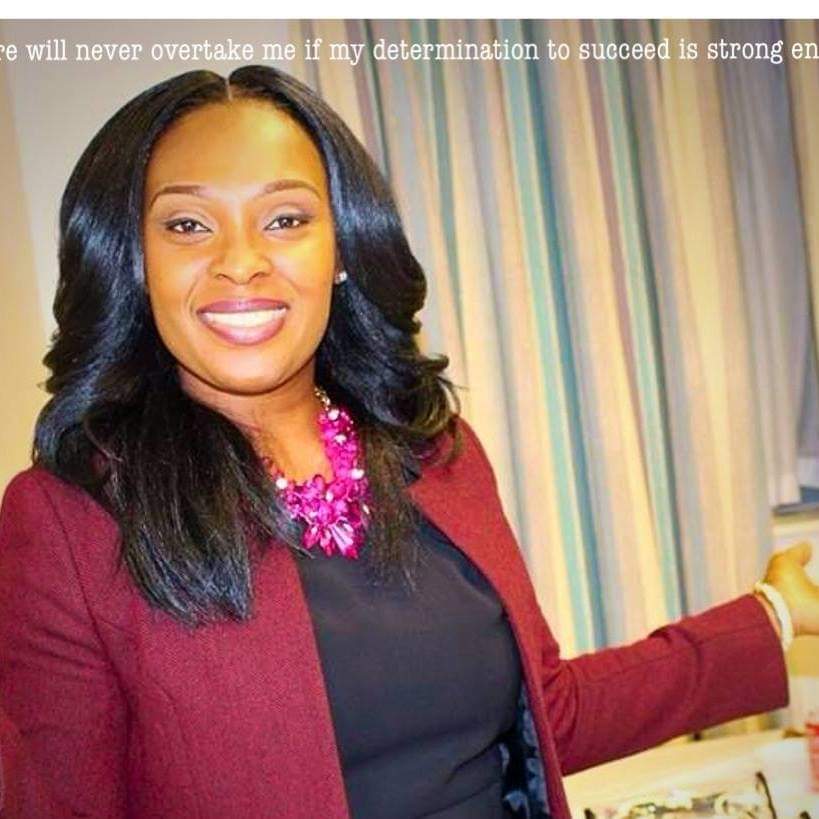 MEET OUR GUEST SPEAKERS & PANELLISTS
Michelle Raymond
HR and Business Consultant
International and Tedx Speaker
Michelle Raymond is an accomplished HR professional and multiple award winner with over 15 years of experience in the public and private sectors. Her consultancy, provides bespoke HR services to the SME sector, designing and delivering effective people management strategies, contract compliance and GDPR.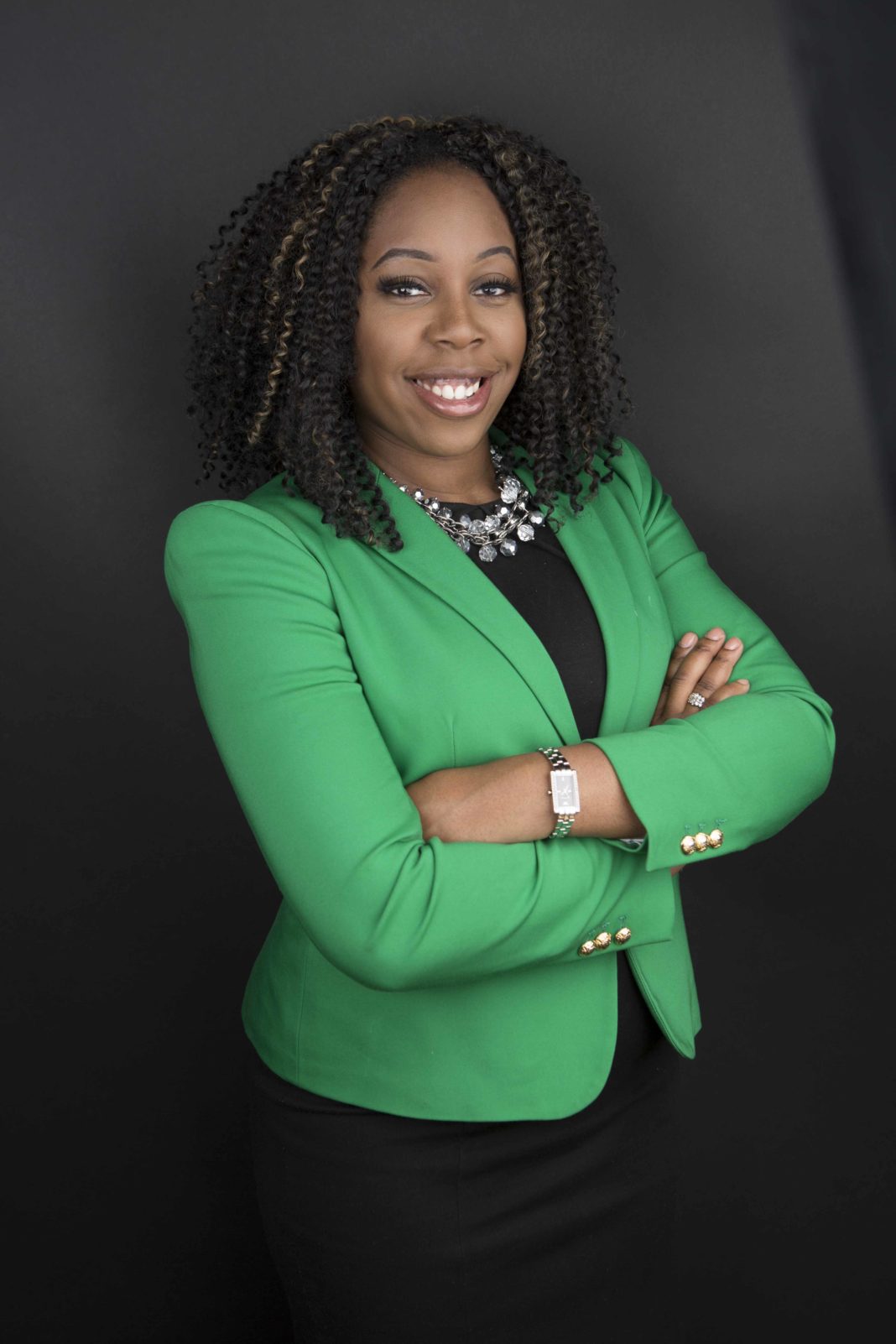 Christine Giscombe.
Speaker,
Mentor & Coach.
Founder of Born to Excel.
Christine Giscombe is a Motivational Speaker, a Mentor for teenage girls, and a Certified Cognitive emotional awareness Coach for young women and women in business. She's the founder of Born to Excel Ltd. She has worked successfully in the corporate environment for over 30 years. Using her experience, skills and understanding of the very changing world to make an impact and bring about positive mindset change. She loves inspiring others and the freedom and lifestyle that empowering others provides as it enables her to work with people from all walks of life, all over the world and be a valuable part of that.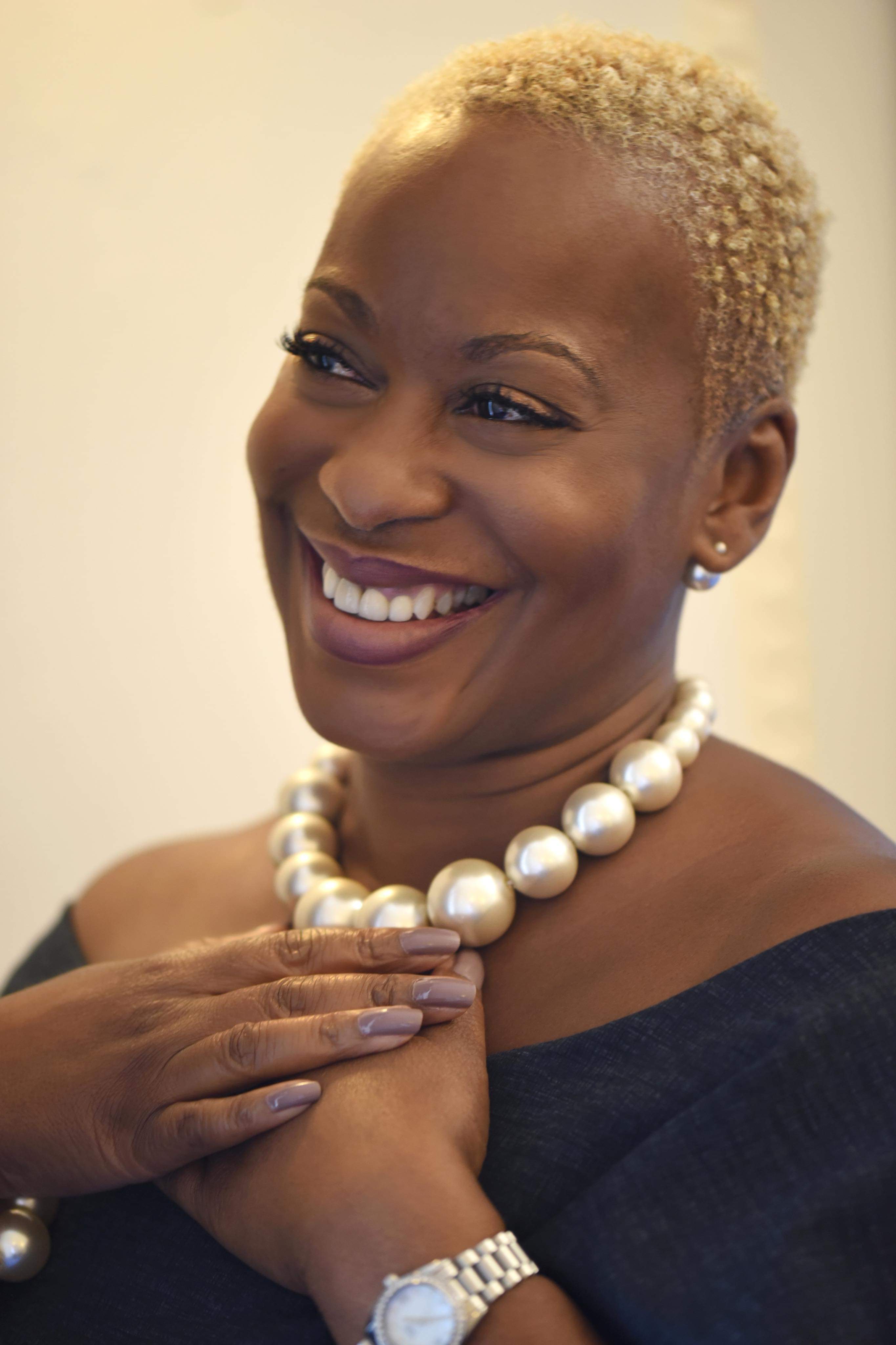 Hyacinth Myers ( Panellists)
Speaker & Empowerment Coach
Founder/ Managing Director of Soul Conscious Creations Limited
Hyacinth Myers is a graduate and born, grew up and lived most of her life in Hackney, London when not
in Plymouth and Birmingham. She is a Creative woman who still cannot define her
title and also Founder/ Managing Director of Soul Conscious Creations Limited
offering her Signature Course and Workshops on her EMPOWER 7 Women's
Personal Development Programme. She uses her Intuitive Coaching skills and
Holistic Therapies to help heal past Adversities by empowering women to create
their life by design.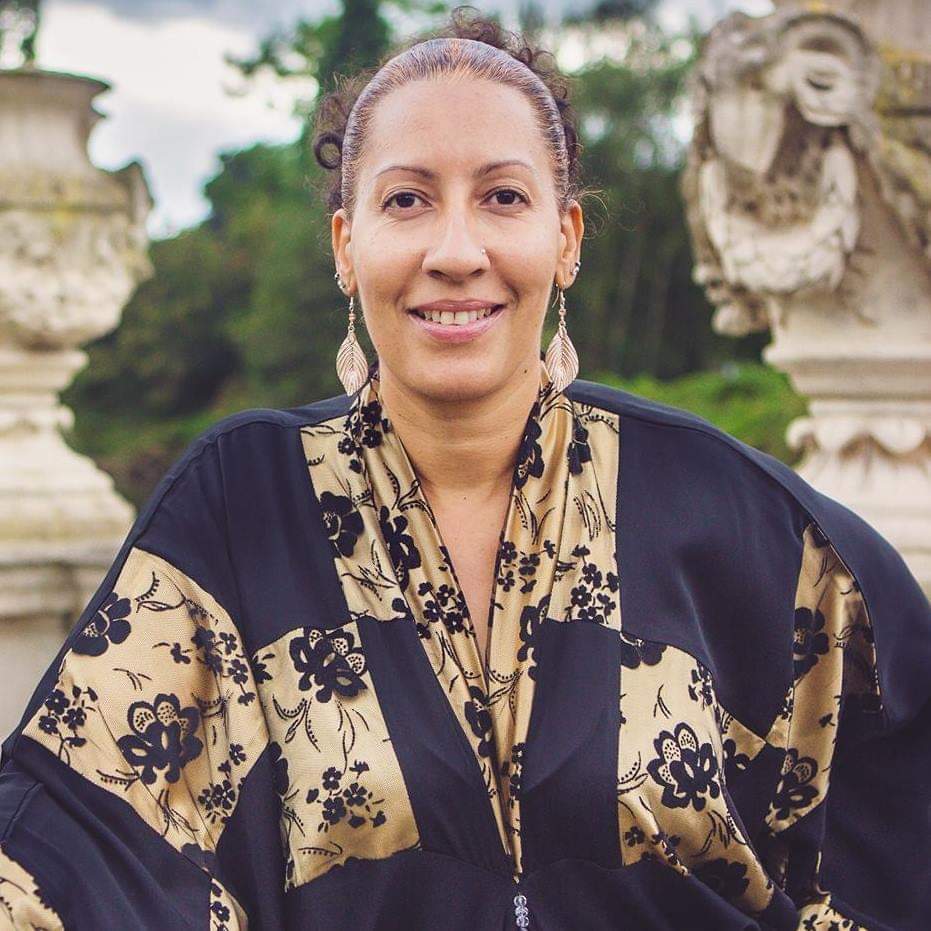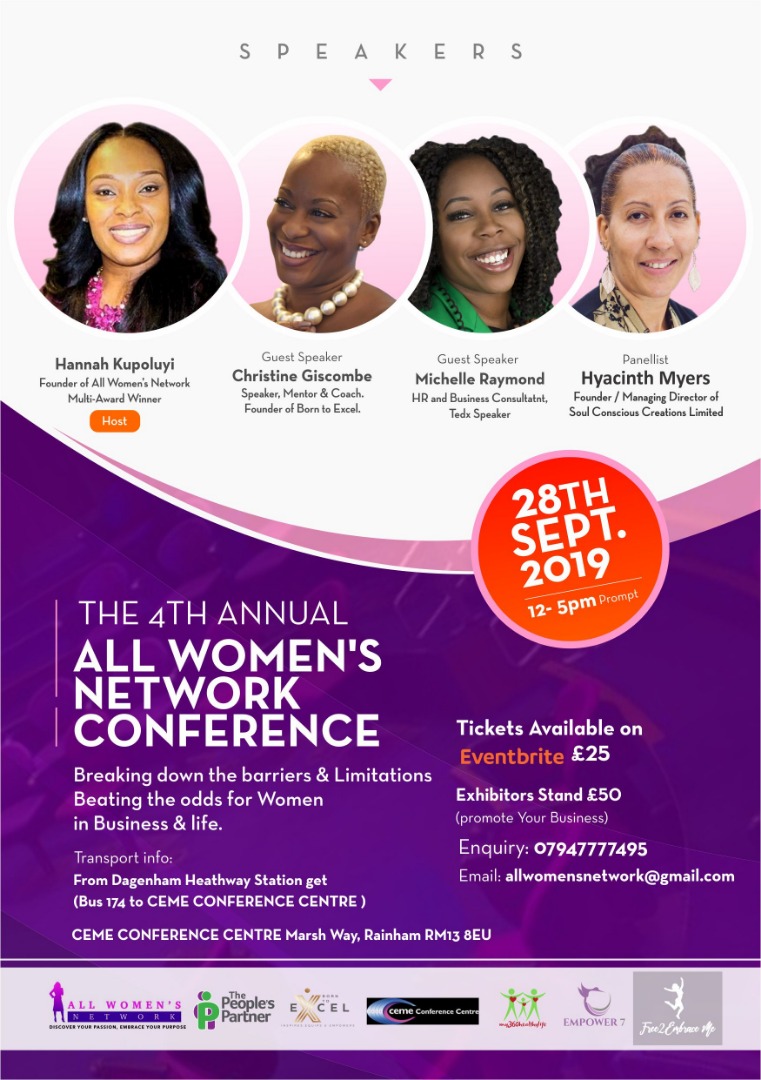 CONTACT US FOR MORE INFORMATION:
Email: allwomensnetwork@gmail.com
Instagram: allwomensnetwork2623
Twitter: @AllWomensNewtwo1
Facebook: All Women's Network
Contact: 07947 777 495
Interested in SPONSORING this event? Please email: allwomensnetwork@gmail.com
FAQs
1. Is there parking at the venue?
There is plenty of parking space on site, just for £1.00 to park on the site for the whole day.
2. How to get to the Venue ( CEME CONFERENCE CENTRE?
CEME Conference Centre is located in the London borough of Havering. Just on the A13 out of the city a few miles past the North Circular Road, with exceptional transport links for London
Rainham is the closest station and is served by C2C train line running from Fenchurch Street to Southend.
Or Alternatively get off at Dagenham Heathway Station on the District line and Take bus 174 straight to CEME CONFERENCE CENTRE . 174 bus takes you into the venue.
What time does Exhibitors need to set up by.
All Exhibitors arrive at 11am and set up to finish by 11:45 - 12 latest. We will provide a 4ft table to exhibit your products on the day. Bring your table cloth & banner, brochures, flyers etc.