The 7th Biennial PhD Symposium on Contemporary Greece and Cyprus - Plenary Sessions

Thursday, 4 June 2015 at 09:00

-

Friday, 5 June 2015 at 12:00 (BST)
Event Details
We are proud to host three keynote lectures at the 7th Biennial Hellenic Observatory PhD Symposium on Contemporary Greece and Cyprus. The purpose of these lectures is to allow the exchange of ideas between young researchers and scholars on issues related to Greece and Cyprus. We are extremely grateful to the A.G. Leventis Foundation, for  its generous support.

All lectures will take place at the Wolfson Theatre (New Academic Building, LSE) and are open to the public after free registration. 
Plenary Session I: "The Emergence of the Far-Right in Greece in the Context of the Socio-Economic Crisis"
Speaker: Professor Nicos Christodoulakis (Professor of Economic Analysis,  Athens University of Economics and Business)
Chair: Professor Achilleas Mitsos (Professor of International Economic Relations, University of the Aegean)
Date & Time: Thursday 4 June 2015, 09:15 - 10:45
Plenary Session II: "The External Dimension of the Greek Economic Crisis"
Speaker: Professor Manolis Galenianos (Professor of Economics, Royal Holloway, University of London)
Chair: Dr. Vassilis Monastiriotis (Associate Professor in the Political Economy of South Eastern Europe, Hellenic Observatory, LSE)
Date & Time:  Thursday 4 June 2015, 14:00 - 15:30
Plenary Session III: "How to Write a PhD (on Greece)"
Speaker: Professor Kevin Featherstone (Eleftherios Venizelos Professor of Contemporary Greek Studies and Professor of European Politics; Director, Hellenic Observatory, LSE)
Date & Time: Friday 5 June 2015, 10:30 - 11:45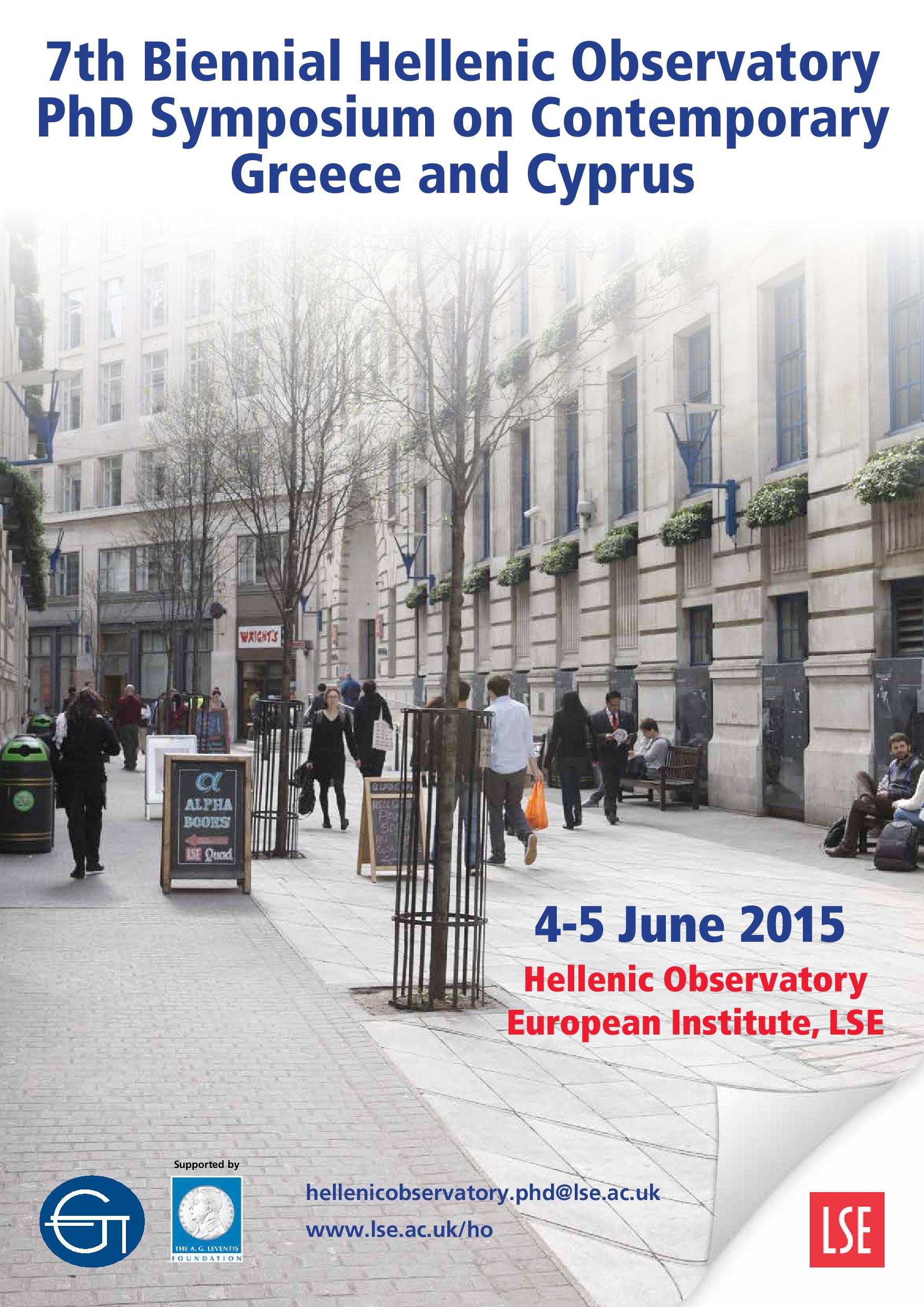 For more information please visit our website


When & Where

London School of Economics and Political Sciences

Houghton Street
WC2A 2AE London
United Kingdom


Thursday, 4 June 2015 at 09:00

-

Friday, 5 June 2015 at 12:00 (BST)
Add to my calendar
Organiser
Hellenic Observatory, London School of Economics
The Hellenic Observatory (HO), part of the European Institute at the LSE is internationally recognised as one of the premier research centres on contemporary Greece and Cyprus.
The 7th Biennial PhD Symposium on Contemporary Greece and Cyprus - Plenary Sessions