Actions and Detail Panel
THE 7TH DAWOOD & TANNER STUDY DAY
Fri 3 February 2017, 08:30 – 16:30 GMT
Description
7 CPD hours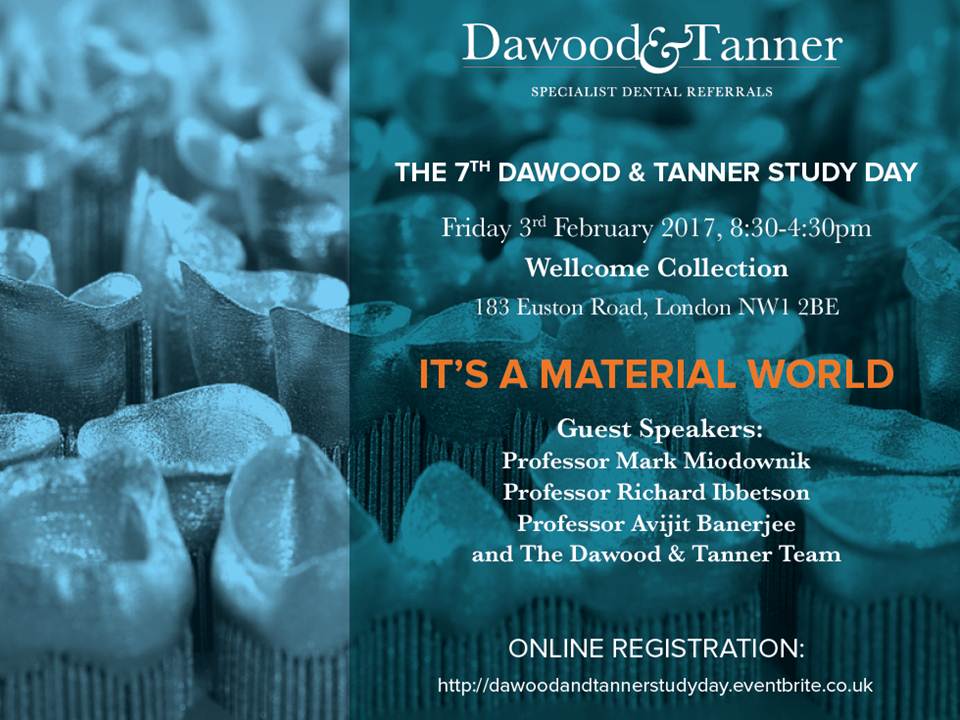 With the ever increasing range of materials, and the broad scope of technical procedures available to dentists, this year's Dawood and Tanner study day will focus on the impact of material choices upon our clinical practice.
Our Keynote Speakers are joined by members of the D&T team.
Professor Avijit Banerjee- Contemporary operative caries management- let's do it "MI" way!
Dr Tom Bereznicki - Material tips and techniques for the modern world
Drs Andrew Dawood and Susan Tanner – Material facts and fictions in implant dentistry
Dr Matthew Garrett- Bonding that bridge; what works and what doesn't?
Dr Michael Heffernan – Back to the root; restore or prevent root caries?
Professor Richard Ibbetson - Restoration of the extensively damaged posterior tooth
Professor Mark Miodownik – Materials for the 21st Century
Dr Shanon Patel - Material matters and endodontics
We are really excited to introduce guest Keynote Speakers:
Professor Avijit Bannerjee, Professor of Cariology and Operative Dentistry KCL Dental Institute at Guys Hospital, Director of Education and an internationally renowned lecturer. His research interests include minimally invasive dentistry – he is the principle author of the definitive textbook on the subject - and Dental Biomaterial Science.
Professor Richard Ibbotson is past Dean of Dental Surgery of the Royal College of Surgeons of Edinburgh, and is the current Director of the state-of-the-art, purpose built Aberdeen Dental School. He is passionate about dentistry and has a wealth of experience at both a clinical and academic level.
Professor Mark Miodownik, Professor of Materials Science at University College London. He is author of the fantastically entertaining introduction to the strange inner life of materials 'Stuff Matters' and he has been named by The Times as one of the 100 most influential scientists in the UK.
The lectures will be followed by a private tour of the Wellcome collection