Description
We are now fully booked for our event. For media enquiries please get in touch: 99names@chickpeapress.co.uk


Chickpea Press invites you to celebrate the publication of The 99 Names of God, an illustrated guide for young and old on the Divine Attributes found within Islam.
Author and illustrator, Daniel Thomas Dyer, will share his experience of working with the Names, answer questions, and sign books.
Artist and designer, Azim Rehmatdin, who provided the beautiful, original calligraphy for the book, will also be showcasing his work and doing free, personalised calligraphy of your name in Arabic!
We will also have the divine voice of Julia Katarina, the English-German mezzo-soprano, oud player and cellist, who will be singing Qawwali, Turkish and Arabic songs!

Food will be served by the delightful Chickpea Sisters, a south London-based catering social enterprise company run by refugee and migrant women, and dessert by Heron's Nest, a north London-based bakery making cakes with love!
Join us to celebrate our new treasury!
Monday February 6th from 6:30pm
St Ethelburga's Centre for Reconciliation and Peace, 78 Bishopsgate, London EC2N 4AG.

Free entry with limited space so please RSVP by Wednesday 1 February to confirm your place.

The 99 Names of God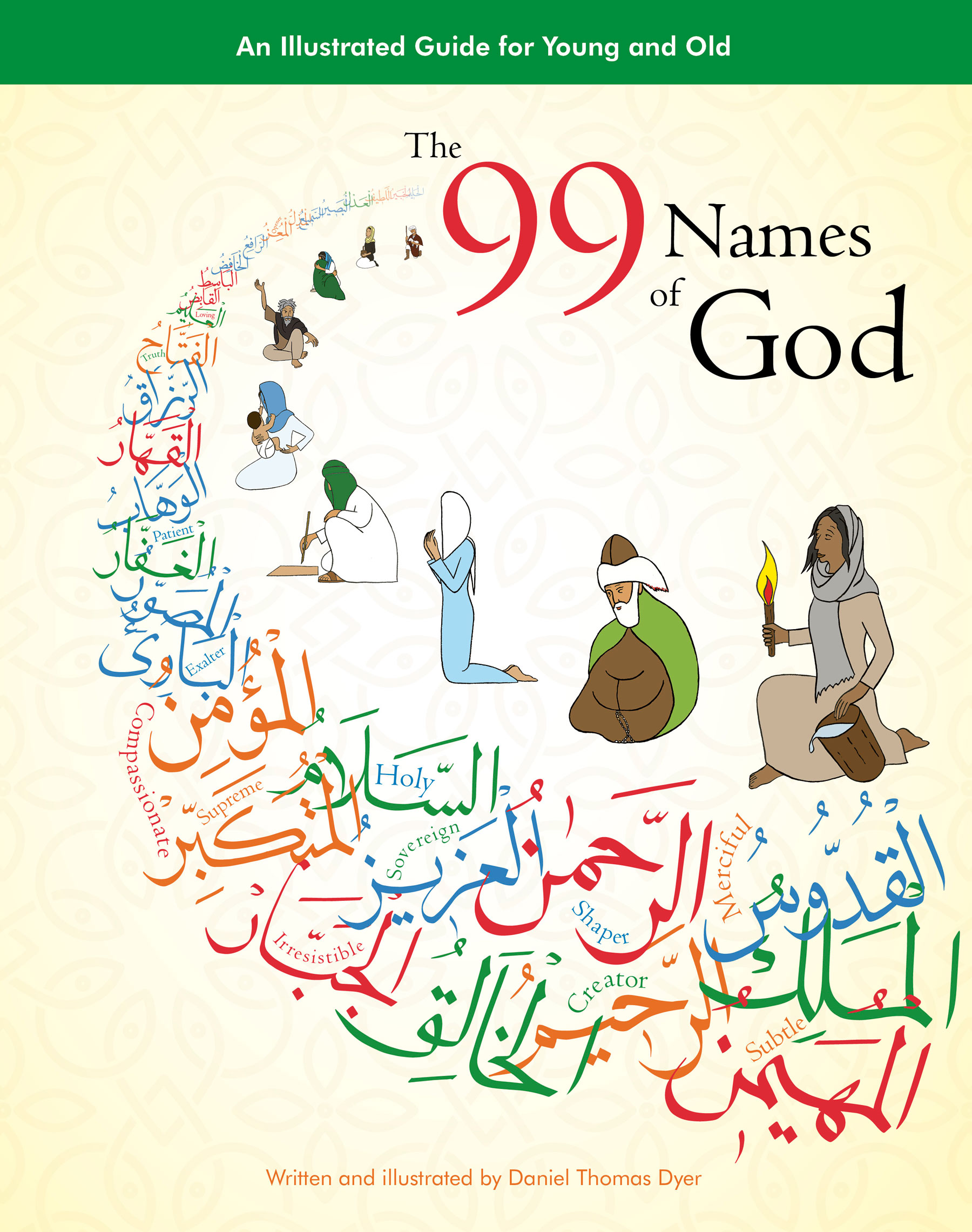 The Compassionate (ar-Rahman), the Holy (al-Quddus), the Source of Peace (as-Salam), the Supreme (al-Mutakabbir)...these are just a few of the 99 Names of God to be found in Islam. It has been said that knowledge of Allah's Beautiful Names is the greatest knowledge a human being can possess.
This illustrated guide to the Names is designed to be an engaging educational resource for all the family. For children it is a rich treasury of wonder that will reveal greater depths as they grow and mature, whilst for parents and teachers it will offer much to inspire, inform, and remind. Richly illustrated and accompanied by engaging reflections and activities, this book is offered as a guide to help us witness the Divine Majesty and Beauty.
Reviews
"This book is a fantastic learning tool for children. It uses plain language, appropriate illustrations, and traditional wisdom."
Dr Musharraf Hussain, OBE, DL, CEO of Karimia Institute, former Chair of Christian Muslim Forum
"This is a wonderful book that has used a very innovative approach to teaching God's attributes and I would certainly use it as a teaching resource."
Shaykh Ibrahim Mogra, Khazinat al-'Ilm, Madaris of Arabic and Muslim Life Studies, Leicester
"Teachers and students of Islam and comparative religion can greatly benefit from this beautiful guide. It presents a well-balanced view of Islam through the Names of God as expressed through the Holy Quran and opened in meaning through accompanying words of the saints."
Camille Helminski, Co-director of The Threshold Society and Spiritual Elder of WISE (Women's Islamic Initiative of Spirituality and Equality)
"I was very moved by the resource you are developing on the 99 Names. It is very special – simple yet really profound in its content. Above all, it is saturated in a most beautifully gentle and nurturing quality of love and mercy."
Dr Jeremy Henzell-Thomas, Visiting Fellow, Centre of Islamic Studies, University of Cambridge
"The book introduces the reader to a whole host of Muslim spiritual personalities who demonstrate a universal loving wisdom and open up a new world of perspective for the reader. This book invites a recognition of what is shared by all faiths and an openness of heart toward all human beings. Exactly what is needed in our world."
Fatimah Ashrif, Project Lead, Coexist House, and North West Regional Leadership Group, Mosaic