This MasterClass details how to increase revenue from your affiliate marketing program using proven lead generation tactics.
About this Event
This MasterClass offers you a clear and proven strategy for driving new affiliates (Lead Generation) directly into your program. Learn 5 key tactics for growing your affiliate program recruitment.
This course will suit digital and affiliate marketers on any level who are looking to increase the number of affiliates who join their program each month. Learn proven techniques that drive increased sales during this 3 hour masterclass.
You'll also receive a worksheets, sample swipe files and my proven ACES method recruit and activate 2-5 new affiliates within the next 30 days.
In this 3 Hour virtual MasterClass - you will learn…
How to craft the perfect outreach e-mail
How to find the right affiliates for your program
Build your program visibility
How to level up against your competition and create a competitive edge
How to establish your program as a must have partner affiliates want and need
How to get new leads and market your affiliate program to increase your sales.
How to Attract, Convert, Engage and Sustain (ACES Method) with affiliates trust and build relationships that increase sales
The simple answer is, you need to learn how to leverage affiliate marketing now more than ever because it is a cost-effective acquisition channel and can help reduce your upfront costs on media and advertising.
Use affiliates to bring you the right audience, at the right time, and for the right price. Having a clear strategy and knowing how to leverage these affiliate partnerships effectively - can help you achieve this.
Every affiliate program is different, you must have a clear framework that takes into account all your other digital marketing channels and helps you leverage price, position, placement to meet your targets objectively.
This 3 hour MasterClass will give you the skills you need to build a steady stream of affiliates into your program every month.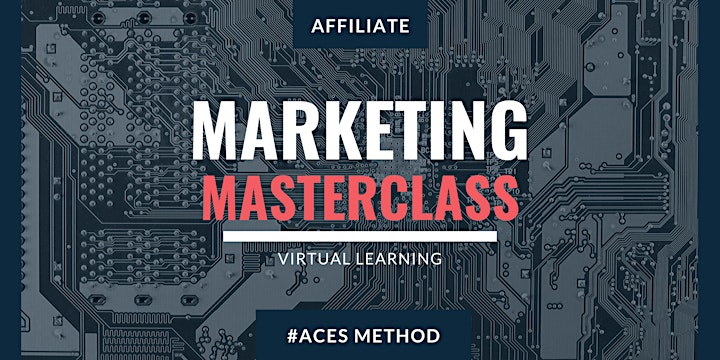 This workshop will show you :
How to connect with affiliates you don't yet know but want to onboard.
How to start conversations with affiliates and get profitable deals done
How to avoid bad affiliate marketing which impedes relationship building
How to be seen as an affiliate program that every affiliate will want to work with.
How to close new affiliates deals to your program + drive new sales in under 30 days!
Who is this course suited to?
This course is delivered via a live zoom call and includes practical exercises you can complete during the session that will help you onboard and activate new affiliates to your program efficiently.
This course is suitable for anyone who has a basic understanding of what affiliate marketing is and wants to learn how to scale up and increase customer conversions.
Date and Time
Location
Refund Policy