The Add+Venture Brum Weekend
Sat, 26 Nov 2016, 10:00 – Sun, 27 Nov 2016, 17:30 GMT
Description
Future Leaders Club in association with Acivico Ltd, presents: 
"Take the add+venturous bull by the horns."
We are inviting people from all walks of life to come together, share ideas, and co-design the next big community venture in Birmingham.


Come and join us at our collaborative-space at the Add+Venture Brum Weekend on 26th & 27th November 2016, 10am to 5.30pm. 


You will:
1. Share ideas and co-design the next big community venture in Brum


2. Become a Brum social change maker


3. Enhance your design process, project and leadership skills
Are you ready to become a Brum Add+Venturer?  Read on...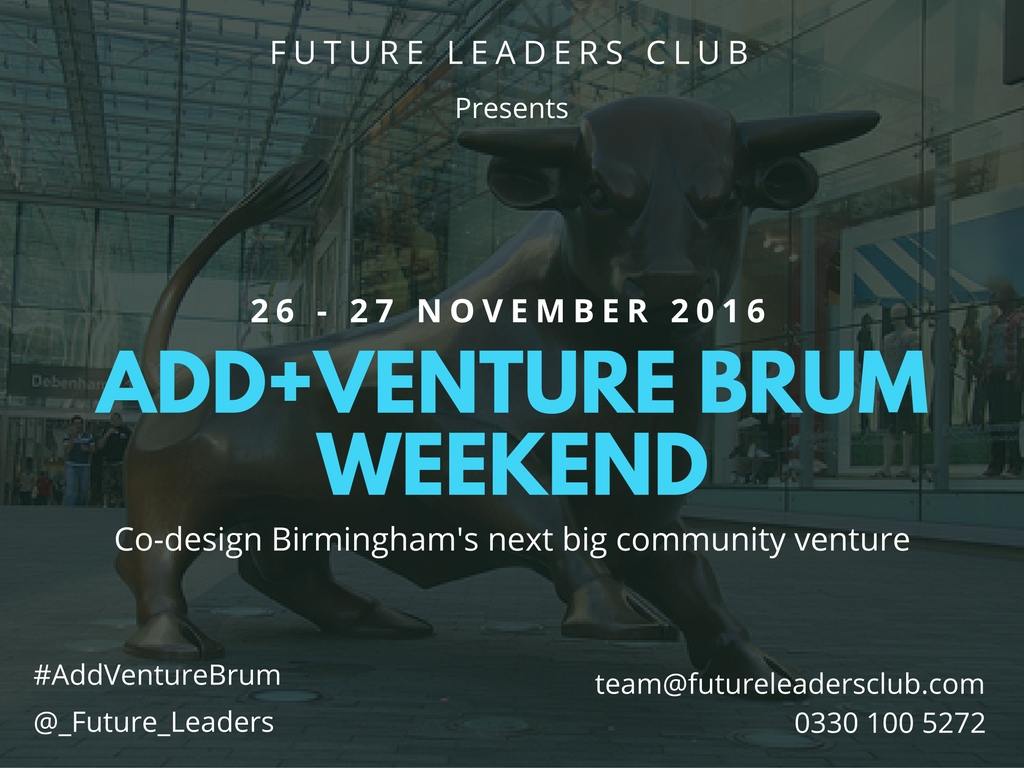 The Add+Venture Brum Weekend on 26-27 November 2016
It is an exciting time for social enterprise in Birmingham. We are inviting people from across Birmingham and beyond to join us at this spectacular weekend of exploration and collaboration to co-design Birmingham's next big community venture.
Become a Brum Add+Venturer and take part in this exciting weekend, where your ideas and vote decides the next big project in Birmingham. This is your opportunity to bring out that creative-streak to further support Birmingham people and communities. No previous experience needed.
Why?
"It is the long history of humankind... those who learned to collaborate and improvise most effectively have prevailed." — Charles Darwin
Despite the recent growth and interest in the social enterprise there are several factors holding it back from reaching its full potential as a catalyst for widespread change. One major hurdle is the lack of opportunity to take a social change idea; test and develop it into a viable venture, and then to finally bring the idea to fruition. We recognise this lack of capacity building opportunities.
The latest opportunities are typically found via closed Facebook groups, Google searches or organisation-specific newsletters. As a result, many of our most eager and promising social change makers don't find the support they need to get their ideas off the ground. Potentially life changing ideas stay just that – great ideas.
Social change makers can be a powerful force of positive change. We believe encouraging increased support for social change leaders and connecting them with available opportunities is a critical step in this process.
We truly believe in co-production and co-design that embodies equality, diversity, inclusion and reciprocity.
Many people have lots of great ideas to help our city, but never get the opportunity to make them a reality.
Certain voices about bringing change in our city remain unheard.
Our aim is simple, yet ambitious: the #AddVentureBrum Weekend will harness the voice, skills and knowledge of local people to build a new community venture in Birmingham.
Vision & Mission
The vision for the Add+Venture Weekend is to provide an energising social enterprise ecosystem which enables social change to thrive, resulting in widespread and transformative social outcomes. Through the Add+Venture Weekend, our mission is to develop a platform for local people to convert their passion and ideas for social good into real social impact in Birmingham.
Seven key aims of #AddVentureBrum Weekend:
Opportunity: Provide people with a safe place to enable social action

Collaboration: Make collective impact by bringing diversity into action

Social listening: Ensure the community voice is at the heart

Co-production: Idea generation and harnessing the talents of all

Shared Leadership: Joint decision-making and collective leadership

Solutions-focused: Positive sustainable outcomes for Birmingham

Delivery: : Set-up a community venture and enjoy the journey
This is a quick overview of what we have planned for you Brum Add+Venturers:
Day 1: Saturday 26th November, 10am to 5.30pm
Defining the issues - a deep dive
Building the teams - a team effort 
Discovering the possibilities - the dream stage 
Designing the solution - producing a roadmap 
Day 2: Sunday 27th November, 10am to 5.30pm
Refine best solution - horizon scanning
Deliver your pitch - the ultimate presentation
Decide the destiny - the next #AddVentureBrum
By the end of Day 2, you will have co-designed and chosen Birmingham's next big community venture. 
Where?
The Vanta Centre, BPP University Birmingham, 34-36 Colmore Circus Queensway, Birmingham B4 6BN
It is free to be part of this amazing weekend, Saturday 26th and Sunday 27th November, 10am to 5.30pm. Register now as places are limited.
If that's not enough, following the #AddVentureBrum Weekend, Brum Add+Venturers then have the opportunity to join the Future Leaders Club's Ventures Team to mobilise the chosen venture. Further details will be provided during the event. 
Follow us on Twitter @_Future_Leaders #AddVentureBrum for further updates.
Exciting times in Brum. Will you miss out?
"The evidence is increasingly clear that better community engagement – by which I mean involvement and co-production – is not a nice-to-have, it is core for developing social impact community initiatives. There is a growing body of knowledge and practice that demonstrates that engagement with local people and communities is doable and has real impact. This is your grand opportunity to get involved, shout-up, co-design and develop the next big community venture in Birmingham." ~ Jazz, Chair, Future Leaders Club
We look forward to meeting you. Drinks and snacks will be provided during the two days.
Event hashtag: #AddVentureBrum
See you there!
Email:   team@futureleadersclub.com
Telephone:  0330 100 5272 and 07984 678 543
"Take the add+venturous bull by the horns."
Are you ready to become a Brum Add+Venturer?