Description
Why is digital technology so hard to implement in the NHS and in social care? Is the NHS failing to understand and embrace a digital future? Or are digital innovators and SMEs woefully naive when it comes to understanding the complexities of health and social care systems?
In this workshop, Professor Trisha Greenhalgh, Professor of Primary Care Research at the University of Oxford, will share insights from her empirical work on the non-adoption and abandonment of technology in health and care. In addition to setting out the barriers, she will present a framework that seeks to help all parties anticipate and respond to challenges in the sphere of technology innovation. The workshop will be hosted by Victoria Betton, founder and director of mHabitat, who will share her experience of supporting digital innovation in the third sector, NHS and social care. Dr Joanne Greenhalgh, Associate Professor and Deputy Director of the Centre for Health, Technologies and Social Practice will speak on the topic of real world evaluation. Tracey Watson, Director of Partnerships and Innovation at NHS Digital will share the learning from work she has commissioned about gaps and enablers for digital innovation in healthcare. There will be an opportunity for Q&A plus a conversation about how we apply learning about non-adoption of technology in practice - applying the NASSS framework and avoiding falling into well known traps.
This workshop is suitable for anyone interested in digital innovation in health and social care - entrepreneurs, practitioners, policy makers, service improvement specialists, academics and industry.
Speakers:
Professor Trish Greenhalgh
Trish Greenhalgh is Professor of Primary Care Health Sciences and Fellow of Green Templeton College at the University of Oxford. She studied Medical, Social and Political Sciences at Cambridge and Clinical Medicine at Oxford before training first as a diabetologist and later as an academic general practitioner. She has a doctorate in diabetes care and an MBA in Higher Education Management. She now leads a programme of research at the interface between the social sciences and medicine, working across primary and secondary care.
Her work seeks to celebrate and retain the traditional and the humanistic aspects of medicine and healthcare while also embracing the unparalleled opportunities of contemporary science and technology to improve health outcomes and relieve suffering. Three particular interests are the health needs and illness narratives of minority and disadvantaged groups; the introduction of technology-based innovations in healthcare; and the complex links (philosophical and empirical) between research, policy and practice.
Trish is the author of over 300 peer-reviewed publications and 16 textbooks. She was awarded the OBE for Services to Medicine by Her Majesty the Queen in 2001 and made a Fellow of the UK Academy of Medical Sciences in 2014. She is also a Fellow of the UK Royal College of Physicians, Royal College of General Practitioners and Faculty of Public Health.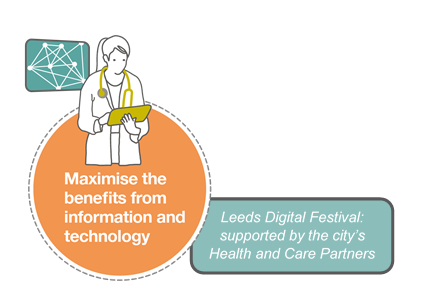 Our city's Health and Wellbeing Strategy 2016-2021 sets out a clear vision that 'Leeds will be a healthy and caring city for all ages, where people who are the poorest improve their health the fastest'. This includes maximising the benefits from information and technology as a key priority. The health and wellbeing strand of the Digital Festival is a celebration of the diverse and innovative work taking place to help us achieve our shared, bold ambition for Leeds to be the best city for health and wellbeing.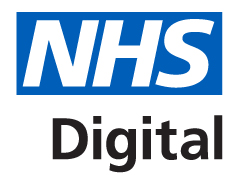 Based here in Leeds, NHS Digital is harnessing the power of technology and data to improve the use of health and care resources and make lives better.
As the national IT partner to the health and social care system, we provide a range of services and expertise including infrastructure that keeps services working 24/7, data security services, more than 200 official statistical publications and vital information that helps patients, doctors and nurses every single day.
We are one of the largest employers in not only this city, but nationally as a leading organisation for technologists, analysts and specialists from a spectrum of fields, from communications to finance, who want to make a difference.
We will be taking part and hosting events throughout the festival so come along and find out about what we do, why it matters and how you can get involved.