Description
Come and be a part of a live radio recording of this classic Sherlock Holmes adaptation! Using a 1930's radio script from the Conan Doyle Archive, Lantern Light Theatre Company bring this stirring adventure to life for radio, featuring an ensemble cast and live sound effects desk...
Early one morning Holmes and Watson are visited in 221B Baker Street by a young bride in fear for her life - what was the cause of her sister's mysterious death and the meaning of their stepfather's abrupt behaviour? And most curiously of all - how can Mr. Holmes explain her sister's last words: 'It is the speckled band!'....
Featuring the return of Duncan Drury, Stewart James Barham, Tom Dussek and Sophie Flack from last year's production of 'Sherlock's Poisons' and joined by Lucy Mepstead as Julia Stoner with Dan Skelt on lighting & sound.
Tickets are free, but there is limited space so advance reservation is recommended!

Brought to you as part of 'Summer of Sherlock 2019' in association with the Conan Doyle Collection and Portsmouth Council.

Thursday 1st August, The Round Tower, 7pm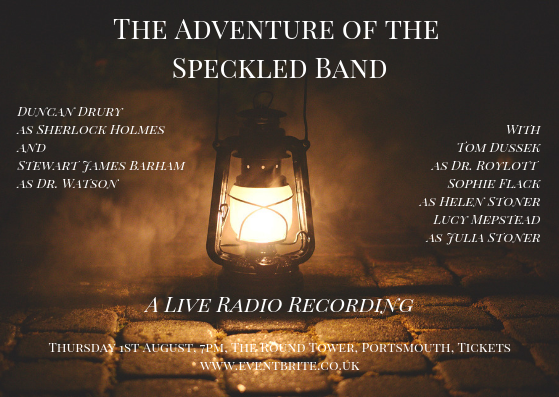 Organiser of 'The Adventure of the Speckled Band' - A Live Radio Recording