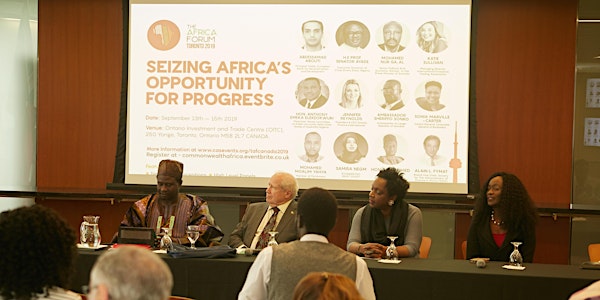 The Africa Forum Canada 2022! Theme: Africa - Building Back Resiliently
Location
Innis Town Hall Theatre
2 Sussex Avenue
Toronto, ON M5S 1J5
Canada
The Africa Forum is a premier event for those excited about Africa. It is an excellent opportunity tap into African opportunities
About this event
The Africa Forum is a premier event for those curious and excited about Africa. It is an excellent opportunity to learn about the challenges and opportunities on the continent. Come listen to distinguished speakers who are helping to shape the future and trajectory of the abundant continent called AFRICA
The Africa (Business and Leadership) Forum is a platform for eminent and emerging leaders from different sections of society from around Africa and the Commonwealth to discuss leadership and innovation in Africa. TAF serves a platform for intergenerational exchange of ideas and opinions about practical challenges facing the continent, and opportunities available on the continent.
Through this forum, CAFI draws together African business, political and societal leaders with global preeminent companies and policymakers in order to forge stronger trade and investment ties. The Forum aims at bringing together shrewd entrepreneurs, key opinion leaders and social influencers, CEO's and selected politicians and non-governmental organizations to develop fresh commercial and social concepts that shape business, as well as economic thought and institutions.
A convergence of young African leaders, Africans in diaspora, international business leaders and innovative entrepreneurs, distinguished leaders from top companies, innovative start-ups, government, and civil society from across Africa to have an inspired and focused discussion on enterprise, growth and leadership and doing business in/with Africa, the Forum features fresh, actionable and inspiring leadership content from a world-class faculty. Participants forms a dynamic and enthusiastic international community of global problem solvers for Africa.