Description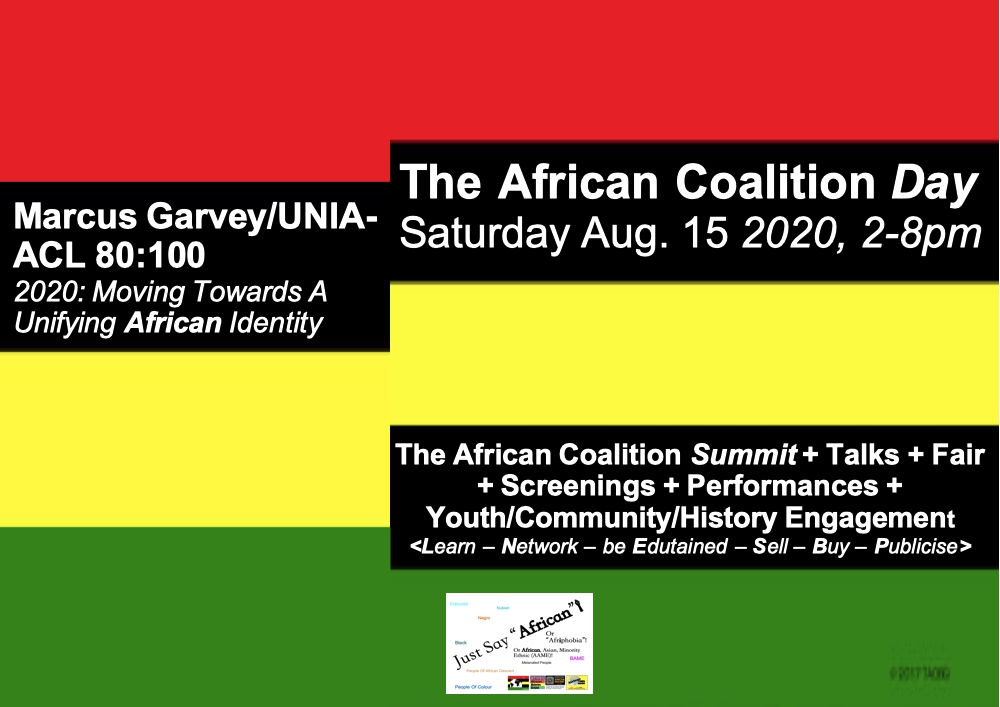 BTWSC/African Histories Revisited (BTWSC/AHR), TAOBQ (The African Or Black Question) and The African Coalition associates present: The African Coalition Day
Saturday, August 15 2020, 2-8pm - pencil in the date and time!!
STOP PRESS: Wedsnesday March 11 2020, 6-9pm - The African Coalition Day Stakeholders Planning Meeting has been convened in central London for African individuals and organisations who will like to contribute to the direction, content and marketing of the Day. You can express your interest in getting on board by emailing Kwaku: bbmbmc @gmail.com.
This Day is THE event for those involved in African community engagement, from education, parentinng, history, edutainment, to interest in, or the provision of, services and products especially aimed at the African youth and African communities.
Expect Garveyite/pan-Africanist-facing edutainment - music, poetry and theatre; a fair with a focus on services and products that uplift, empower and educate; youth opportunities; and a summit on '2020: Moving Towards A Unifying African Identity'.
PLEASE REGISTER NOW if you wish to express your interest; have an enquiry; book a stall; or can't attend but would like to be updated - you'll be updated by the BBM/BMC mailing list. Or else, email: btwsc@hotmail.com.
This event event has come about as a way of dealing with the enevitable clashes of Garveyite/pan-Africanist/global-Africanist/African events, especially in the month of August, also known as Mosiah month. So, following on from the Garveyite/Pan-Africanist 100:75:55 Community Meeting which took place in London in 2019, The African Coalition Day was proposed as a day that mitigates clashing of events by having several African-led organisations either supporting, attending or delivering programmes within the Day.
In furtherance of the call for unity often heard within London's African gatherings, BTWSC/AHR and TAOBQ under The African Coalition banner, is calling all Garveyite and pan-Africanist individuals and organisations to support this Day. The Day is also aimed at youths, parents, educators, edutainers, historians, and organisations, entrepreneurs and businesses that wish to engage with the African communities. And for those outside London who'd like to organise an official The African Coalition Day event, please email btwsc@hotmail.com for relevant background.
The date this year is Saturday Aug. 15, and going forward, it will always be the Saturday before Aug. 17, which is the birthday of Marcus Garvey and a day several Africanists and Garvyite organisations mark with a commemorative event. For example, BTWSC/AHR organises The Marcus Garvey Annual Pan-Africanism Presentation every Aug. 17 at Willesden Green Library Centre, where a Garvey bust can be found among the permanent exhibits in the museum. We also mark African History Reflection Day on Aug. 31.
Here are some Global African and African British history 120:100:80:75:55 milestones you may wish to mark this year, not just on The African Coalition Day but also during African History Month/Season. Click here for 120th, here for 100th, here for 80th, here for 75th, and here for 55th.
The aim of the Coalition is simple: to explore working collectively on joint projects in 2020 to mark key milestones within Garveyite/pan-Africanist/global-Africanist/African British history.
This Coalition is aimed at those who are prepared to work towards redressing the issues highlighted within the UN's International Decade For People Of African Descent (IDPAD) 2015-24 framework, not merely talkers or observers, as there's simply no room for passengers!
Support of #JustSayAfrican and #CallItByItsNameAfriphobia is a must. And check out TAOBQ (The African Or Black Question) Manifesto 2020+.
*We welcome solidarity from those outside London and the UK.
Don't forget to check www.AfricanHistoryPlus.event.com for related events.
Kwaku
The African Coalition Day convener
bbmbmc@gmail.com