Join BCMA members, Red Bull, Mirriad and Splash to hear about the amazing world of branded content
About this event
BCMA is the leading global member association for branded content. During this session we present a view on the current and future trends for branded content. Hear from the thought-leaders of this dynamic sector of the marketing communications industry.
Date: 19th June 2019
Time: 15.45h to 16.30h
Venue: Whalar Influence Cabana, next to Facebook Beach, La Croisette, Cannes
For more information about joining, please visit www.thebcma.info/membership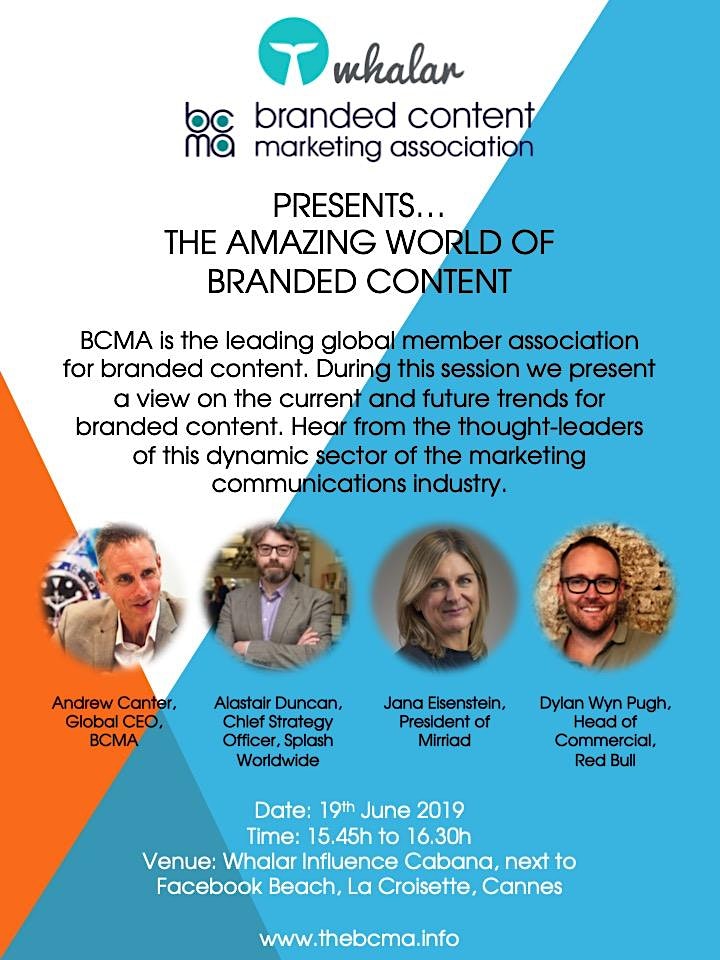 Organiser of The Amazing World Of Branded Content
What is the BCMA?
The BCMA is the global industry body for branded content practitioners, run by practitioners, promoting best practice, sharing knowledge and growing the branded content industry.
What do we do?
We promote and grow the branded content industry in partnership with other relevant trade associations and industry groups, sharing best practice, researching, lobbying and managing events relating to our industry. We create the opportunity to connect with the leading experts in the branded content industry.
Why should anyone care?
Branded content is predicted to be at the heart of every marketing strategy, and there is growing evidence that there will be a significant shift in budgets to support it. However, there is still some confusion as to how to do it, who should do it and how it is measured. The BCMA is best placed to define what branded content 'is' and what 'it isn't' and measure the effectiveness through its investment in research and proprietary tools.