Description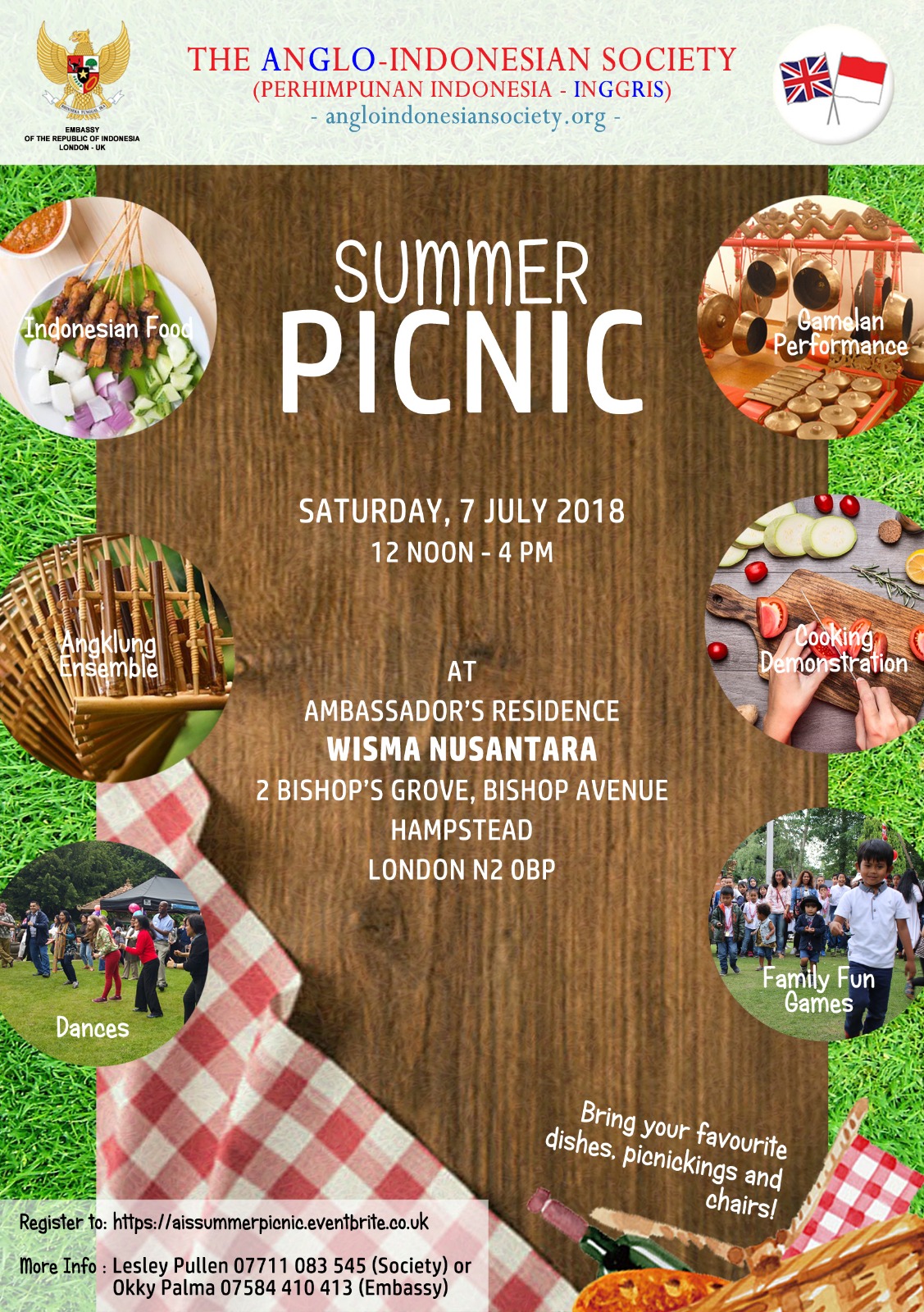 The Anglo-Indonesian Society SUMMER PICNIC is back!
Food is planned in the North American 'Pot Luck' style, so please bring your own favorites dishes on suitable serving plates. These plates are taken home at the end of the picnic. Do not forget to label the dishes for any dietary restrictions and food allergies.
The Embassy will provide chicken satay as well as essentials such as water, disposable plates, bowls, glasses and cutlery.
Bring your own picnic rugs and chairs for maximum comfort.
The Anglo-Indonesian Society has held the Summer Picnic at Wisma Nusantara for several years. This is a unique opportunity to visit the Ambassador's Residence in leafy Hampstead with full of fun!
There will be performances by Lila Cita Gamelan, London Angklung Ensemble, Embassy's Mask Dancers who will also give a dance workshop, and Herawati, a singer for Cianjuran classic songs of Sundanese, who will be accompanied by Simon Cook and Matt.
There will be cooking demonstrations over lunchtime and fun family games. Parents are invited to contact Okky to volunteer to organize some children's games.
Outline Timetable of Events
12noon Arrive
12.30 Welcome Remarks by the Ambassador and the Society Chairman, Group Photo
12.45 Picnic Lunch
14.00 Performances and Children's Games
16.00 Picnic Ends
THIS IS A CLOSED EVENT FOR ANGLO-INDONESIAN SOCIETY MEMBERS AND FAMILY/FRIEND ONLY.
For any queries please contact either:
Lesley Pullen 07711 083 545 (Society) or Okky Palma 07584 410 413 (Embassy)