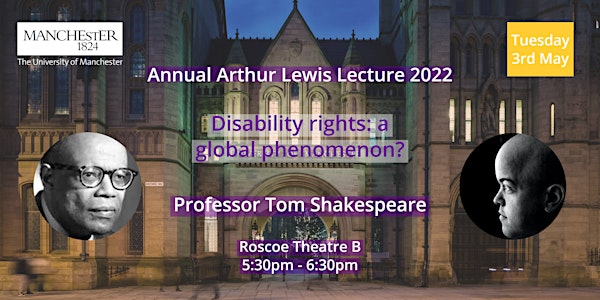 The Annual Arthur Lewis Lecture with Professor Tom Shakespeare
Location
Roscoe Building, Theatre B
University of Manchester
Oxford Road
Manchester
M13 9PL
United Kingdom
"Disability rights: a global phenomenon?"
About this event
In this talk, Tom will offer us an overview of the disability movement, in Britain, America and across the world, and talk about his experience of disability and development research. Is the idea of disability rights something which activists in the Global North have imposed on the Global South? Or is this a genuinely global movement, free of cultural imperialism? What are the limitations of a rights discourse? Is it time for a new approach, based on African ideas?
The talk will be followed by a Q&A, chaired by Professor Brian Heaphy, and drinks reception.
Tom is Professor of Disability Research at London School of Hygiene and Tropical Medicine. He was previously at the Medical School, UEA. He worked for WHO for five years, and has conducted research for the World Bank, ILO, and UNICEF. His books include:
Disability Rights and Wrongs (2006) and Disability – the Basics (2014).
This event will be livestreamed on our Facebook page for those unable to attend in person. Find out more on our Facebook page: https://www.facebook.com/uomsocialsciences
About the Arthur Lewis Lecture: The series of annual Arthur Lewis Lectures, in the School of Social Sciences, started in 2015 to mark the 100th anniversary of the birth of the economist Arthur Lewis, who became Britain's first black professor when he was appointed to a Chair at Manchester in 1948.