The Art and Architecture of Care | London Festival of Architecture 2021
About this event
How can art and architecture enhance the healthcare experience and help in the endeavour to understand and overcome life changing diseases?
Hear from the visionary team of architects, artists, and curators behind the pioneering Zayed Centre for Research into Rare Disease in Children at Great Ormond Street Hospital, as they discuss their unique approach to merging art and architecture to create a nurturing and engaging place focussed on human experience.
Speakers
Gavin Henderson, Principal Director, Stanton Williams
Vivienne Reiss, Head of GOSH Arts
Hannes Koch and Florian Ortkrass, Random International
Moderated by Manijeh Verghese
Director of Unscene Architecture, Head of Public Programmes at the Architectural Association, Co-curator of the British Pavilion at the 17th Venice Architecture Biennale, Curator of LFA 2021
About the Zayed Centre for Research into Rare Disease in Children
The Zayed Centre for Research into Rare Diseases in Children by Stanton Williams is the world's first purpose built paediatric facility dedicate to research and treatment of rare disease. The project is a new urban beacon of science and care in the heart of London. Reimaging the healthcare environment as a shared civic experience, the building is inhabited by a series of site-specific artworks, commissioned by the award-winning Great Ormond Street Hospital Arts programme.
Photo: Random International, Kinds of Life (2019), GOSH Arts ©️ Jim Stephenson (2020)
Video: Courtesy of NLA and BAR Productions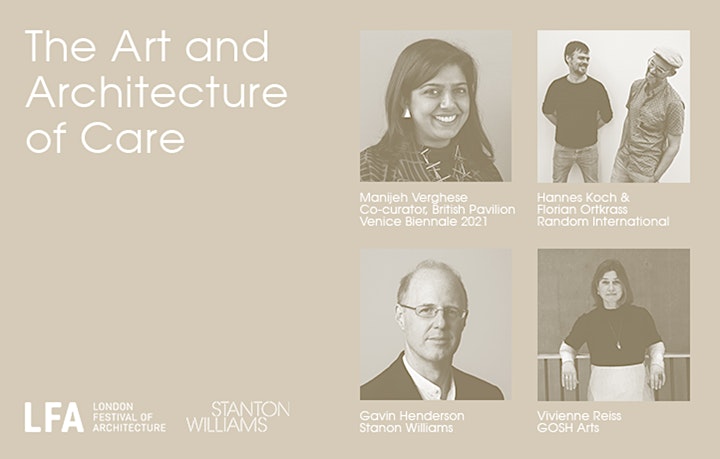 About the speakers:
Gavin Henderson
As a Principal Director at Stanton Williams, Gavin Henderson has led a number of the practice's high-profile projects including the Zayed Centre for Research into Rare Disease in Children at Great Ormond Street Hospital in London and the Stirling Prize winning Sainsbury Laboratory for the University of Cambridge. With a focus on the development and culture of cities and the role of public space, much of Gavin's work involves interventions in sensitive sites and the engagement between architecture and the public realm. Gavin has extensive experience in higher education, science and research and a particular interest in the interrelationship of these disciplines and urban life.
Vivienne Reiss
Vivienne Reiss is a creative producer working with artists on site-responsive commissions, interventions and participatory programmes. She is currently joint Head of Art at Great Ormond Street Hospital where she is curating a collection of artworks with colleagues across the Trust in relation to new clinical buildings including the Zayed Centre for Research into Rare Disease in Children. She also works with other commissioners on art strategies and managing art projects in a range of health environments and the wider public realm. She has previously led participation and learning programmes in a number of galleries including Tate, National Portrait Gallery and South London Gallery.
Random International
Art group Random International run a collaborative studio for experimental practice within contemporary art. Founded in 2005 by Hannes Koch and Florian Ortkrass, today they work with larger teams of diverse talent out of studios in London and Berlin. Questioning aspects of identity and autonomy in the post-digital age, the group's work invites active participation. Random International explores the human condition in an increasingly mechanised world through emotional yet physically intense experiences.
Their work Rain Room is in the collections of the Jackalope Art Collection Melbourne and Los Angeles County Museum of Art and has been shown at MoCA Busan, the YUZ Museum in Shanghai, MoMA New York, and London's Barbican. An edition of Rain Room became the first permanently installed artwork at the Sharjah Art Foundation (UAE) and is housed in its own building.
Manijeh Verghese
Manijeh Verghese is a Director at Unscene Architecture and co-curator of the 2021 British Pavilion at the 17th Venice Architecture Biennale – The Garden of Privatised Delights. She is the Head of Public Engagement at the Architectural Association (AA) where she organises lectures, exhibitions, workshops and other special projects and forms of outreach for a diverse range of audiences. Manijeh is also a Unit Master of AA Diploma 12 and seminar leader for the AA Professional Practice for Fifth Year course. Over the past eight years, she has led postgraduate and undergraduate design studios at both the AA and Oxford Brookes University and has taught workshops and courses across universities in the UK and abroad. She has worked for architecture practices including John Pawson and Foster + Partners, and has contributed to design publications as well as think-tanks, books and peer reviewed journals. She is currently an External Examiner at Cambridge University and a member of the Future City Curatorial Committee as well as on the curatorial panel for the 2021 London Festival of Architecture.