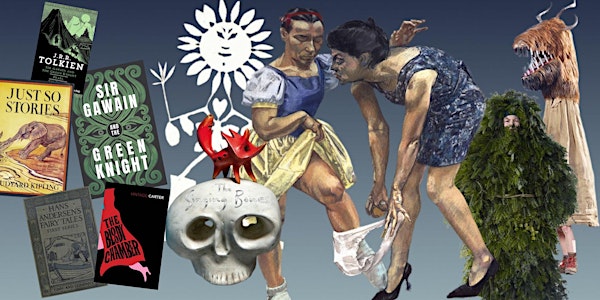 Multiple Dates
THE ART OF FOLK & FAIRY TALES: Creative Writing and Drawing Online!
Join Luisa and writer Philip Webb Gregg for a new installment of the ART OF WORDS- this time with a focus on all things FOLK TALE!
About this event
IMPORTANT INFORMATION FOR TICKET HOLDERS - CLASS POSTPONED UNTIL 12TH JAN
Dear Students,
We are so sorry to inform you that today's class will no longer be able to go ahead as planned due to our tutor Luisa having been taken down by a very nasty flu (We're hoping its not the dreaded Covid!). We were hoping that by today the circumstances would have changed and the class would be able to go ahead, but unfortunately that's not the case and Luisa is still very unwell.
The class will now take place on the evening of Wednesday 12th January, and a recording will be sent out afterwards as usual which will be available for 7 days.
We know this unexpected, so if you need a refund you can request one via your ticket. Please be sure to do this via eventbrite and not by emailing us- we are unable to process refunds unless they are submitted via eventbrite.
If you are able to join us on the 12th, you don't need to take any action at all, you'll recieve your zoom links as usual and we'll look forward to writing and drawing with you!
If you can't wait until January to get your writing and drawing fix, we're running our SURREALIST SATURNALIA WRITING AND DRAWING SPECIAL next week, which we're sure Luisa will be right as rain for, you can book here;
https://www.eventbrite.co.uk/e/surrealist-saturnalia-christmas-special-writing-and-drawing-workshop-tickets-217436246667
Best wishes all and sincere apologies for the change of plans!
Luisa e Felipe xx
Join us for another instalment of the Art of Words series, where we pick apart and play with the bindings that hold literature and art together. For this class we'll be focusing on the subtle (and often tricksy) craft of the folk tale.
From staying on the path, to following the breadcrumbs and never once eating the fairies' food, Folk and Fairy Tales could be loosely described as a set of oral tales that seek to teach us something. Unlike other forms of storytelling, they do not rely on character development or the fiddly craft of plot. Instead, they use archetypes to demonstrate some form of accomplished wisdom or universal truth.
Often these messages are as complex and garbled as the structure of the tale itself – likely due to the multitude of voices who have repeated these stories throughout the course of generations upon generations. These qualities mean that the FolkTale form is unique in its flavour and feeling, instantly recognizable and deviously difficult to replicate, though many try (and some succeed!).
This class will be a playful dive into the DNA of Folk and Fairy Tales – looking at why they are so unique and how we can take inspiration for our own practice, be that writing or drawing. We'll be working from some old favourites and some contemporary works too - so bring your pens and pencils and get ready for some folk tale fun!
Please read the following FAQ's as you may find the answer you are looking for already listed below. If these do not answer your question, then please email us with the subject heading "UNRESOLVED ENQUIRY" and we will be in touch as soon as possible.
Thank you for your patience!
Love, LDG
What other LDG classes do you have coming up?
You can book and find all events info here: https://www.eventbrite.co.uk/o/london-drawing-group-11407647443
Is there a Recording?
Yes, all classes have a recording sent an hour after the live session. The recording will be available for seven days.You will be able to watch the recording ONCE within the 7 day period.
What time does the class start where I am?
All our classes take place UK TIME
You can use this site to convert UK time to where you are: https://www.timeanddate.com/worldclock/converter.html
How do I attend your classes?
You need to book your place via our eventbrite page: https://www.eventbrite.co.uk/o/london-drawing-group-11407647443
Our classes take place online via Zoom. You will need to download and register with zoom
We will then send you a link to join the live class and/or recording depending on your ticket selection.
We send you the link to the class or more info about your recording a day before and again on the day of the event.
If you cannot find them, Please check your junk folders for eventbrite emails from us.
I haven't received the link to the live zoom class, what should I do?
Please wait a day before your class to receive your link.
Check your junk/spam folder for an eventbrite email from us.
If you still can't find it email us at londondrawinggroup@gmail.com clearly stating the class title in the subject heading.
What materials do I need?
The materials you will need are stated in the class description.
All refund requests can only be processed via eventbrite before the event start time. Please login to your eventbrite where you will be required to state a reason for your refund.
Thank you for your interest and support!
Best wishes,
LDG
Organiser of THE ART OF FOLK & FAIRY TALES: Creative Writing and Drawing Online!
The London Drawing Group is a collective of three contemporary artists currently practising in London. Although our practices are individually varied and diverse, we are brought together by our shared love of and passion for drawing, and our experiences of being taught by a huge range of practising artists at the Royal Drawing School Central.
Our aim as a collective is simply to get more people drawing, making, connecting and engaging with art. We genuinely believe that art is for everyone, and that sometimes the only thing keeping people from engaging in the playful, unknown and unpredictable process of art-making, is that it can seem intimidating. Through working to break down contextual barriers through innovative methods of teaching and creating, we hope to make drawing approachable to everyone.