About this Event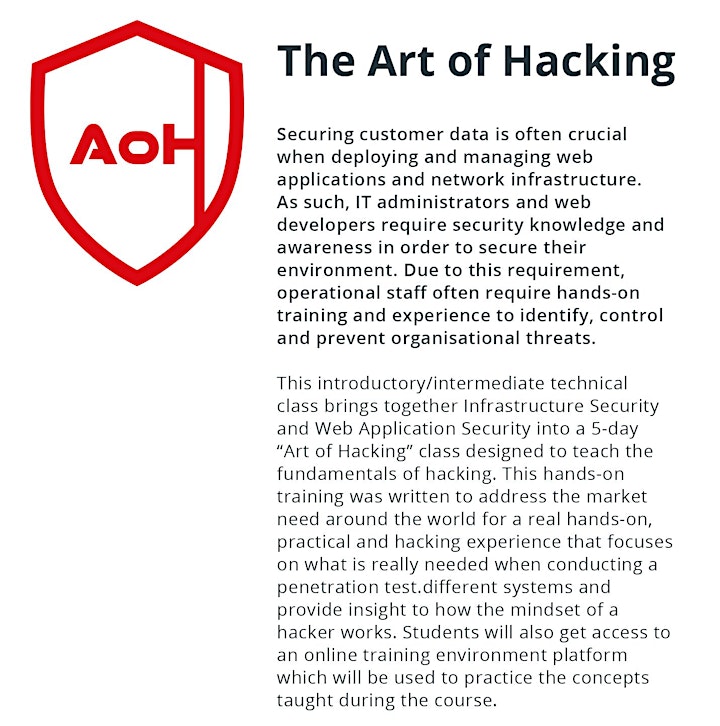 Includes both Basic Infrastructure and Web Hacking courses. In partnership with The Proven Method, Business Leading Technology
Attendees will gain understanding in the following topics:
Approaches attackers take when targeting organisations
Conducting penetration testing engagements step by step and leveraging open source and publicly available tools to gain access to vulnerable systems
Understanding how to exploit your own network before attackers do
This class teaches attendees a wealth of techniques to compromise the security of various operating systems, networking devices and web application components. The class starts from the very basic and builds up to the level where attendees can not only use the tools and techniques to hack various components involved in infrastructure and web hacking, but also gain solid understanding of the concepts
on which these tools are based. This class combines a formal hacking methodology with a variety of tools to teach the core principles of ethical hacking.
Who should take this course?
System Administrators who are interested in learning how to exploit Windows and Linux systems
Web Developers who want to find and exploit common web application vulnerabilities
Network Engineers who want to secure and defend their network infrastructure from malicious attacks
Security enthusiasts new to the information security field who wants to learn the art of ethical hacking
Security Consultants looking to relearn and refresh their foundational knowledge
What will this course cover?
To view the full course outline please click here
Certification
An optional exam can be taken after the course, which when passed will give the attendee The Art of Hacking Certification.
Refunds
Refunds available if notice is given before at least 7 days before the event date