Description
This exhibition aims to stimulate discussion and provide greater knowledge around mankind attempts to shape, tame and control nature; be it the control of the natural world or control of people.


It can be hard to see the impact of global warming and climate change when we live in a bubble, as the majority of the world's population don't live next to glaciers, beaches or in the rainforest.


This exhibition will explore how these events have contributed and exasperated a humanitarian and animal crisis.


This exhibition will also examine provocative topics around slavery and empire and the ramifications of this both historically and presently through the work of art.
Private view 1st October 2019 7-9pm (registration for private view only)
Also in attendance at the Private View will be His Excellency Mr. Seth George Ramocan, CD, High Commissioner of Jamaica - London.

At the private view we will be auctioning a stunning 3D piece by Nasha called Wild Beauty helping to raise funds for two causes close to Nasha's heart: I AM IN ME Community Interest Company (CIC) and NTCG Brixton Community Church The decide boy project.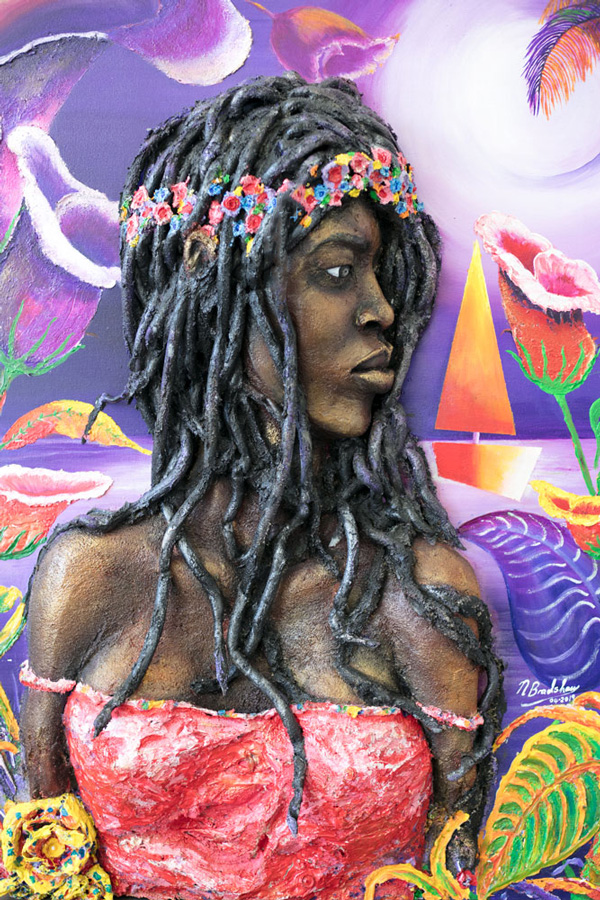 Nasha Bradshaw Artist Statement
Born in Clarendon Jamaica. Currently residing in London UK.
Nasha has been interested in Art from a very young age and drew his first piece at the age of four. He was known locally as the Artist growing up.
Nasha studied Art at Holmwood Technical High but is mainly self taught.
From his tranquil upbringing in rural Jamaica, his love for nature and mother earth, to his current interest in the rastafarian culture has all heavily influenced his work so current issues such as climate change and world events have had a profound impact on him this is reflected in a few of his most recent pieces. His Art in intended to evoke deep emotions within the viewer. No matter the topic whether sad,angry,happy Nasha tries to depict his work in a positive light and shows this with his love of bright colours for example a piece depicting heavy topics such as oppression climate change or slavery could still have a beautiful sunset in the background
"My Art is a reflection of my personal values. I love the Human journey and spirit. This is encompassed within my logo. (My Art My Heart)."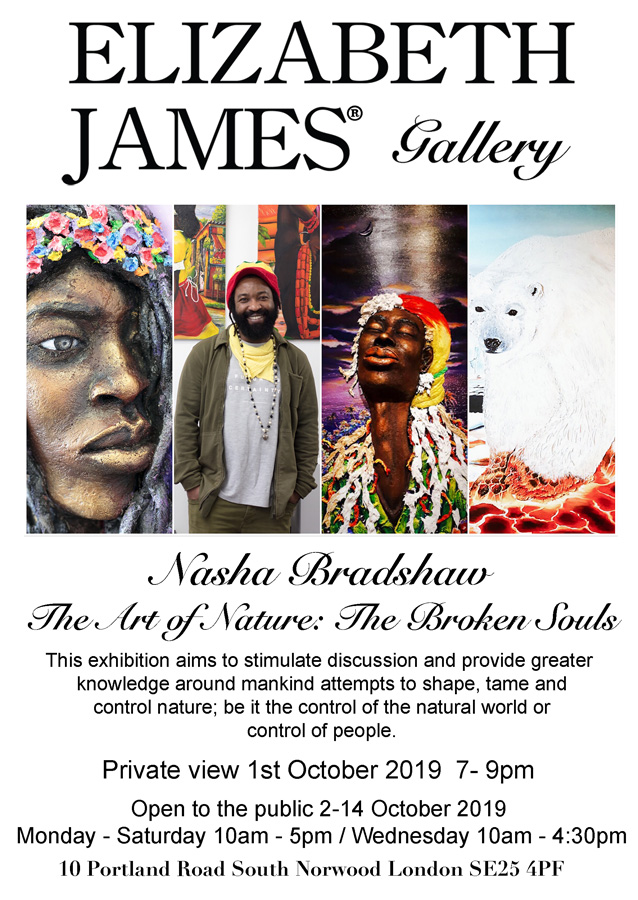 Organiser of The Art of Nature: The Broken Souls | Nasha Bradshaw
 We are a contemporary art gallery & boutique gift shop in the heart of South Norwood.
Hosting exhibitions with guest artists, workshops for all skill levels and ages, along with Live Art Saturday; From time to time we invite selected artists come along to the gallery and create art in the window of the gallery.
They get to expand their portfolio and you guys can come along, have a chat  and watch the artist at work, engage with them as they create. FREE to attend!
#art #contemporaryart #workshops #liveartsaturday #thingstodo #london #croydon #se25 #exhibitions #fundraising #gifts #smallbusiness #shoplocal
Providing a platform for talented emerging & established artists.
 Elizabeth James Gallery 10 Portland Road South Norwood London SE25