Description
The Art of Positive Thinking day course with Gen Kelsang Tharpa
Saturday 27 April | 10am - 4.30pm | £25
Is your glass half full or half empty? Whether we experience a happy, meaningful life full of exciting challenges and opportunities for growth, or a stressful, unhappy life full of difficulties and problems, all depends on our way of thinking! Happiness and suffering are states of mind; with meditation, we can train ourselves to think positively and to maintain an authentic experience of inner peace, even in difficult situations, and discover the potential for lasting happiness and joy within our own minds.
Come and discover the Art of Positive Thinking!
The day will include guided meditations, teachings, discussion and time for Q&A
It will also include a lovely vegetarian lunch and refreshments during the breaks
This course is suitable for everyone from complete beginners to experienced meditators.
About the Teacher
GEN THARPA is a close disciple of Venerable Geshe Kelsang Gyatso and a senior teacher of the New Kadampa Tradition who has been teaching Modern Buddhism in Spain, Portugal and England for over 30 years. He has great ability to convey the profound Buddhist path of wisdom and compassion with clarity and the depth that comes from his personal experience. Both beginners and more senior students enjoy Gen Tharpa's profound understanding of Dharma as well as his simplicity, wise counsel and good sense of humour. He is a living example of how to practice the Kadampa way of life in the modern world.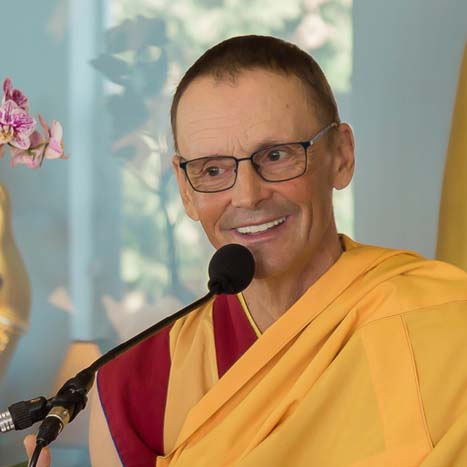 What will each session consist of?
Each session will include a combination of teachings and guided meditations with an opportunity to ask questions at the end and socialize with like-minded people during the break time.

Do I need to bring anything or wear anything special?
No. All sessions will take place on chairs but there are optional cushions if you prefer to sit cross-legged. You don't need to bring anything else with you, but some people like to take notes during the session, so feel free to bring a paper and pen.

What if I'm new to this?
Everyone is welcome to participate in this course and will benefit both new and experienced people alike. Our reception staff will happily recommend some follow on reading or classes after the course if you are interested.
More questions?
Contact info@madhyamaka.org and someone will happily help you with your query.