Event Information
Location
Birkbeck College
University of London
Torrington Square
London
WC1 7HX
United Kingdom
Description
Inspirational YOU supported by Birkbeck College, University of London
The Art of Winning
Inspirational YOU Summer 2012 conference
Birkbeck College, Torrington Square, London WC1 7HX
Saturday 30th June 2012
12:00pm – 6.00pm
A day filled with empowering workshops and seminars led by successful leaders and entrepreneurs from across the UK.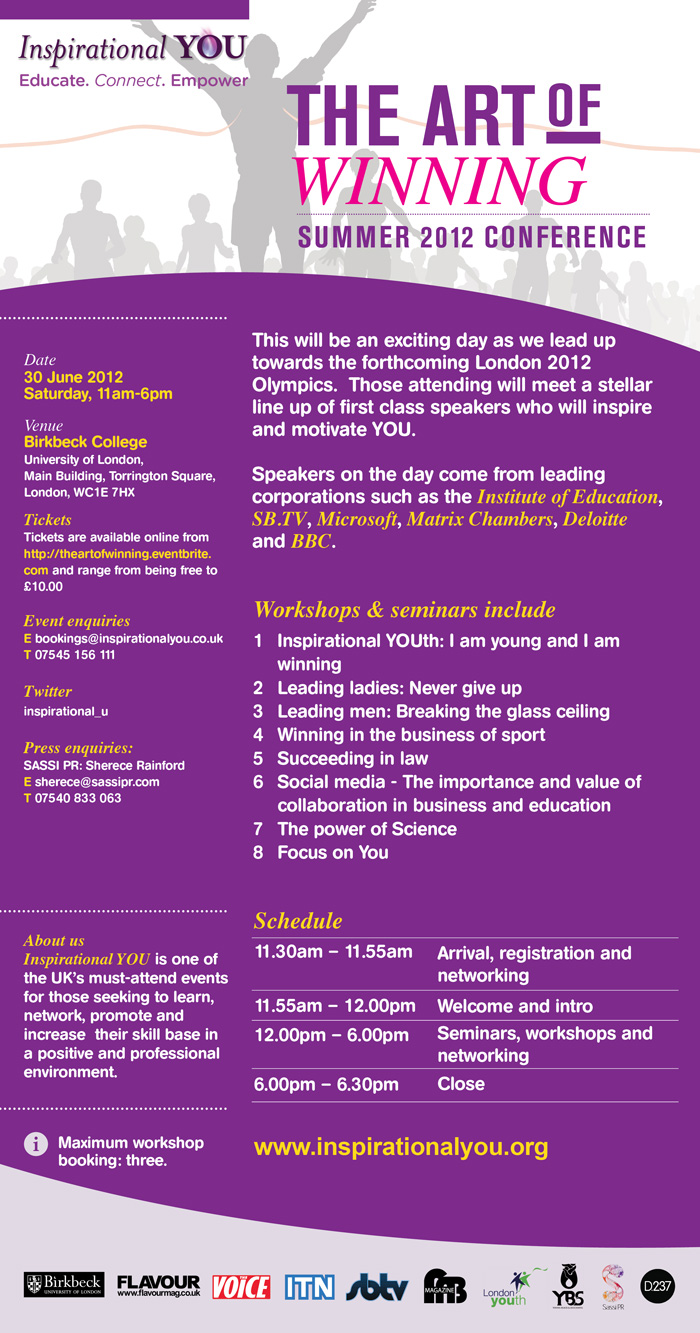 ---
1. Please select your ticket type (free, student / low income or general entry).
2. Please select three workshops to attend.
3. Check the times and rooms of your workshop to prevent clashes.
4. Follow us @inspirational_u and Tweet us #IYartofwinning2012.
5. There is no entry after 10 minutes.
Focus on YOU (12:00pm)
Kevin Bennett Speaker and entrepreneur
Succeeding in Law (13:30)
Brendon Christian Director at Christian. The Law Firm
Sheryl Nwosu Barrister
Christl Hughes Solicitor & former Chairwoman of Association of Women Solicitors
Camilla Choudhury – Khawaja Barrister
Ama Afrifa-Kyei Employee Engagement/Diversity & Inclusion at Deloitte LLP
Ly Ossenyou Birkbeck 1st class law graduate 2011
Chika Okeke Commerce & Industry legal recruiter at DMJ
Hosted by Garry Green Barrister at Tooks Chambers
Winning in the Business of Sport (13:30)
Mark Afeeva Barrister
Kwaku Mensah Trace Sports TV
Kevin George Former professional football player
Michael Bennett The PFA
Otis Roberts Football agent
Professor Sean Hamil Director of Sport at Birkbeck
Hosted by Isaak Badru
Leading ladies: Never give up (15:00)
Dr Nicola Rollock Research Academic at Institute of Education
Ama Afrifa-Kyei Diversity & Inclusion at Deloitte LLP
Christina Armstrong MD at Louda Media / Head of Mobile at Upfront
Ava Vidal Writer, comedienne, actress and producer
Jacky Wright VP of IT Strategic Services at Microsoft
Hosted by Michelle Moore Sports development consultant
Leading men: Break the glass ceiling (16:30)
Andy Woodfield UK Partner & Lead for GLEE @ PwC
Ray Paul Founder of The playmaker group
Bayo Alaba Founder of StreetFest and restaurateur and Hoxton fashion market founder
Bernard P. AchampongProducer at BBC 1Xtra and founder of Ideas Genius
Dillon Khan Author and music Journalist
DJ Spoony BBC Radio 5 sports presenter
Hosted by Garry Green Barrister
Inspirational YOUth - I am young and I am winning (14:45)
Latoya Kessie PR & Sports Marketing Exec
Emmanuel Ezugwu Fashion PR Executive at Harrods
Richard Serunjogi Project Manager at Spirit of London Awards
Ashley Chin Actor, writer, producer and public speaker
Becca Wren Project Manager at SBTV
Michael Maris Actor, writer and producer
Hosted by Richard Kuti Founder of YBS & Inspirational YOU board member
The importance and value of Social media for collaboration in business and education
(14:00)
Alison Coward Founder of Bracket Projects
Ronke Adeyemi Social Media Consultant, Blogger
Sinem
Onabanjo
Editor-in-chief at FAB Magazine
The power and influence of Science
(13:00)
Dr Eyman Osman Science Education and Research Consultant- Molecular biology and Genetics Specialist
Dr Hilema Moncrieffe Award winning scientist specialising in the immune system
Date and time
Location
Birkbeck College
University of London
Torrington Square
London
WC1 7HX
United Kingdom