The Artist Soup Kitchen - ESTATE AGENCY with Anna Francis

Saturday, 6 May 2017 from 12:00 to 14:00 (BST)
Event Details
The Artist Soup Kitchen 
Estate Agency
Saturday, 6th May 12pm-2pm
We have noticed that some of the best conversations happen over a good hearty meal, and so within the Estate Agency Project, we want to be able to provide a space for artists to really discuss the issues they face in making a life work.
The Artist Soup Kitchen is a series of talks and workshops, developed by AirSpace Gallery, which have been running since 2012; to explore support networks, good practice and sustainability of the arts and artists in a changing climate. They provide an opportunity to meet up in a relaxed and special environment, with a different theme and speaker each time to be explored over a delicious bowl of homemade soup, and bread.
The event will include a presentation by Anna Francis on her general art practice and more specifically looking at questions raised by the Estate Agency project.
This event will be of interest to those interested in urban studies, regeneration and city planning, and to artists and other cultural practitioners concerned with housing, work spaces and the rising costs of living in London.
The duration of the Artist Soup Kitchen is set at 2 hours, beginning promptly at 12.00 pm and finishing at 2.00 pm.

Seats at the Artist Soup Kitchen Table are limited, so to avoid disappointment, please book early, and only if you fully intend to attend
***The Soup Kitchens are free to attend, but guests will be asked to donate an amount they feel the event was worth.***
----------------------------------------------------------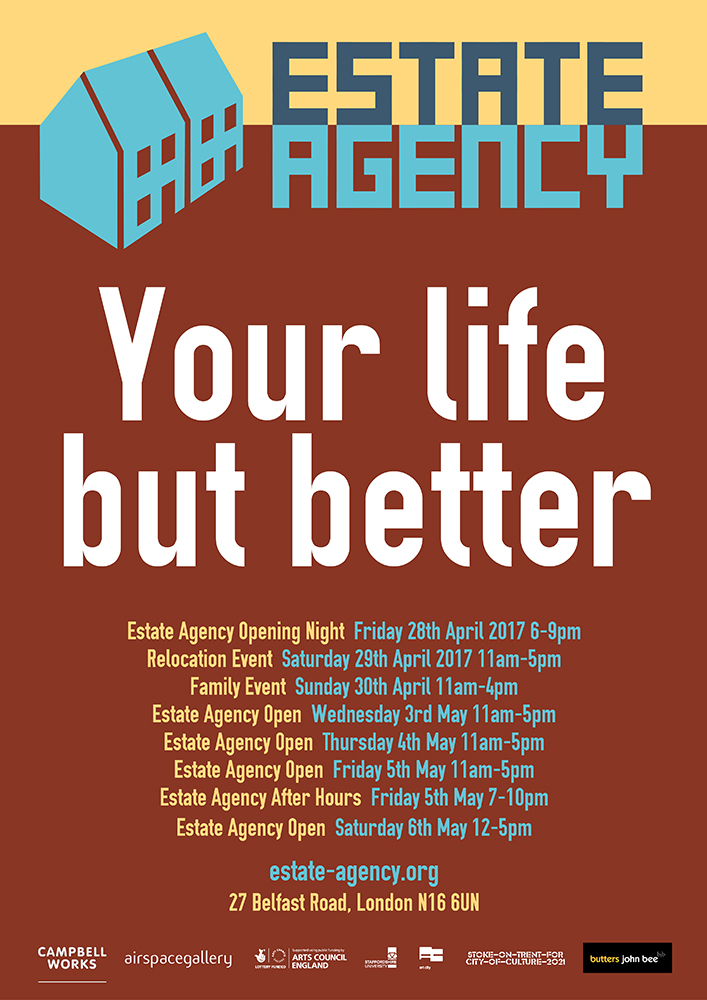 The Artist Soup Kitchen event is part of Estate Agency - a project exploring systems of culture led regeneration, via interventions in Stoke-on-Trent and London, plus a symposium and series of discussion events. It asks 'If councils and governments now recognise the value of arts and culture in developing places, what happens to these places, their communities and the cultural protagonists involved in the process, post-development?' The project looks to two cities, with very different fortunes; via the 'SHUT UP' of one cultural organisation 'Campbell Works' in London, to be transformed into an estate agency, showcasing property in another city; Stoke-on-Trent.
The project aims to frame the city of Stoke-on-Trent as a place where artists and other creatives can make a better life, but importantly, asks what happens to The Capital if artists can no longer afford to live there, and what happens to the places that these artists are moving to? Estate Agency provides Stoke-on-Trent with a platform to learn from other places, where in some cases, the speed of rapid change is now becoming alarming, in order to plan to be different – making the case for long term approaches to investing in, and safeguarding the space for art and culture in the city.
Estate Agency is designed and delivered by Anna Francis, funded by Arts Council England, Staffordshire University and Artcity, and with support from AirSpace Gallery, Campbell Works and Butters John Bee.
For more information about Estate Agency, including the full programme of the week's activities please
click here for the website, or here for Campbell Works, or here for AirSpace Gallery.
* * *

Anna Francis is an artist and researcher whose practice aims to rethink city resources, through participatory art interventions. She creates situations for herself, the public and other artists to explore places differently: often experimenting with leading and instruction by creating manuals, kits or leading guided tours. In recent years the interventions which Anna has worked on focus on the city of Stoke-on-Trent, and use an action research process to recognise untapped resources, plan a response to site, take action to change the way the site is viewed, and potentially, make changes, which can be temporary and sometimes permanent. Through this, Anna aims to gain an understanding of the role of artists and arts organisations in the development of places. Anna is a Director at AirSpace Gallery, Stoke-on-Trent's contemporary, artist led exhibiting space, where she has been leading on projects which engage with city and location since 2007. Anna is Associate Professor of Fine Art and Social Practice at Staffordshire University.
When & Where

Campbell Works
27 Belfast Road
N16 6UN London
United Kingdom


Saturday, 6 May 2017 from 12:00 to 14:00 (BST)
Add to my calendar
Organiser
AirSpace Gallery is a collaborative, artist led project in Stoke-on-Trent, providing professional development opportunities, studio and exhibiting space and support for artists.
Through a dynamic and evolving programme of exhibitions, events and activities AirSpace Gallery brings critical, high quality contemporary art to the region and provides opportunities for a broad range of artists.