Description
The Portland Inn Project is a creative arts project in partnership with The Portland Street Community, Stoke-on-Trent City Council, Appetite, AirSpace Gallery and My Community Matters, for a community in Stoke-on-Trent, where derelict properties were sold for £1 with the view of changing the fortunes of the area. AirSpace Gallery is excited to host this special presentation: an exhibition of the works and activities that have taken place to date, featuring a new installation of The Portland Pigeons, and looks forward to the community joining us to celebrate what has already happened and start the planning for what's next.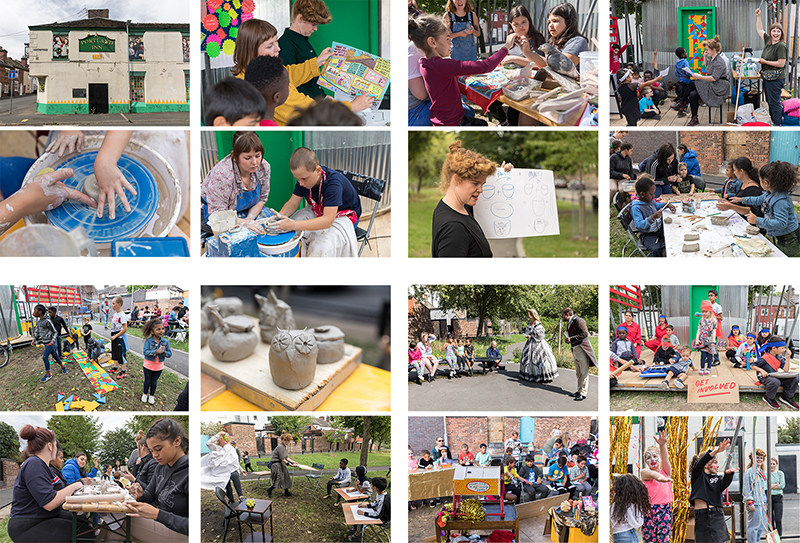 This Artist Soup Kitchen sees Project artists Anna Francis and Rebecca Davies present the genesis and life of the Portland Inn Project to date - the activities, conversations, challenges faced and hopes for the future. During the conversation, they will unpick some of the challenges of representing participatory social projects in places of change. This event will be of interest to artists and creative practitioners working with people, as well as artists working in participatory contexts.

This Soup Kitchen event is attached to the Project's special 1 week presentation at AirSpace Gallery running from October 26th to November 3rd. Full information can be found HERE
For more info on the Portland Inn Project visit their Tumblr at www.theportlandinnproject.tumblr.com/

-------------------------------------------------
The Artist Soup Kitchens at AirSpace are talks and workshops to explore support networks, good practice and sustainability of the arts and artists in a changing climate. We have noticed that some of the best conversations happen over a good hearty meal and so the Artist Soup Kitchen events provide an opportunity to meet up in a relaxed and special environment, and talk over the main issues facing artists today - all over a delicious bowl of homemade soup, and specially baked bread.
The duration of this Artist Soup Kitchen is set at 2 hours, beginning promptly at 12.00pm with a prompt 2.00pm finish. The event kicks off with a 30 minute presentation, followed by Soup and then opening up into a group discussion. We would ask that you arrive in plenty of time for a prompt 12.00 start - the gallery will be open from 11.00am which will allow a chance to look around The Portland Inn Project exhibition.

Seats at the Artist Soup Kitchen Table are limited, so to avoid disappointment, please book early, and only if you fully intend to attend.

***The Soup Kitchens are free to attend, but guests will be asked to donate an amount they feel the event was worth.***