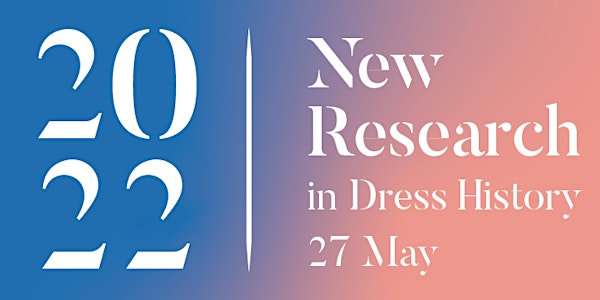 The Association of Dress Historians Annual New Research Conference 2022
Location
National Museum of Scotland
Chambers Street
Edinburgh
EH1 1JF
United Kingdom
The Association of Dress Historians (ADH) New Research Conference 2022 is a Zoom-Live hybrid event at National Museums Scotland, 27 May 2022
About this event
The Association of Dress Historians (ADH) New Research Conference 2022 will be hosted at National Museums Scotland, Edinburgh, UK, and virtually via ADH Zoom on Friday 27 May 2022, 09:30-17:30 BST, with an evening networking reception for in-person attendees at Gladstone's Land, Edinburgh.
Five curator led sessions will be hosted in Edinburgh on Thursday 26 May 2022, at 15:00 and 17:00 BST (further details below).
The conference will explore themes of untold histories, conservation, interpretation, curation, making technologies and global connections by emerging scholars. A roundtable discussion will consider innovative resource platforms, curation and the challenges of addressing underrepresented histories.
The day will include a curator talk of the exhibition Bernat Klein: Design in Colour, forthcoming in November 2022.
Review the programme:
https://drive.google.com/file/d/1FC20BjoHDFQyThKZW_XXpzBlnFzRhggP/view?usp=sharing
Ticket holders will have the opportunity to book our exclusive curator led sessions in Edinburgh, Scotland to be held on Thursday 26 May 2022:
At 15:00-16:00 BST
1) Visit to National Museums Scotland Fashion and Style gallery, led by Georgina Ripley, Principal Curator of Modern and Contemporary Design
2) Visit to Dovecot Studios, led by Jane Carey, Exhibitions Coordinator, Dovecot Studios
3) Visit to Museums Galleries Edinburgh collection store, led by Victoria Garrington, Curator: History
4) Visit to National Museums Collection Centre textile store, led by Emily Taylor, Assistant Curator, European Decorative Arts
At 17:00-18:00 BST
5) Guided tour of Gladstone's Land property, led by Kate Stephenson, Visitor Services Manager Experience, National Trust for Scotland
Bonus! All conference ticket holders will get a 10% discount on entry to Dovecote Studios, Edinburgh.
Important to note:
All tickets include a Zoom link for a meeting format event, this will be issued after payment and with Eventbrite reminders.
Conference panels will not be recorded, to honour presentations of work in progress and provide a welcoming environment for first time presenters (ADH are exploring recording of the roundtable).
Tickets are non-refundable and will be gratefully accepted as donations to ADH charity outputs.
Events and the evening networking reception will be highlighted on social media, but otherwise unavailable to remote attendees.
Find out more about The Association of Dress Historians and become a member: