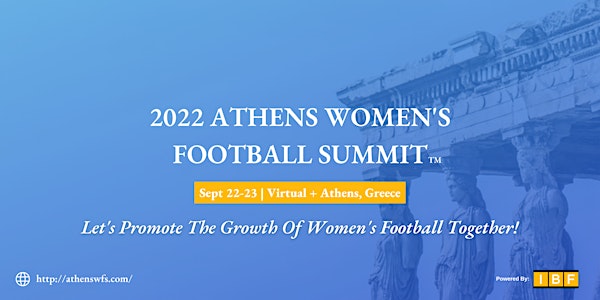 The Athens Women's Football Summit
Location
Leof. Kon/nou Karamanli 18
18 Leoforos Konstantinou Karamanli
166 73 Voula
Greece
Join us at our third annual Athens Women's Football Summit and be part of the Positive Movement in Women's Football.
About this event
About the Event:
The Athens Women's Football Summit is a two-day in-person and virtual event located on a sea view location in Greece at the Riviera Coast.
Hosted by The AthensWFS events team, you will have the opportunity to learn and connect with today's experts and thought leaders who are driving the future of women's football.
The two-day event is split into two key themes.
Day 1: Is all about the Business Of Women's Football focusing on:
Investment In The Game
Club Development
Leaders In Football
Player Representation
Federations In The Game
Broadcasting & Streaming In The Women's Game
Day 2: Is all about the Impact of Women's Football Game
Diversity, Equality, and Inclusion In The Game
Changing Lives Through Football
Coaches In The Game
Player Well-Being
Players Voice
Legends In The Game
This summit will host key topic panel sessions, keynotes, and VIP workshops from today's practitioners and leaders in the women's game.
Past guests have included Carolina Morace, Michelle Akers, Brigitte Henriques, Rupinder Bains, Tatjana Haenni, Emile Hesky, Gilberto Silva, James Galanis, Mayi Cruz Blanco, Karina LeBlanc, Shannon Mac Millan, and many more.
Come here to connect, learn and leave with clarity on how you can influence the future of Women's Football.
This Summit Experience is about connecting with the right people in women's football and developing new business opportunities or collaborations to grow the future of women's football.
Come and join us in September! Visit our website for additional details: http://athenswfs.com/