Refund policy
Contact the organiser to request a refund.
Eventbrite's fee is nonrefundable.
PDP's Authentic Leadership Programme: learn how to lead with authenticity, purpose and integrity.
About this event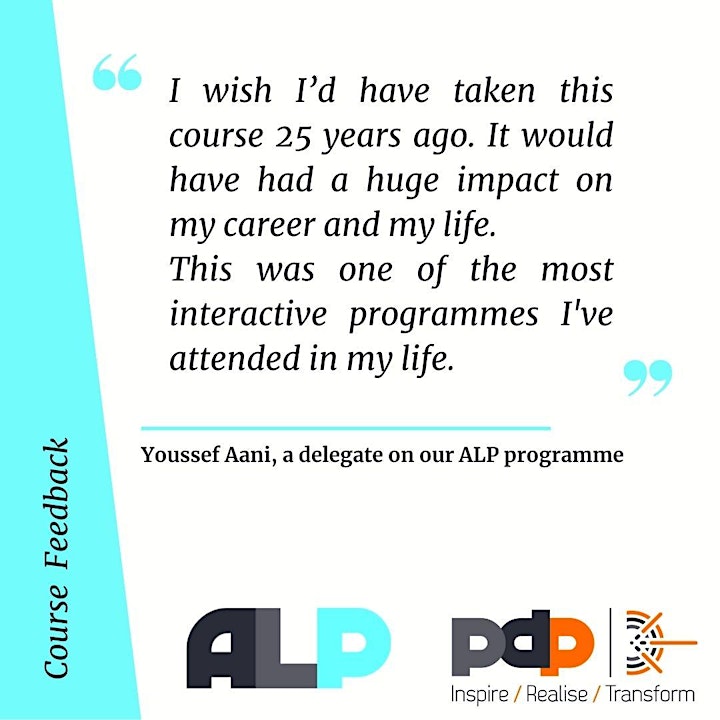 The Authentic Leadership Programme (ALP) enables participants to lead effectively during times of change and uncertainty.
Participants will learn how to lead with authenticity, purpose and integrity. This will enable their personal growth, develop their ability to nurture the people around them and proactively develop their organisations.
**This course is delivered online, over 4 x 2hour sessions**
Through this course, you will gain an increased knowledge and understanding of:
Authentic Leadership Theory
The difference between Management & Leadership and why this is important when leading a team
Your leadership style and how it fits with the task/team/individual model
Using judgement to prioritise what balance of focus is needed at any given time
Communicating consistently to get the team on board.
How resilience is affected mentally, socially and physically.
How to support individuals with their resilience
4 Levels of Relationship Theory and its relationship with leadership
How to encourage communication between others – showing how to see the situation from another person's point of view
Conflict Resolution
How to give and receive effective feedback
Leading under pressure and the impact on leadership style
People attending the ALP course can expect to be more confident, clear and assertive. The outcomes of this course will help you:
Clarify, understand and lead with your values
Understand the importance of aligning actions and decisions to your value
Understand yourself better so that you can be more in control of your resilience
Build reflective practice into your everyday life
Understand the part you play in supporting relationships
Be honest and authentic in relationships
Build mutual trust
Give and receive feedback
Inspire positivity in relationships
Recent delegates have said:
"I wish I'd have taken this course 25 years ago. It would have had a huge impact on my career and my life. This was one of the most interactive programmes I've attended in my life." Youssef Aani, Starts With You
"By far the most empowering course I have ever been on. The way the course was delivered meant that I was captivated from start to finish. The way in which it was delivered meant that they made me actually look at it and apply it to not only my work setting but my life as a whole. I wasn't sure what to expect from this course before I went on it, but if you had told me that it was going to have this much of an impact on not only my work but my life as a whole, I would have thought you were lying." Sam Glancy, Centre 63
The full cost of the course is £300 per participant. Please contact us for a discount if you are booking 2 or more places.
Included in the course, are support materials to aid learning outside of the course. A certificate is also emailed and posted upon course completion.
For further information: please contact Heather via Heather@pdpuk.com or 07545888488. Please note that these dates may be subject to change.
Details of other courses can be found here on our website: pdpuk.com.
Our vision is a world where people feel supported, equipped and inspired to create a life where they are personally fulfilled, have a sense of purpose, and engage meaningfully with the communities in which they live. We believe that this leads to a thriving society that works towards changing the world for the better, together.
PDP works to inspire and support individuals, workplaces and communities to develop their wellbeing so that they can flourish. We have been operating for over 12 years, across all sectors, working with groups of all sizes, tailoring our training to meet the needs of the individual and the group.
We create and deliver experiential programmes, with engaging content, that:
spark realisations
fuel courage, commitment and energy
inspire a growth mindset that brings about transformation
We've worked with the most incredible organisations over the past 12 years, some of which are featured here: