Sales Have Ended
Registrations are closed
Thank you for your registration. Bring your curiosity, your questions and open heart to the event. Or just listen and enjoy!
Sales Have Ended
Registrations are closed
Thank you for your registration. Bring your curiosity, your questions and open heart to the event. Or just listen and enjoy!
Information Morning - Discover a new kind of mentoring to support your business growth. It's called - The B Experience.
About this event
Have you heard about a new kind of business mentoring?
The B Experience is a Mentoring Circle for Extraordinary and Unconventional Business Owners that are looking for support and accountability at the foundation level of business.
This is not a course. This is a new way of business mentoring.
The B Experience is perfect for new and emerging business owners but it is also perfect for existing business owners who are stuck, bored, concerned or irritated in their current business. You may know you need a pick me up but have no idea what kind of support you need. We offer the help and support, to simplify your strategy and nurture your intuition. We nourish the foundations of your business and reignite your passion for change and success.
The B Experience offers both private and group support over a three-month timeframe for new and existing business owners.
If you are looking for something different, come and see what all the fuss is about so you can decide if this would be a helpful support and accountability group for your business dreams.
We attract innovators, healers, pioneers and regenerative business owners. We all want success but we don't want it at the expense of our health, anyone's health and certainly not the health of the planet!
We believe that our connection to nature and developing our intuition alongside business strategy is the natural evolution of business.
We ask, how do we create income to sustain us that is not at the expense of our environment or health?
We are the antidote to the online pressure marketing to build your business that you are used to seeing on social media. The result is that you can go as fast or as slow as you are ready.
This Information Evening will answer the questions.
• What is The B Experience?
• What is the new business paradigm?
• What does this kind of business support look and feel like?
• Does this form of support suit you?
Our next welcoming round has begun now for a start date of 7 September.
This information session is a taster so that you can assess The B Experience model with no obligation and a dash of possibility!
The information evening will:
1. Explain our unique H.E.A.R.T METHOD for purpose-led business.
2. Give you an experience of tapping into your intuition.
3. Demonstrate the one-page business plan that removes overwhelm.
"The language of business today does not speak to the larger territory ahead." David Whyte
"To have a good business, study business, to have a great one, work on you." Eric Edmeades
"Knowledge without Intuition, innovation and inspiration is just information." Jannine Barron
✶✶✶✶✶ READ WHAT OUR CURRENT MEMBERS ARE SAYING.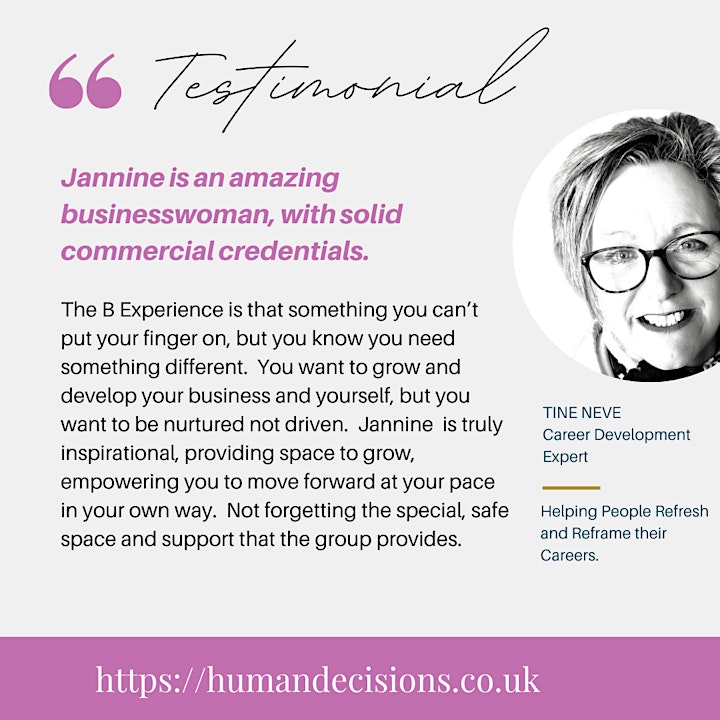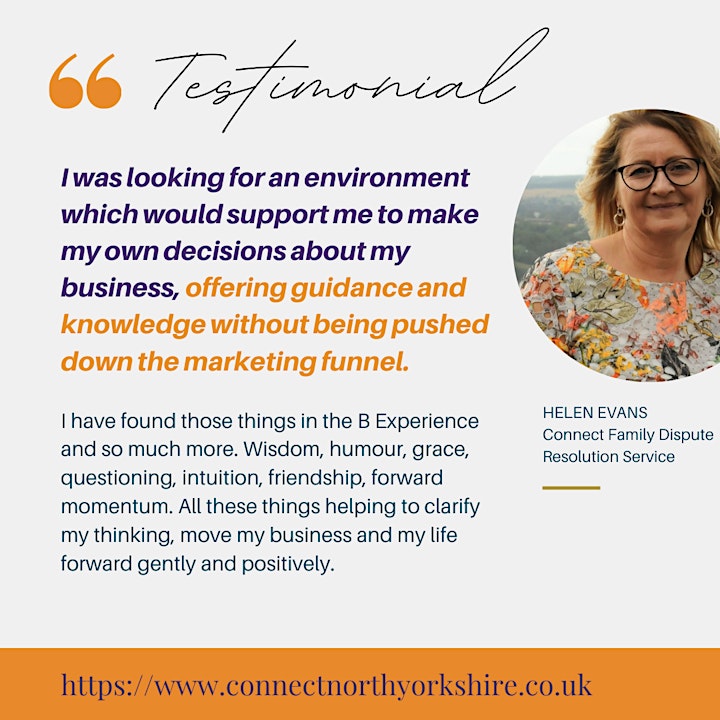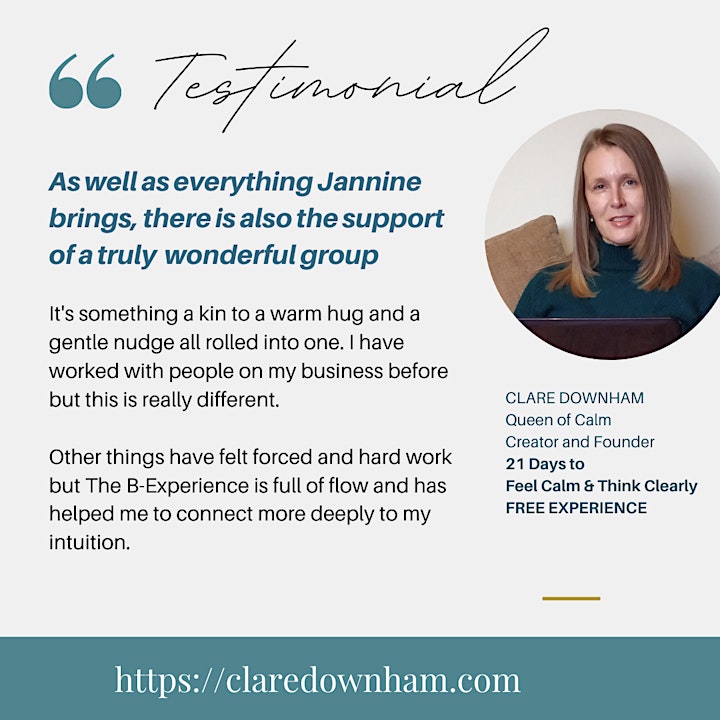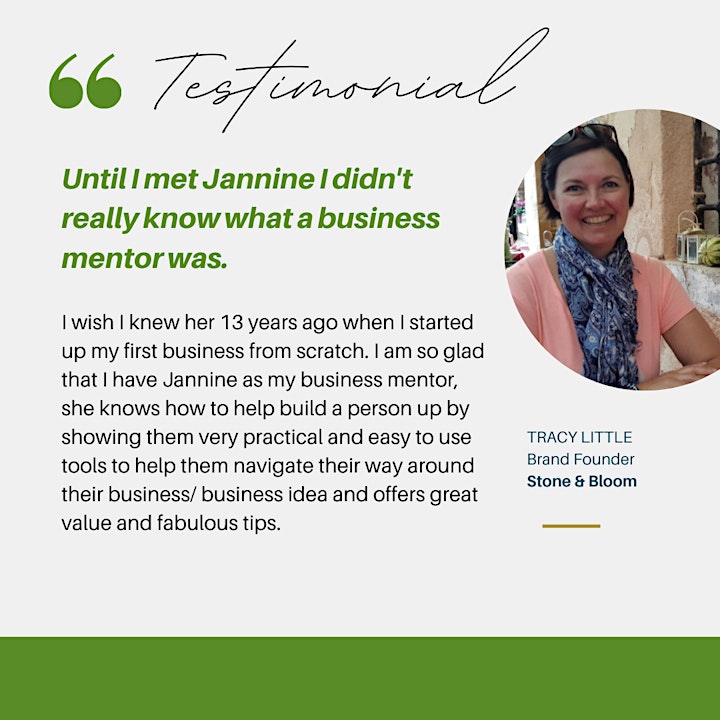 Organiser of The B Experience: Mentoring for Change makers: INFORMATION SESSION