Description
Join James Riley at Heffers as he discusses his new book, The Bad Trip: Dark Omens, New Worlds and the End of the Sixties.
At the end of the Sixties, the hippie dream died - or so the story goes. In 'The Bad Trip', James Riley descends into the underworld of the Sixties to reveal the dark side of the counterculture. He explores the seam of apocalyptic thinking that had lain hidden beneath the decade's psychedelic utopianism all along.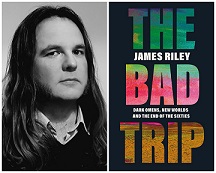 James Riley is Fellow and College Lecturer in English at Girton College. James is currently working on two book projects: Playback Hex, a study of William Burroughs, and tape technology and Road Movies, a psychogeographic study of cult film.
The Bad Trip will be available to purchase at the event and James will be signing copies.
Tickets for the event are priced at £5 in advance or £6 on the door, and can be purchased through this page, by calling 01223 463200 or in person at Heffers bookshop. Please note that tickets are transferable but non-refundable.
Like this? See a full list of our forthcoming events by clicking here.